Hello. I am HogWild. Comedian. Lover. Man of mischief.
Some autobiographical facts you may find fascinating...
* I was born and raised in the Bronx, NY, attending The Bronx High School of Science. It was a very nerdy school situated next to a very rough school. This lead to some unfortunate circumstances: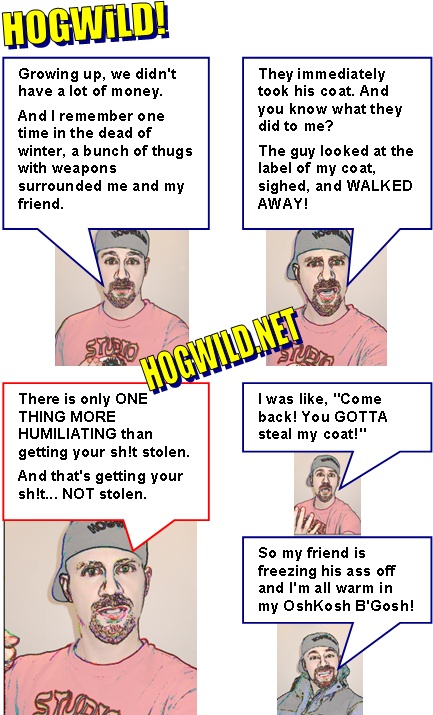 * My mass media comedy debut was on 91.1 WRUW-FM Cleveland, the University station of Case Western Reserve University. My eponymous (woo-hoo! Big Word! :) comedy talk show rocked the airwaves from 1995 until 1999. The show broke the fundraising record for its time-slot in the Annual Telethon.
Some highlights of the show:
- Interviewing the campus "stud" who we named the Mack Machine because he thought he was "The Mack." (90's slang for a ladies' man.) He claimed he got women because of his amazing personality and adorable quirks such as always bringing a jar of his own spaghetti sauce to the cafeteria.
NOTE: Mack Machine was never actually seen with a lady. But he was seen with spaghetti sauce stains on his shirt. Must've been from a passionate romp in the ravioli.
- My semi-helpful assistant Beaker volunteered to have his scrotum pierced live on the airwaves. I called the play-by-play of the action.
- I had a taco eating contest. But no college boy could defeat the eventual champion, a girl. It just goes to prove that girls know how to eat tacos better than boys ever will. Awwww! HA HAHA! :)
- The University had a beauty pageant. The female contestants campaigned on my show and attempted to impress me in various trials such as the "Make me a Peanut Butter and Jelly Sandwich and feed it to me while sitting on my lap" Challenge.
* Upon graduation I was awarded "Outstanding Student Leader: Most Creative Media Communication."
I was also "awarded" $1.5 Million Dollars in student loans.
* While still a student, I was also on 107.9 The End, WENZ-FM in Cleveland. It was a Modern Rock station. I produced the Morning Show doing everything from choosing which callers got on the air, to writing bits, to fetching coffee for the hosts.
NOTE: Sometimes I fetched tea.
The station rewarded my efforts by giving me my own weekend show. I tripled the ratings in the 18-24 year old age group! (Ratings for the 75 – 92 year old age group dropped precipitously.)
* In University, I was President of my fraternity. We won the National Award for Best Chapter.
Unfortunately, this did not impress the ladies as all the hot babes continued to flock to the jock fraternity and all the slutty geek babes went to the nerd fraternity, leaving us with slim pickings, most of which were not slim at all.
* My unofficial comedy debut was in high school where I wrote and performed a sketch for a few hundred of my fellow B'nai B'rith teenagers.
* I had a stint with Mad Magazine. It was a dream-come-true when the comedy magazine I read as a child published my writing.
* My proudest achievement was winning the Little League Championship Trophy for our local community. My 2nd proudest achievement was being named to my Little League All-Star Team as a reserve to the back-up outfielder!!!
* I studied Improv Comedy under the masters at Upright Citizens Brigade Theater. I had a great time performing there.
* In an event covered by MTV News, I was named New York City's "Emerging Comedian of the Year."
My stand-up comedy has put me on many famous stages such as The Laugh Factory, The Comic Strip, and Gotham Comedy Club. I've also been had the privilege of performing for countless University students and people from just about every comedy-loving country on Planet Earth.
* I performed on a special show for High School students which was recorded for television and aired on PBS. The show was broadcast in all 50 States, Puerto Rico, the Virgin Islands and Canada.
* In middle school I was on the Math Team. We won the City Championships. We got jackets that said, "Math Team Champions." I refused to wear it because I didn't want to get beat up.
So my dad wore the jacket whenever we were out together in public. Apparently my dad was very proud of his son and all the beatings he would receive.
* My web site has been online since 1999. Millions of people have visited. Hundreds have been entertained. HOGWILD.NET has been featured on sportsillustrated.com, digg.com and gawker.com.
* I am six feet and two inches tall (188 centimeters for my metric friends) which helped me to be pretty good at basketball while growing up in the Bronx. Being one of the few white kids in the neighborhood I was given various basketball nicknames.
First, I was called Larry Bird, being as that was the only white basketball player these guys knew. But then they realized I wasn't that good. So they downgraded me to Kiki Vandeweghe, who happened to be a sucky white guy on the New York Knicks at the time. So I was Kiki. But there were other guys who felt I didn't deserve a human name at all and they called me "Wonder." As in Wonder Bread. Because it's white.
(This began my fascination with silly nicknames! Ha ha! :)
I was famous for my tough physical play and being able to withstand any number of flagrant fouls including elbows to my face, karate chops to my Adam's Apple and of course, pistol-whipping.

* I taught computer science at an inner-city high school. I was twice named Teacher of the Month.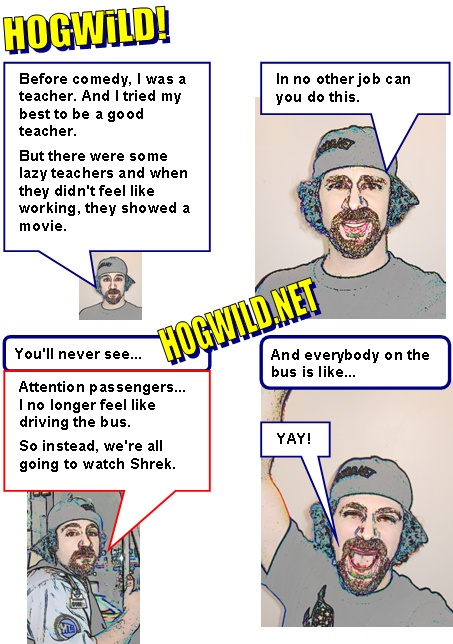 * I also taught computer science at a fancy middle school and coached the kids to the NYC Championship at the LEGO Robotics Competition.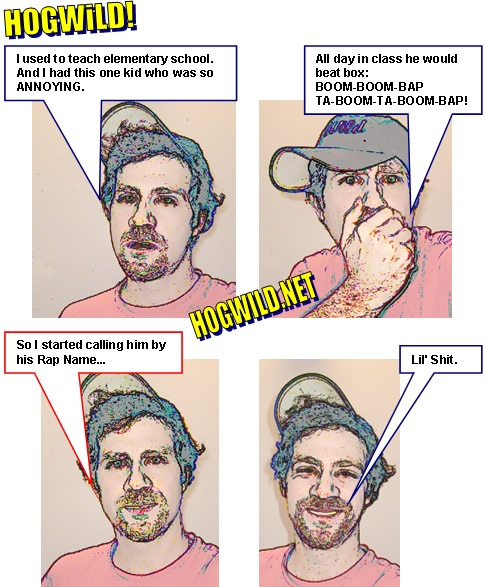 In conclusion, I'm PDA (Pretty Damn Awesome.) And my goal is to make people laugh and help them bring out their own inner-awesome so they can find loving relationships with other awesome humans.
So now go get my Expert Dating Advice videos!