So why do I care if YOU sign up? Well if you click thru here first, HOGWILD.NET will get paid a small bonus as a Thank You for referring you to them.
And to make it an even NICER deal for you, I in turn will thank YOU by hooking you up with a fat HOGWILD MP3!
After you sign up and get your Viewbar, email me at hogwild@hogwild.net with the subject ALLADVANTAGE, and I will email you back with the secret location of the MP3.
The MP3 you will get is the HOGWILD original song parody of Jessie's Girl, CHESTY GIRL.
To entice you further, here are some of the lyrics for my song:
I play along like I'm okay, even tho I could iron clothes on her breasts
Jessie is nice, but I need a girl with some fruit
A bra with cantalopes, oranges, big enough to make me salute

Then she looks at me with those eyes
And I say honey, your thorax is just too bony
I need jiggly jugs, jumping and joslting to make me ho'ny

chorus
ya know I wish I had a Chesty Girl, I wish I had a Chesty Girl
With big bouncing bazooms and not on a chick that's fat
Like a chesty girl, wish I had a Chesty Girl
Where can I find a woman?
Where can I find a woman whose stacked?
GET YOUR FREE MP3 and START MAKING MONEY NOW!!! CLICK HERE to get your money-making Viewbar!
"But I'm still afraid!", you say. Well stop being a loser. I did it. Millions of people have done it. If you don't like it you can always undo it or turn it off. Here is a screenshot of how my computer looks when I have AllAdvantage turned on.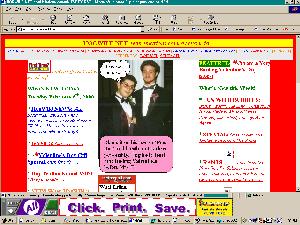 See that little banner at the bottom that says Click. Print. Save. That's the Viewbar. That little thing sends me checks every month. Pretty sweet deal. Now go get it. CLICK!
Note: when you sign up, make sure the Refer space says FFN-121. That is my ID #.