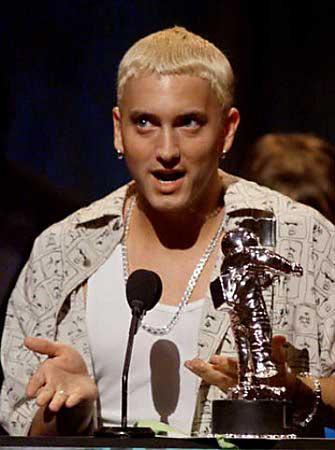 *
Michael Jackson
reacts: I can't believe
Eminem
divorced Kim, then made a song about killing her, then remarried her, then divorced her AGAIN 3 months later.
That's crazy!!!
Michael Jackson then
removed his nose
, replaced it with a small
rubber ducky
, and went back to driving his bus made of
chocolate,
picking up children on their way to
The Bahrain All-Boys Elementary School Academy
where he teaches a
Sex Ed.
class called
"It's O.K. to 'Beat It.'"
* Eminem and Kim tried to make it work. It really was a
love/hate, hate/hate/hate/hate/hate/hate relationship.
* Eminem DIVORCES Kim again after a remarriage of 3 months...

10 years ago, this type of celebrity behavior would be big news.

But nowadays you've got

- Tom Cruise making b!tches join the cult
- Michael Jackson molest children and escaping to the Middle East, and
- Angelina Jolie running around the world adopting babies and stealing husbands.

A divorce? Big deal! What would be NEWS is if Eminem was caught going down on 50 Cent's "G-Unit" in a fitting room at Old Navy while Rosie O'Donnell thrust Slim Shady from behind with a strap-on dildo while yanking on his doo-rag and rapping his song "Ass Like That."