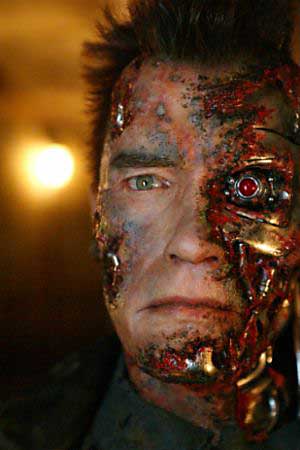 HogWild News Network International
is brought to you by The Campaign for Arnold Schwarzenegger for Governor. Arnold has no opinions on any issues EXCEPT this message: "Remember kids, don't do drugs. Don't do drugs kids. Kids, DON'T DO DRUGS OR I WILL GO INTO A STEROID RAAAAAAAGE!"
~ A record heat wave has hit Europe, claiming the lives of over 3000 people and causing French women to shave.

~ The United Nations Children's Fund said it was rushing drugs to Ethiopia to tackle a potentially devastating malaria epidemic among tens of thousands of people already weakened by drought.
Just when you thought it was safe to ignore Ethiopia, they want more ATTENTION ATTENTION ATTENTION!
In a heartfelt address to the Ethiopian people, President Bush said he would grant them millions in financial aid if they first build up an arsenal of nuclear weapons and threaten their neighbors.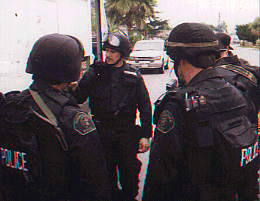 ~ President Bush proudly announced that the DEA stopped a $100 million dollar shipment of illegal drugs from crossing over the border.
Pfizer CEO Henry McKinnell applauded the bust saying QUOTE: "We can't let these Canadian drug lords undermine our profit-taking by sneaking our arthritis and cholesterol drugs to the poor elderly at reduced prices."
Heavily armed federal officials also busted up a Drug Den in Miami, posing as Shady Pines Retirement Home. One of the arrested was 84 year old user Rose Nylon, who was high on pills of Lipitor and Celebrex.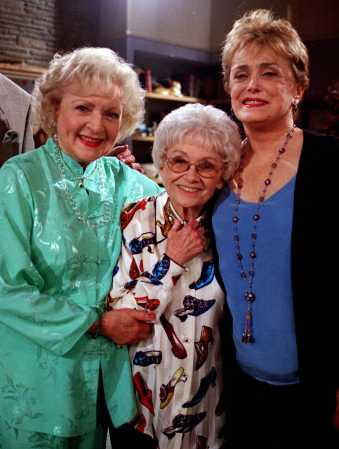 <-- "Junkies"
~ Yuri Malenchenko, commander of the International Space Station, was married to his bride while she was still on earth.
Guests of the wedding described Yuri as QUOTE: "a nice guy, but a little distant."
Since the wedding, Yuri's new wife has moved into his former bachelor's pad on the International Space Station. The couple had their first argument when Mrs. Malenchenko complained that Yuri left the toilet seat up. Yuri shot back, "Woman! I can't control the zero gravity!"
In happier news, the couple consummated their vows in a 3 hour sex romp that involved Velcro straps, licking an orange vitamin C enhanced powder off of sensitive body parts, and a standing ovation from mission control.

~ Attempting to silence critics overseas, authorities across China destroyed more than 42 million counterfeited and pirated discs.
A HogWild News investigation revealed that this was NOT a good-faith effort by the Chinese, it was purely a business decision. The 42 million discs were all bootlegged DVDs of Gigli.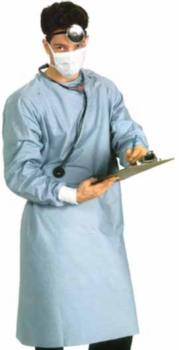 ~ The NY Times reported that a hospital had been performing unnecessary heart surgeries to make money from insurance companies.
Citing one example, James Brimm took his wife Linda to her doctor for a routine check up.
After about 15 minutes, the doctor emerged soaked in sweat and with blood under his fingernails. He held out a clipboard and told Mr. Brimm, "You know your wife has a cholesterol blockage causing hypertension. We're gonna need to harvest her right leg's saphenous vein and suture it into her coronary artery. Here, sign this estimate."
Mr. Brimm wasn't certain if this was necessary but he had been using this doctor for years. After the operation, the doctor also suggested a new set of tires and an oil filter.

~ Reggae singer Sean Paul plead guilty to using profanity during a concert in Jamaica.
The judge reprimanded Sean Paul for cursing in public, citing Jamaican laws on proper conduct in public. His honor then took a pull on a gigantic ganja joint.
AND FINALLY...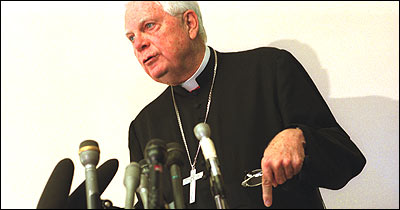 ~ As alleged victims of clergy sexual abuse began considering the Boston archdiocese's offer to settle 542 lawsuits, records were released publicly showing the archdiocese paid at least $21.2 million in settlements to 149 people from 1994 to 2001.
Christina Coletti, a strong supporter of the Church, has donated over $15,000 over the last 30 years. On the Church's Donor Wall Plaque, that earned her a gold name plate as a Molestation Supporter. Mrs. Coletti hopes to be able to put away enough money to one day be listed as a Priest Legal Fund Patron or a Trust-Breaker Benefactor.
Before he passed away, her father bequeathed a generous gift to join the Archdiocese's Gold Circle Jerk.