Pamela Anderson
wants people to boycott KFC because they are cruel to animals.
I want people to boycott Pamela Anderson because her TV show "Stacked" is cruel to people with a sense of humor.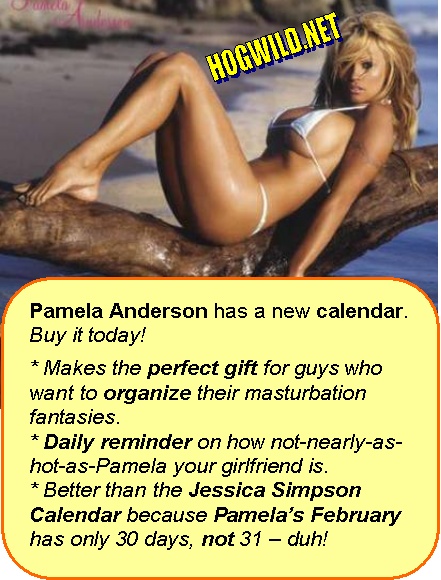 * Pamela Anderson is rallying against KFC for its abuse of chickens.
The very large Star Jones answered, "Pam, you skinny blonde bitch... if you somehow shut down KFC, I will KeeeeeeeeeeeeeeeeeeeeeLL you! Oooh, I'm bad. I'd better go to Church. Church's Chicken! Damn, I love food!"

* It's cool that Pamela Anderson is taking a stand against KFC because she supports Animal Rights. When a super hot woman known best for her breasts supports a cause, it really gives it credibility. Hopefully we'll see:
Jenna Jameson against the Death Penalty.
Danni Ashe supports the Geneva Convention.
And Kayla Kleevage demands health care for all!

* It's Pamela Anderson vs. KFC over animal cruelty. This debate has hogwild.net's male viewers confused because they
don't know who to side with!
Both are finger lickin' good.
Both the Pamela experience and KFC experience end with messy
napkins.
And finally, both Pamela Anderson and KFC make them "download." Sometimes twice in the same day!

* Animal Activist Pamela Anderson wants KFC to treat its chickens better. Sometimes they inject them with so many hormones, they get too big too fast and break their legs. In fact, that's exactly what happened to Pamela after her 1st breast enhancement surgery!

* Animal Activist Pamela Anderson wants KFC to treat its chickens better. She says that KFC, in order to sell larger breasts, injects them with dangerous artificial substances. In KFC's defense, they got the idea from Pamela Anderson!