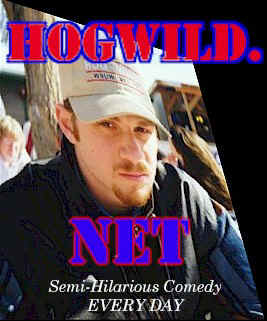 HOG-WILD! NEWS NETWORK INTERNATIONAL™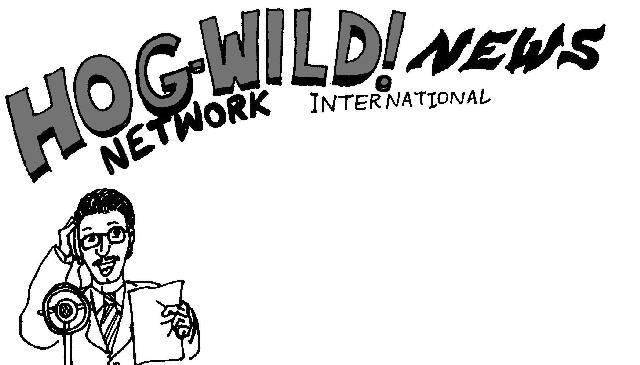 03/16/99

99.03.16 NEWS
w/ Theodore
Hog-Wild news network international is brought to you by Fake beer. Non-alcoholic alcohol is the choice for those who like taking placebos instead of medicine, for those who like the taste of cigarettes without any of the nicotine your body craves. And now for you homeboys in the 'hood, when you want that cheap beer taste without that 40 ounce headache, try our new non-alcoholic jungle juice—Old Eddie, The Castrated Stallion.

@~A debate among lawyers in Jamaica was sparked when judge held trial at the hospital bedside of a terminally ill woman and sentenced her to three years in jail for fraud.
The judge even went so far as to accuse the cancer-ridden woman of faking her sickness. The judge declared, QUOTE: "and i suppose this tube in your nose is supplying you with laife-saving oxygen-- well we'll see about that".
The judge then yanked the tube from her nose causing the dying witness to clutch her throat and gasp for help. The sympathetic judge then instructed the baliff to put the tube back and even remove the handcuffs.

@~An woman in Iceland was hit twice by the same car within 24 hours.
Police however did not interrogate the offender,and instead, officially the incidents as QUOTE: "freaky."

@~Researchers say New Zealanders prefer sleeping, eating and sailing to sex.
In related news, neither sleeping, nor eating, nor sailing involve begging.
In fact, the research found that when asking people their idea of a perfect way to spend an evening-- sex came in 12th-- right after juggling naked with knives. According to comedy's non-fornicating frothing-at-the-mouth one-man one-hand forklift operator, Hog-Wild: sex might be the best way to RUIN an evening.
Hog-Wild said quote: "Who wants to get laughed at, kicked in the groin, and forced to parade around the living room bottomless, walking on your hands while refering to yourself as 'baby ant-eater'-- and it's expensive too."

@~Hundreds of worshippers devoted to Buddhism -- and money -- queued outside Hong Kong temples to perform a ``cash-borrowing'' ritual. More than 200 people waited at the Hung Hom temple to borrow money from Kuan Yin, the Buddhist goddess of mercy, amid the territory's most severe economic recession in decades.
The worshippers may have secured the money they needed, but if they miss the 25 day grace period, they will have to pay serious interest rate charges to the Buddhist Godessess' corporate headquarters, located in Wilmigton, Delaware. The Goddess has no annual fee and is accepted for cash advances, but does require weekly prayer. Those wishing to pray or borrow cash over the
Internet can now do so, the goddess's web site does NOT have secure transfer protection, but the Buddhist deity assures her followers that she QUOTE "sees all." The Goddess also offers 1% back on all animal sacrifices made in her name.

@~The former mayor of a Kentucky town has been sentenced to seven years in prison for the armed robbery of an Ohio bank.
In his defense, the ex-mayor was apologetic whimpering QUOTE "I'm sorry. I would have robbed a bank in my OWN city, but I had already stolen all of it in mis-spent tax money." When asked how such an unscrupulous man could become mayor, he replied that it was a Kentucky town, and thus he was chosen because he was the only candidate who had shoes.

@~A stark naked woman pedaled her bicycle down a busy street in freezing temperatures, a man polished off a plate of worms and bugs, and a third person changed his name to an obscenity.
All were stunts aimed at a chance to win 10,000 Canadian dollars in a month-long radio contest held by a radio station.
In related news, AMERICANS have done crazy things as well to earn the equivalent of 10,000 CANADIAN dollars. This includes, working for 3 hours at convenience store, searching under the passengers seat in the car, and sticking a finger in the coin return slots of 4 or 5 vending machines.

@~The U.S. Navy said it had punished 23 sailors bound for the Gulf who refused compulsory anthrax shots the Defense Department said will protect them against the deadly biological agent.
The Navy-men complained that the shots were not necessary and that besides, it gave them a QUOTE: "big ouchy."

@~Wild turkeys have been terrorizing visitors to one California wilderness park, charging hikers, chasing cars and blocking trails.
Rangers have advised to ``Keep your young children with you. Clap your hands and make noise to discourage the birds from approaching.'' The string of turkey incidents is linked to the February-to-June breeding season, when the wild turkey gobble and strut to show off masculine vigor, sometimes chasing, and pecking at people.
The most wild of all these turkeys in California is Los Angeles Laker Dennis Rodman. The basketball freak show has been seen gobbling at all hours of the night, clucking around in a Las Vegas hotel, while his chicken-head Carmen Electra is left home alone with a turkey baster.

@~A London entrepreneur who sells Elvis memorabilia has won the right to that name, after a legal battle with
the Presley estate. The entrepeneur can now use the name in conjunction with his toiletry products.
Among the bathroom products are the Elvis toilet-paper--early years, and the super-size, super-absorbent, jelly-donut ass later-year Elvis toilet-tissue.

@~It is not often that Pope John Paul gets videos of a television mini-series as a gift from a visiting head of state.
That was one of the three gifts Iranian President Mohammad Khatami came bearing when he visited the Pope at the end of his landmark visit to Italy.
The Pope was puzzled, being that he normally receives gifts of great value, art, or significance. The Iranian president however stuck to his claim that the mini-series WAS significant, saying it is QUOTE "about Christianiaty or something." The President of Iran refused to admit that it was a last minute gift. He said QUOTE: "while i did tape it last night, the Tonya Harding story is of great relevance to the pope-- there is a striking similarity to the bible, didn't mother mary ice skate?" Other bootleg gifts given from Iran's head of state to the pope included, a Speak and Spell circa 1982, a coffee mug commerating the last episode of Head of the Class, a digital watch with calculator, stopwatch, and alarm, as well as a handful of the official presidential lint of Iran. Upon receiving the gifts, the pope replied QUOTE: "uh, thanks."

@~A funeral in Denmark came to a halt when grieving relatives noticed that the woman in the coffin was not the person they had come to bury.
Their loved one had actually been buried a couple of days earlier at another ceremony with nobody present aware that they had put the wrong person to rest.
The relatives were clearly upset, visibly weeping and bemoaning the fact that they were mourning the WRONG person. The family made the discovery when one of the deceased grandchildren remarked, this doesnt smell like grandma. The boy's mother hushed the child and mumbled something about an adult diaper, but then was SHOCKED to see that her son was correct. The family went from sad to angry in a matter of seconds. Grandchildren took turns spitting on the strange old lady in the coffin screaming, you're not grandma! Cousins lined-up to punch the dead grey woman in the face. Women beat the imposter with their handbags. The funeral director awoke to the commotion and was in disbelief when he saw the 92 year old dead woman being spun around on the shoulders of a man before he lifted her up above his head and then delivered a back-breaking atomic knee-drop.
The family explained their actions complaining that this elderly lady was not their dear grandma-- it was an evil-hearted poser. The director, his eyes widened in consternation, replied, that IS her--she's just wearing make-up.
The family members looked down in sorrow until Uncle teddy spoke up, QUOTE: "but grandma ethel NEVER wore make-up-she just wanted to confuse us-- what a bitch!" The family then continued the beatdown.

@~ US Centers for Disease Control and Prevention officials said the 1998-1999 winter flu season is showing the first signs of subsiding.
The official then sneezed and nasally ejected a flu bug riding a small, squishy green space ship.
The flu bug then reported QUOTE: "Although the season is almost over, I felt we had a good year all around. Our pitching was solid, and our hitting with runners in scoring position was excellent. We hope to continue building on this success, and next year extend the season with a wild-card berth."

@~ According to a study published in the American Journal of Psychiatry, disaster workers who identify themselves with the dead -- thinking ``It could have been me'' or ``It could have been my friend'' -- are at increased risk for post-traumatic stress disorder.
Not surprisingly, people who look at Hog-Wild and think "that could have been me" , or "my life could be worse, I could lose my company bicycle and job as daily-printed-news-media-supplier and have to be that guy", experience LESS stress and usually feel better about themselves. This technique has been used extensively to help propel the self-esteem of dung-shovellers in third-world nations.

@~Pelvic floor muscle training can reduce the incidence of urinary incontinence in elderly individuals by almost 75%, researchers report.
Irvin Abramowitz of Miami has tried the pelvic floor muscle method and reports that not only has it helped his urinary incontinence, but it really helps him pick up chicks at the Supermarket. Irvin said QUOTE: "I can't tell you how many women can't resist a 78 year old man in plaid pants undulating on the floor of the dried-fruits and adult diapers aisle."

@~A comparison of American and French breast cancer guidelines leads experts to conclude that cultural attitudes have a strong impact on medical recommendations.
For example, in France, most recommendations begin with shaving the arm-pits and a stirct regimen of bathing at least once per week.

@~A simple, inexpensive test may provide women in developing countries with an accurate method of cervical cancer screening, a low-cost, low-technology alternative to Pap smears.
The technique involves applying vinegar to the cervix followed by a visual inspection.
This technique also has been used to create a caesar salad. There is no data to support whether olives or croutons can act as cancer-fighting agents, though bacon-bits can.

@~U.S. authorities said they will use top secret spy satellites to watch boat traffic on the fragile Florida Keys' coral reef, a decision that outraged privacy-mad free spirits in the island chain.
The residents complained that the spy satellites could be used to peek into their windows, follow them in their cars, or worse—be used to find out when they've been wearing the same skivvies 2 days in a row.

@~German and Danish doctors said they had developed a doping test to discover if athletes are using human growth hormones.
In related news, non-athletic, all-around pathetic, #1 cause of a headache Hog-Wild, admitted using the human growth hormone because his pubic growth was less like that of a human and more like that of a baby parakeet.

-The Hog-Wild News Network International has been compiled from various sources including but not limited to the Daily Newspapers, Internet Findings, Popular Magazines, and your mom.
Reproduction of this newscast, such as charging admission for its retelecast while not offering a cold beverage, without prior written consent will be considered sexual harassment and is punishable by law, lawyers, and rednecks with shotguns.

Read last week's news, 99.03.09
www.hogwild.net Semi-Hilarious Comedy EVERY DAY.
Copyright © Hog-Wild! Entertainment. All rights reserved. So back the hell off, you silly little thumb-sucker.
Revised: March 16, 1999. hogwild.net--- TELL A FRIEND!!