HOG-WILD! NEWS NETWORK INTERNATIONAL™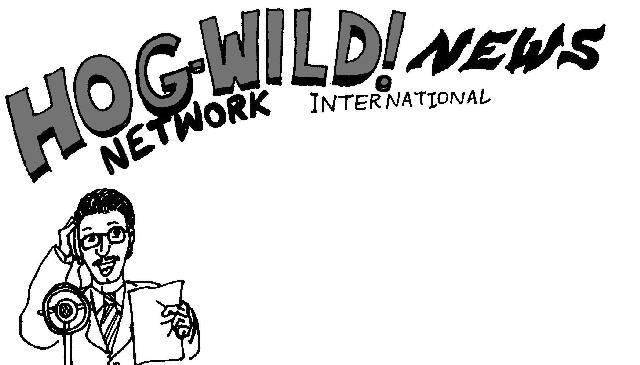 | | |
| --- | --- |
| MUSIC MUSIC MUSIC, CHECK OUT THE TOP 100 SELLING CDs! | Click the shoes for the latest fashions by J-Crew! |
08/09/99
(transcribed from Theodore's Newscast 1 day later) Listen to the current News in Netcasts

w/ Theodore
Hog-Wild News Network International is brought to you by The Company the Makes the Plastic Wrap for The Red and White Restaraunt Mints. Our plastic wrap is loud, REALLY LOUD, that way you can never quietly slip a mint in your mouth without everyone around you asking for one too.

— A federal judge barred New York City's police from stopping a photo shoot of 75 nude models in a residential neighborhood on the Big Crap Apple's lower east side.
The judge ruled that the photographer could proceed with his shoot of the nude models forming ``an abstract shape'' between 5:30 a.m. and 6:30 a.m. Sunday morning.
Neighbors said that their complaints did not stem from the idea of public nudity, but rather that the only thing that was "an abstract shape" were the flops and folds of the massive-malomar-munching-manatee-marshmellowy-models.

— A ``Seinfeld'' spin-off is in the works, but it won't revolve around George or Kramer, or even Newman.
Instead, it will feature Jackie Chiles, the Johnnie Cochran-esque lawyer who represented Kramer in his quixotic lawsuits against coffee and tobacco companies.
Spinoffs have a rich tradition in television history. From Diff'rent Strokes came Facts of Life. Cheers begot Fraiser. A Different World was born from the Cosby Show. The list goes on and on. But the question is, will a Seinfeld-spinoff featuring a character not of the main cast do well?
To answer this question, let's consider such classic spinoffs as "Oh, Mrs. Melmac" which was launched from the show ALF, feauturing ALF's birth-mother. Or, "In search of Mohawks and Gold" which spun-off of B.A. Barackus' girlfriend on the A-Team. And finally, who could ever forget the short-lived TV talk program, "The Pat Sajak Show" featuring the host of the Wheel of Fortune. This just proves that Sajak is not the main character of the gameshow, it is Vanna.
In related news, VANNA was offered her own talk show, but studio producers rescinded their offer upon learning that she lost to Magic Johnson in a game of Scrabble.
Vanna defended this embarrassment by protesting that Magic would not let her challenge the word he used to WIN the game: "Spectabular."

— Singer Sir Elton John, fitted with a pacemaker after suffering heart problems, confessed ``I thought I was a goner.''
In related news, Elton's record label has demanded that he record a special version of "Candle in the Wind" for HIMSELF—so just in case he goes, the label will be able to milk one more blockbuster hit out of him.

— We'll pay for it, but we won't air it -- that's what the NBC-owned stations are saying about the upcoming season of ``The Roseanne Show.''
The NBC outlets will yank the low-rated talk show from their daytime schedule in early September, in spite of the station group's contractual obligation to carry the show for another year.
Jested one NBC executive, QUOTE: "We couldn't carry the show another year if we WANTED to, NO ONE has the BACK STRENGTH to lift HER fat ass."
Said another NBC programmer, QUOTE: "The public enjoys Roseanne as a jolly, fat woman. Kind of like Santa Clause with bad hair and a nose-job. She's too serious now. She needs to lighten-up. Get it. Lighten-up. Ha ha, I'm so damn funny. I should give MYSELF a show! Lighten-up—good one. I think that deserves a pay-raise and a company-paid trip to Bermuda."

— The voice of the cartoon character Thomas the Tank Engine has been discovered driving a taxi -- and now Hollywood fame beckons alongside American actors Peter Fonda and Alec Baldwin.
John Bellis, a fireman working part time as a taxi driver landed the voice part of the popular children's book character when he gave the producer a lift in his cab.
The producer admitted that he WAS getting desperate since he always looks for voice-talent in taxis. The producer confessed QUOTE: "Frankly, this was the only guy who could speak English fluently, or was able to control himself from randomly shouting expletives, or whose natural scent didn't singe the hairs in my nostrils."

— In a move that trims the already slender Republican lead in the House, a three-term Republican lawmaker defected to the Democrats. The switch was made by Rep. Michael Forbes of New York.
Said Forbes QUOTE: "I was tired of promoting Tobacco-use and encouraging people to buy guns. I was tired of cutting taxes for the rich at the expense of the poor. I think now it's time for me to create lots of large-budgeted social service programs to combat these evils. And we need more people in the government. Bigger government is good! More legislation against big business. And abortions should be available at drive-thru windows."
Evidently, the intense liberal brainwashing, had been completed by this point.

— A federal jury in Connecticut found that Microsoft did not violate U.S. antitrust law in a suit brought by a small Connecticut software company.
While the eight-member jury found the world's leading software company liable for violating Connecticut business laws, it awarded nominal damages of only $1 to the plaintiff.
Microsoft CEO Bill Gates relaeased this statement to the Press: "God-dammit! A dollar! That's horsebleep! Total horsebleep! How can I control all of the world's cash when you idiot judges keep stealing my money! Give it back!"
When reminded that one dollar in relation to the billions of bacon-bits he already has is like looking at a micro-organism on Jeremy the Bloated Jew's bloated ass, he replied, "But still, it like sucks dude. Just for that I'm going to start making cars. All cars will need Microsoft Windows, Microsoft Windshields, Microsoft Engines, Microsoft Hood Ornaments—I WILL RULE THE WORLD HA HA HA HA!"
Gates then quickly exited the podium as he saw He-Man enter the room shouting "Down with you Evil Skeletor."

— President Clinton sought again to draw attention to business opportunities in economically depressed areas of the United States, this time visiting the lower Mississippi Delta region of his home state.
Clinton was dismayed however, when the townspeople shouted that they were only so depressed because of the humiliation that the Lard-ass-Loving President is from THEIR state.

— Yemen's vice-president threatened to use an ``iron hand'' to curb the kidnapping of foreigners.
In related news, it is speculated that he uses the OTHER hand to do "RESEARCH" on the Net.

-The Hog-Wild News Network International has been compiled from various sources including but not limited to the Daily Newspapers, Internet Findings, Popular Magazines, and your mom.
Reproduction of this newscast, such as charging admission for its retelecast while not offering a cold beverage, without prior written consent will be considered sexual harassment and is punishable by law, lawyers, and rednecks with shotguns.

www.hogwild.net Semi-Hilarious Comedy EVERY DAY.
Copyright © Hog-Wild! Entertainment. All rights reserved. So back the hell off, you silly little thumb-sucker.
Revised: August 16, 1999. hogwild.net--- TELL A FRIEND!!