I've been thinking up a lot of drinking games recently and a new idea I have is Party Bingo. It's like regular Bingo but with a lot more partying!
Not that the idea of a regular game of Bingo doesn't elicit excitement. Bingo is so exciting that most people who play it need oxygen! Haha, old people.
Just kidding, I loved playing Bingo as a kid and now as an adult, I have an idea to create a mix of Bingo + Trivia + Drinking!
Here's how it works:
There are two teams, each with 5 players. It's easier if members of each team wear the same color shirt so you can keep track.
On the floor or ground, draw a large BINGO card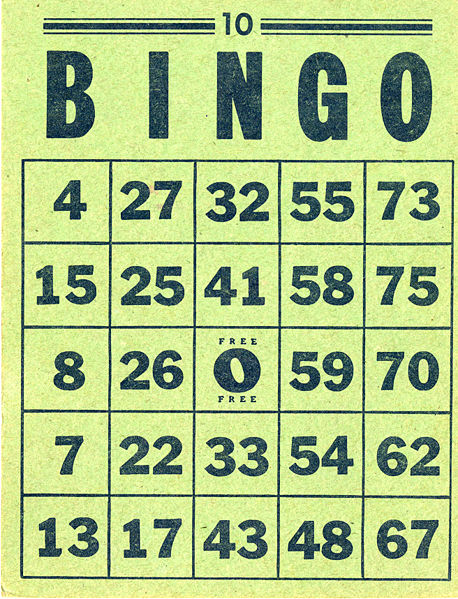 in chalk or masking tape (or with paint if you just don't give a hoot) and put proper BINGO numbers in each square.
The Bingo caller will have access to a random number generator or an old-school Bingo machine. When the number pops up, only he sees it, and then he creates a trivia question that when answered correctly, is the number to a square.
For each question, two players from opposing teams get ready to answer and run.
For example, if the randomly generated Bingo number is B-13, the Bingo caller may ask, "How many stripes are on the American flag?"
Players should run to the square that is marked 13.
If you get there first, you get the spot. If it's a tie, you do a shot with the other person. The first one to down their drink first wins the spot!
If you run to the wrong spot, didn't answer, or if you got there too late, you have to take a drink. Now stay on the sideline and wait for your turn to come up again.
The object for the 5 players of your team is to form a Bingo line straight across any row, down any column, or diagonally through the free space.
If the Bingo caller asks a trivia question that leads to an answer NOT on the Bingo card, the winner is the player who first calls out the correct answer. That player may then occupy ANY Bingo space they choose, with the goal of forming a Bingo line with their teammates.
When you win, the Bingo line becomes a drunken conga line as you dance while taunting your opponent!
If the trivia answer IS a number on the board, it is unwise to shout out the correct answer because then you are alerting the opposing player as to where to run.
HINT FOR THE BINGO CALLER: If you can't think of a good trivia question, simply ask a math question.
For example, if B-8 is randomly generated, you can ask, "What is 2 raised to the 3rd power?" The correct answer would be 8.
When it's your turn to answer the trivia question but you are ALREADY occupying a space on the board, you must announce if you plan to stay in your space or move.
If you want to stay in your space because you think it's a strategic location to form a Bingo line with your teammates, then don't answer the trivia question. The opposing player must still figure out the trivia answer to earn the space. They will have 10 seconds to do so. If you'd like to move to a new Bingo space, then answer the trivia question normally.
For example, say your teammates have formed a line down the "G" BINGO column but you are standing in the B column. Clearly, now that it's your turn, you want to move to the G column to win the game. Before the trivia question is asked of you and the opposing player, announce that you intend to move.
Now say the trivia question yields an answer that is not on the BINGO card. Yell out the correct answer before the opposing player and now you make take any space you choose. Occupy the final G column space for the win. Bingo!
Make all the losers on the other team drink!
For even more fun, make Bingo Party into a costume party where everyone must dress up as an old person! Have fun wearing old lady wigs, pants pulled up to your armpits, big eye-glasses, and white velcro sneakers!