Welcome to the Bullpoop Series. Today we examine the old adage, "Relationships are about Compromise." Well, I say that is BULLPOOPY!!!
Take a typical example. The guy goes to the ballet with his girl because she loves it, even though he HATES it. Then the girl returns this "favor" by going to the football game and hating that.
HIM: I wouldn't mind watching this ballet if the men dancing around in tights were at least wearing helmets and shoulder pads. And tackling each other. Piling on top. Huddling. Making passes. Oh no! I just realized, football is a gay ballet!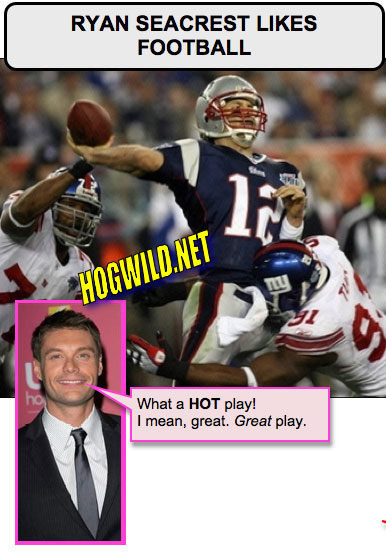 Is this what a relationship is supposed to be? You be miserable for me and then I'll be miserable for you?
Ew! No!
So how do you handle this scenario?
First, if the ballet or football is THAT important to you, then find a partner who likes that stuff!
Now, if you're in a relationship and you really love this person but they don't enjoy a certain activity that you do... why the hell would want them to suffer through it?
THE GIRL: Suffer! You made me go bowling. Now you must shop with me for HOURS! Hours with no hope of going home! Suffer!!! Now hold... my... purse! Not here... go stand in the feminine products aisle!
You WISH they enjoyed your favorite activity but they don't. Accept it. Make some friends and go with them.
Now, let's say I hate hate hate going to the art museum to look at post-modern statues made from recycled tuna cans that are supposed to represent the mystery of love between ring-tailed lemurs. But my girl, she LOVES post-modern statues made from recycled tuna cans that represent the mysterious love between ring-tailed lemurs!
Well... 9 times out of 10 I won't go with her. Not my thing. But... maybe because I'm feeling especially loved by her. Or maybe because I really want to GIVE to her... I'll go. And not drag my ass there. Willingly. Maybe even... enthusiastically!
And no, I won't pay any attention to the tuna can statues. My attention is on her. I will soak in her enjoyment of the activity. I will encourage her to talk about it. I'll hold her hand as we walk through the exhibits. I'm there for her.
Now, this is critical: Never do anything out of a feeling of...
This is taken from my Premium Members section where I post my new videos.
Here are some more tips, but only Premium Members get the entire video + access to over 125 full dating and relationship videos in the Video Vault!
- Quality time should be a MUTUALLY ENJOYABLE activity.
Like sha-boinking!
- If your partner is begging you and pleading for you to do something with them that you don't like, here is exactly what you say to excuse yourself while keeping them happy...
Only Premium Members have access to this Video!
1 - Learn more about the Premium Membership
or
2 - You realize Life is Short, get the relationship you deserve and Join Now!
Comment below! What activities do you dislike doing with your partner? How does doing this distasteful activity make you feel about your partner?




Latest HogWild Dating Advice