Here are some quick thoughts on the 2003 Grammy Awards show.

First of all, why was Dustin Hoffman there? The man doesn't sing. He's not an important actor anymore. I mean, it was cool he introduced Simon & Garfunkel, so it was like a reunion of The Graduate (one of the all-time best movies.)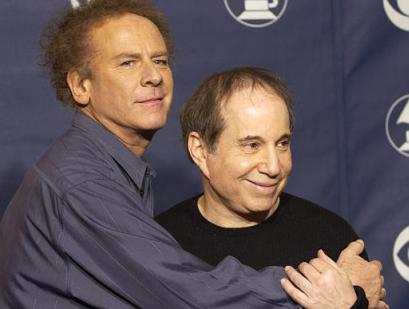 But then again, what the hell were Simon & Garfunkel doing there? Was this a benefit for Medicare? The Grammy's are supposed to celebrate the year in music. THIS year!

Garfunkel's Jewish 'fro was lopsided. (Is he even Jewish?) Paul Simon looked like he woke up on a park bench.

I mean, I love those dudes and their music. But was this the time for it? To kick of the Grammy Awards? The time for it would be 1969.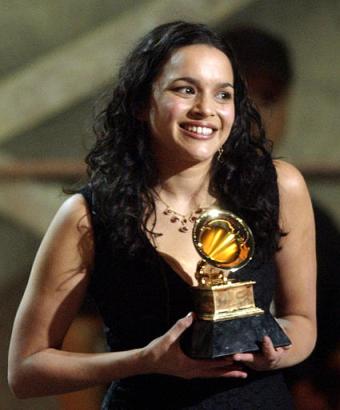 I like some of these new chicks. Michelle Branch for instance. She looks like a normal girl – and she can sing! This is clearly the anti-Britney movement. I think we've seen enough soft porn pop singers. It's time for the girl next door who has talent. So I hope they don't skank this girl up.

Nora Jones fits this category too. She makes great bath music. If I was a bim in a warm bubble bath, I'd be listening to Nora Jones music. It's awesome that she's just doing her thing and she got rewarded. She didn't have to twist it all up to fit some preconceived cookie-cutter mold. Props to Nora. I'd do her.

But I couldn't be exclusive with her. I'd need some punk rock girlfriend action on the side. That's where my barely legal girl Avril comes in. This chick is off the hook. Definitely not girlfriend material. And she's really annoying. But she's got the hot punk rock thing going on.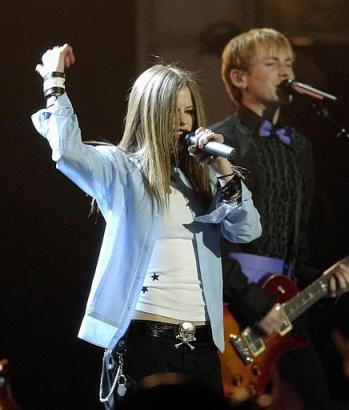 She'd be great for hot stairwell sex. I'd take her on a fire escape. Or back alley sex. She's the kind of girl you meet at a rock show and shaboink her leaned up against a dumpster in back of the club. Hot Hot Hot. But you can't date her. She yaps too much. And she probably wears boys underwear. That's gross. She's good for a dirty booty call.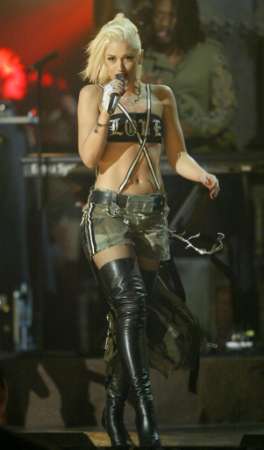 Gwen Stefani won the Grammy for Hottest Flat Chick Alive. To be any hotter, she'd need a pair of breasts. God, she's sexy. It proves that you can use what ya got. Her body is tight, she can move, she dresses sexy, and she's got that attitude. Nice. Those thigh high boots with the long blonde hair. Yamma yamma yamma!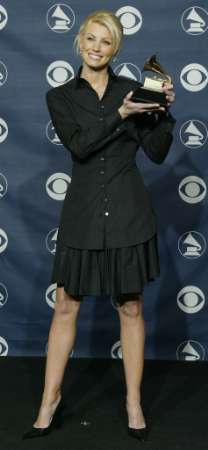 Faith Hill won the Grammy for MILF. Sheryl Crow was runner up.

Now Paul Shaeffer was buggin'. This nub is totally bald. So here is a bald man wearing a silk shirt, silk tie with velvet pants and a velvet jacket. I thought he was gonna slip out of his clothes. He's totally hairless and SLIP! Right through the silk and velvet.

I really liked the Dixie Chicks' rendition of Landslide. It was beautiful. It made me want to masturbate while weeping.

Nelly is smart. He brings hot bims on stage. That's always a good formula. If only Benny Hill had rapped, he too would have won a Grammy.

Nelly was out there with Kelly Rowland. Damn she's skinny. That's the skinniest black girl I've ever seen. Her legs looked like two bars of Twix.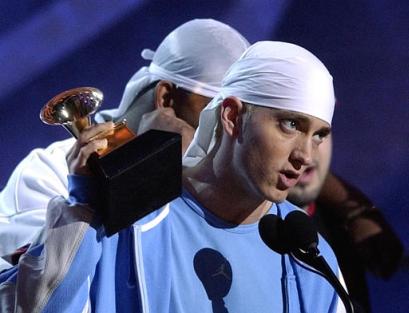 Eminem went all out this year. He wore his fanciest doo-rag.
I didn't watch the entire thing. There's only so many times I can hear these people thank all the Jews who made it possible for them to sing about life in the ghetto or life in the country.

It's always, "I'd like to thank the fans, my family, my producer Harvey Weinstein, Sony Marketing VP Joshua Goldman, A&R Rep Moishe Bergstein, Brian Friedman who wrote the song about me growing up in Georgia, Ron Finkelstein the guy I had to sleep with before I could sleep with Bernie Liebowitz..."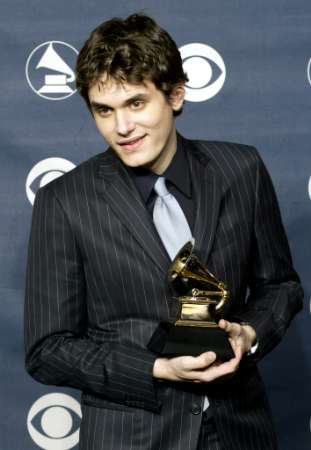 I will say that I went into it hating John Mayer and went out only despising him. I know now he has some talent, but more importantly he came off humble. Still a snot nose brat, but a little more modest.

This year there was no big intrigue though. I wanted to see J.Lo with Ben Affleck in an awkward situation with P.Diddy. I wanted to see Britney have to announce an award with Justin Timberlake. I wanted to see Christina Aguilera attempt to complete a full sentence.

But these things didn't happen. I wanted to see Ja Rule get shot while he was on stage by 50 Cent. If 50 is so hardcore, why wasn't his ass at the Grammy's talkin' tish to Ja? I like me a little hip-hop soap opera action.

Something tells me that after the party Busta Rhymes had sex with Avril Lavigne. I have no proof. Just a hunch. Just because Avril wants to piss off her parents. MAKE IT CLAP! <CLAP, CLAP CLAP-CLAP> She got the CLAP!

Dating Advice! Expert dating advice videos, your dating advice questions answered by HogWild!
Professional Dating Advice videos that will help you get the awesome relationship you deserve!