I love kids. They're great. EXCEPT...
on Halloween. They start acting all bratty and obnoxious. So that's why I've carved up scenarios I'd like to enact to scare the crap out of those annoying kids. I call it...
HOG'O'WEEN!
* HOG'O'WEEN KIDS' WORST NIGHTMARE #1
When kids knock on my door yelling trick or treat, I yell back in their face, "TRICK!"
Then I pull a rabbit out of a hat!
Then I pull a knife on the rabbit and demand all the kids' candy or else the cute little bunny gets it!
Then I take all their candy. I the slam door in their faces.
A few minutes later, I open the door and I see the kids still standing there -- in stunned silence.
I say, "Since all four of you have been good little children, I'm giving you your bags of candy back.
A few minutes later, I crack a smile as I hear them outside screaming and crying. I don't understand why... I gave them all their candy back! Plus a bonus treat. In each of their bags I gave them a lucky rabbit's foot.
* HOG'O'WEEN KIDS' WORST NIGHTMARE #2
When 2 little girls approach my door -- one wearing a cat costume and the other dressed as a witch I predict their future to them..."Well, I can all tell which one of you will grow up to be the hot chick at the bar -- while the other is the ugly witch who cock-blocks."
When a dumb-ass kid knocks on my door as Dracula and proclaims, "I come to suck your blood!", I tell him, "You can suck my d!ck, you still ain't gettin' no candy!" Then I slam the door.
When a dumb-ass kid knocks on my door as a Werewolf and howls at the moon, I say, "You want to howl at the moon?" Then I turn around, bend over, and tell him to, "Howl at THIS moon!"
Then I tell him Santa is DEAD.
* HOG'O'WEEN KIDS' WORST NIGHTMARE #3
I invite the brats into my backyard to tell them a scary story.
ME: You kids like scary stories?
KIDS: Yay!
ME: OK, then shut up and listen. There once were a bunch of children who loved sweets. And their favorite day of the year was a special day called All Hollow's Eve.
On this day they were allowed to eat as many sweets as they desired. Chocolates and caramel, ice cream and candy, chewing gum and gummy bears.
The adults not only allowed the children to partake in the sweets, they encouraged it.
Normally adults do not like children to eat too many sweets because it makes the children too excitable and hyperactive. No adult likes a screaming child. Well... UNLESS...
And this is where the story turns. Because there was a secret reason grown-ups wanted the children to consume so much candy.
Because the adults know that soon you children WILL be screaming... in PAIN!
An evil man will strap you to his chair. You will try to squirm away but it will be of no use! He will inject you with a drug and then he will DRILL HOLES in YOUR HEAD!!!
CHILDREN: Aaaaaaah!
YOU: Yes, he will TORTURE YOU by pulling and pushing and RIPPING your teeth out of your face until you look like a Jack-O-Lantern! Yes, this evil man is called... The Dentist!
The adults are treating you to all these sweets so they have a reason to send you The Dentist so he may torture you, causing you to scream in PAIN! Much to our delight!
All Hollow's Eve! Your TEETH will be hollow!
Anyone care for a lollipop?
CHILDREN: Aaaaaaah!
* HOG'O'WEEN KIDS' WORST NIGHTMARE #4
Boys knock on my door...
ME: Aw, you boys are all dressed up for Halloween! You boys like candy corn?
BOYS: Yay!
YOU: You boys like candy apples?
BOYS: Yay!
YOU: Now here's some stuff you boys will need to become big strong men. Here are some eggs for protein so you grow up big and strong.
Then I crack the eggs over their heads.
ME: And here's some shaving cream for when you hit puberty.
Then I spray them in the face with the shaving cream.
And since you boys like to play dress-up, here's some TOILET PAPER for your CANDY-ASSES!
Then I wrap them up in toilet paper and send them on their way as I shout, "Now you boys have a NEW costume... you're toilet paper mummies! Ha ha! You're mummy-boys!

* HOG'O'WEEN KIDS' WORST NIGHTMARE #5
KIDS: We want you to take us to a Haunted House!
ME: OK. You want a Haunted House... we're going to see the living dead!
KIDS: Ahhhh!
ME: That's right! We're visiting the Old Folks Home!
KIDS: AAAAAHHHHHHHHHH!
ME: Here we are...
A PALE WHITE FRAIL WOMAN SPEAKING LIKE A ZOMBIE: Need prune juice. Neeeeeeeeeed. Prune. Juice.
KIDS: Aaaaaah!
ME: Oh, she's not REALLY a constipated zombie. She's just heavily medicated.
CREEPY WARBLY SOUNDS FROM THE OTHER ROOM: Ooooooh! Ah! Ah! OH! OH! Get out! Get out!
KIDS: Aaaah! A Ghost!
YOU: No, no. That's just an old man having an orgasm.
KIDS: Aaaaaaah!!!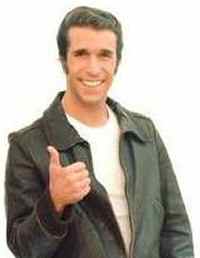 Want a kick-ass comedy show for your college or party? Email me for details.