Obama vs. McCain... Who should be President of the United States? The idea of either one in office makes me need a drink! So it's time for YOU to go HogWild and play along with the HogWild Drinking Game for the Presidential Debate!
- When Afghanistan is mentioned... drink 1 Car Bomb!
- When McCain manages to bring up how he was a Prisoner of War in Vietnam...
Grab your army-issue Colt 45... Malt Liquor!
- When Obama uses the phrase "more of the same"... Remember the last drink you had? Drink "more of the same"!
- For girls... When Sarah Palin is mentioned... Wink at the TV and drink a Shirley Temple like a good Hockey Mom!
- For guys... When Sarah Palin is mentioned... Lift two beers in the air and shout, "Nice Cans!!!"
- When one candidate claims the other will raise your taxes... Pour out 25% of your beer and complain about it.
- Take a gulp of your American beer when you hear any of these phrases:
change
maverick
fundamental
experience
my friends
surge
victory
the American people
You must also take a sip if somebody stutters, fake-laughs, or mentions some dollar figure in the billions or trillions.
- When McCain says in Iraq we can't "retreat" or "give up"... Take a sip of French wine
- When either candidate sheds a tear... Drink an O'Douls! Because fake politician tears deserve fake beers!
- When someone says we need to "fix" the economy... Drink a Screwdriver!
- When someone talks about jobs going overseas... sip your Chinese Tsingtao Beer
- When someone mentions Iraq... Pop Champagne and sarcastically declare, "Mission Accomplished!"
- When someone mentions Wall Street or Main Street... Act like YOU are on the street and drink your beer out of a paper bag.
- When either candidate says the word "nuclear"... drink a Jägerbomb.
- When someone mentions the auto industry... drink a Japanese sake.
- When anyone mentions the host site of the debate, Hofstra University... drink a Long Island Iced Tea.
- When anyone says "right to choose" or the word "abortion"... Drink 1 Bloody Mary. Awwww! HA HA HA!
- Anyone says "our allies"... Take a swig of Old English.
- Someone talks about "sealing our borders" or illegal immigrants... Tequila!

- McCain mentions Ronald Reagan... Let your beer "trickle-down" your throat
- Obama mentions Bill Clinton... Do Jell-o Shots off a girl!
- When someone is clearly lying or backtracking... Drink a vodka with plenty of Red BULL!
- When someone mentions "the economy" be sure YOU are the like the economy -- fucked up!
Or, if you're driving home and can't get too drunk... then be like the economy and go into the shitter.
*** This Drinking Game is OVER if any of the 3 following super-unlikely events actually happen:
1- McCain accidentally lets an old-man-fart slip out.
2 - Obama suggests that if elected he will "paint the White House black" then he proceeds to pump his fist in the air while woofing like a dog in the style of early 1990's talk show host Arsenio Hall.
3 - Either McCain or Obama give a honestly workable solution to any real problem facing the American people.
And Finally to REALLY end this Drinking Game...
- If either candidate mentions President Bush... Since he's on the way out and has left a bad taste in everyone's mouth -- go ahead and... PUKE!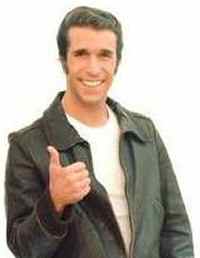 Want a
kick-ass comedy show
for your college or party?
Email me
for details.