How to Break Up the Relationship
by me, HogWild
E in Providence, Rhode Island writes...
Hey Hog,
I went out and accidently bumped into a girl that I've been "seeing" for the past year and a half. A lot of things made me realize that I do not want to be with her. Partly because she was extremely drunk and wearing half a shirt. Partly because she was on a stripper pole with a bunch of guys filming.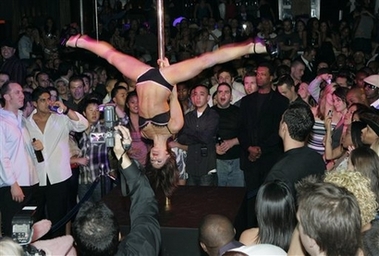 But mostly because she is a party girl and that is NOT the type of girl I'd like to be with.
I've made my decision and now I want to ask, how do I break up with her?
Obviously I'm not going to call her a slut and spit in her face, that's immature. I think I'd rather phone her than do it in person, because if I was in person, I'm sure a lot of emotions would come out, and I'd never leave her room.
And possibly I might end up sleeping with her again and perpetuating this unhealthy relationship.
- E in Providence, Rhode Island
First of all, congratulations. It takes courage to end a relationship that is broken. And it takes double courage when you really want to continue the steady sha-boinking but you realize that the head on your shoulders is more important than the head on your romance rod.
CHEESY GUY: My entire BODY is a romance rod. The ladies can't keep their hands off me! And I can't blame them because I apply super glue to the outside of my clothes!
So let's discuss, How to Break up the Mature Way.
But first, here's how to break up in the most immature way possible!
- Send a text message. To their best friend. Make it say: "I am now single. Please tell your friend. B.T.W. ... are you busy tonight?"
- Take them to a big sporting event and when the "Kiss Camera"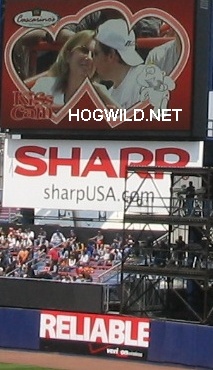 comes to you, bend over and pull down your pants shouting, "Kiss my ASS! It's OVER!"
- Sit down in a public place like a restaurant or coffee shop or at the monkey area of the zoo and take their hand gently and explain, "I forgave you when you cheated on me. I forgave you when you cursed at me in front of my grandma as we buried her because you said my eulogy was too long. And now I forgive MYSELF for staying with you all this time. Much like cooking a pancake, it's flipping over!
The "proper" way to break up a relationship depends on the length and intensity.
CHEESY GUY: That's what she said
If it was a few weeks, you can probably make a quick phone call.

If the other person really loves you -- even if they didn't express it in the way that you would have liked -- it's big of you to be gentle.
Yes, you can write a note but fill it with gratitude of the time you had together. And in the note, invite them to call you if they want to talk about it.
Of course, if you can deal with the phone call or meeting in person, do that instead.
Now, I'm talking about when you still care about the other person's feelings. If they were a jerk-face jerk-a-zoid and you NEVER want to speak to them again, then only make the effort to be extra-nice if that's your character. That way you know you did things the way you would like it handled and you didn't sink to their level.
People need closure. They need reasons. They need a story to tell themselves.
REAL REASON YOU BROKE UP WITH THEM: They became overbearing, boring and they stopped brushing their teeth.
STORY THIS PERSON TELLS THEMSELF TO PROTECT THEIR EGO: I am just too good for them anyway. Sure, I have my ways, but it's the RIGHT way! And my breath isn't bad. It's all-natural!
Give your honest reasons for wanting to end the relationship and do it without judging the other person. Explain that you two are seeking different things at this point in your lives. You would like to settle down and start and family and she would like to show her cooter on web cam for money.
If your mind is made up about the break-up, then this is exactly what to say...
This is taken from my Premium Members section where I post my new videos.
Here are some more tips, but only Premium Members get the entire video + access to over 500 full dating and relationship videos in the Video Vault!
- A real reason for breaking up is because you're growing in different directions and you want different things. Communicate this.
- To help yourself move on (and to help them move on), you need to follow this very important rule...
Only Premium Members have access to this Video!
1 - Learn more about the Premium Membership
or
2 - You realize Life is Short, get the relationship you deserve and Join Now!
Need one-on-one coaching? Contact
Dating Coach
HogWild for help!
Latest HogWild Dating Advice


Click here to Get Greater Dating Confidence + Increase your Relationship Skills
"The most important part of any relationship... is choosing the right person... in the first place." - HogWild
With your Premium Membership, I'll show you WHY that is true... and HOW to choose the right person for you.
HogWild's dating advice and comedy has been viewed by over 2 million people on YouTube. They have written thousands of positive comments thanking him for his coaching.
He has won awards for his outstanding teaching abilities and stand-up comedy and has been featured on PBS, Mad Magazine, Clear Channel Radio and more!
He has premium members learning from his dating advice from all over the globe including the United States, United Kingdom, Germany, Denmark, Ireland, Egypt, Mexico, Australia, and Canada. Yes, even Canada! :)
Become a paid member and you get INSTANT access to over 500 dating advice videos that will help you answer such questions as...
"How to be mega-confident"
"How can I become more desirable?"
"How to conquer the Fear of Rejection"
"How to Approach"
"How to get hotter sex"
"How to read the secrets of body language to know if someone REALLY likes you"
"How to keep a person loyal to you"
"How to tell a story so it increases attraction to you"
"4 Great Places to Meet your next Girlfriend/Boyfriend"
"How to Get over your Ex. Completely."
"How Flirt Effectively"
"How to Destroy Negative Thoughts"
"How to Immediately Screen out the Psychos"
"#1 Mistake that makes Conversations with new People Boring"
"7 Ways you are being Unattractive"
"8 Tips for the first time you have sex with a person of the sexy sex"
"How to deal with being hurt"
"How to bring out your inner-awesome"
And so much more!
You will finally feel control over your dating life and you will get the relationship you really want.
HogWild's dating advice makes it easy!
Become a member and get INSTANT access to the videos that will change your love life forever!
***
This article is for people who need help with:
how to break up
how to end a relationship