Should you live together before marriage?
by me, HogWild
Should you live together before marriage?
Yes! Because it's fun to play house! It will be like playing with life-sized dolls!
Yes ladies, except when you played dolls you got to make all the rules. Think of it like playing dolls with your butt-head sister who didn't "do it right."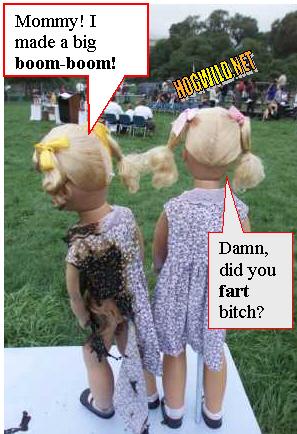 Should you live together before marriage?
Yes! Because you will have hot sex every night! You're animalistic passion can't be denied when in such close proximity. The more she sees you, the more she will lust for your romance rod.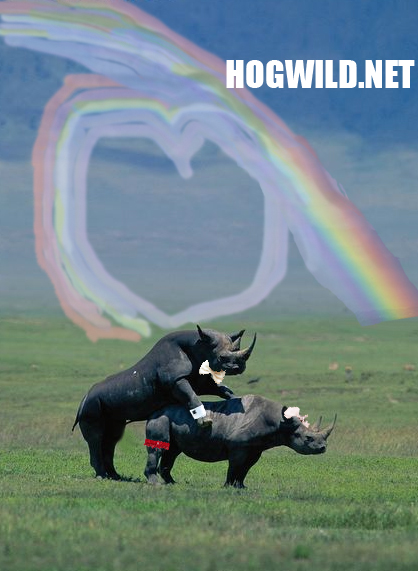 Yes guys, that's how it works in your testosterone soaked brain. But not in real life.
Sorry, but I don't have a yes or no answer for this one. The answer is: Do you want the pain of adjustment before or after you get married?
The reason conservative people say don't live together first is because you're less likely to get married because you'll see how hard it can be to live with someone else!
You'll be reminded that you're not just marrying a cute person with a charming personality and a sweet, romantic side but also a person who can't be bothered to put away the dishes, or throw out the trash in a timely manner, and they take so long to get ready, and they put everything in the refrigerator the wrong way, and must you crack your knuckles so damn much?! Good lord!
I can't live with this for the rest of my life!!! Oh, you're going away for the weekend? Oh yeah. I'll miss you so much while I'm sitting on the couch in my underwear eating pizza and putting beverages on the coffee table without a coaster. That's right! I'll be placing my beverages on the coffee table without a coaster! It's gonna get wild, baby!
But if you get married first, you'd better both be super committed to never getting divorced because everything will get intensified very quickly. Plenty of couples get divorced because -- even though they still care for each other -- they can't learn to live with each other.
Living together takes away the romance and magic. Unless you believe those farts are FAIRY dust!
But in that sense, it's good because you will get a real idea about the challenges of married life.
That said, it's a very difficult transition for a lot of people. Everyone has different ideas about how to run a house. Expect stress. If you're already married you will feel more social pressure to "make it work" because of the big public promise you've made to each other. You will also feel like this is your partner for better or worse. For cleanliness or filth. For fresh air or "fairy dust."
Whereas if you're not married, the difficulties will tempt you to walk away from the situation. But living with ANYONE can be tough. You have to really talk about your expectations of chores, upkeep, and all that mundane day-to-day stuff. You have to come to agreements. There is no "right way." There is only your way and their way. Now there must be an "our way."
For example...
This is taken from my Premium Members section where I post my new videos.
Here are some more tips, but only Premium Members get the entire video + access to over 500 full dating and relationship videos in the Video Vault!
- Watch video 452: Tips for your first time living with a girlfriend or boyfriend. So should you live together before marriage? Yes, if you want a preview of what is ahead. No, if you really want to be married first and then deal with it later.
- The biggest thing to remember is that it's not the chores or the upkeep, it's...
Only Premium Members have access to this Video!
1 - Learn more about the Premium Membership
or
2 - You realize Life is Short, get the relationship you deserve and Join Now!
Need one-on-one coaching? Contact
Dating Coach
HogWild for help!
Latest HogWild Dating Advice


Click here to Get Greater Dating Confidence + Increase your Relationship Skills
"The most important part of any relationship... is choosing the right person... in the first place." - HogWild
With your Premium Membership, I'll show you WHY that is true... and HOW to choose the right person for you.
HogWild's dating advice and comedy has been viewed by over 2 million people on YouTube. They have written thousands of positive comments thanking him for his coaching.
He has won awards for his outstanding teaching abilities and stand-up comedy and has been featured on PBS, Mad Magazine, Clear Channel Radio and more!
He has premium members learning from his dating advice from all over the globe including the United States, United Kingdom, Germany, Denmark, Ireland, Egypt, Mexico, Australia, and Canada. Yes, even Canada! :)
Become a paid member and you get INSTANT access to over 500 dating advice videos that will help you answer such questions as...
"How to be mega-confident"
"How can I become more desirable?"
"How to conquer the Fear of Rejection"
"How to Approach"
"How to get hotter sex"
"How to read the secrets of body language to know if someone REALLY likes you"
"How to keep a person loyal to you"
"How to tell a story so it increases attraction to you"
"4 Great Places to Meet your next Girlfriend/Boyfriend"
"How to Get over your Ex. Completely."
"How Flirt Effectively"
"How to Destroy Negative Thoughts"
"How to Immediately Screen out the Psychos"
"#1 Mistake that makes Conversations with new People Boring"
"7 Ways you are being Unattractive"
"8 Tips for the first time you have sex with a person of the sexy sex"
"How to deal with being hurt"
"How to bring out your inner-awesome"
And so much more!
You will finally feel control over your dating life and you will get the relationship you really want.
HogWild's dating advice makes it easy!
Become a member and get INSTANT access to the videos that will change your love life forever!
***
This article is for people who need help with:
should I move in with him
should I move in with her
live together before marriage
living together
cohabitation before marriage
moving in with boyfriend