I'm insecure about sex and my girlfriend used to sleep around
by me, HogWild
H in Kansas City writes...
Hello HogWild,
Your dating advice videos have really helped me! My issue is that I'm 28 years old and have been in only one relationship. It was for 9 years. Five of those were in marriage.
I grew up only having sex with people I have feelings for. I don't have sex just to do it.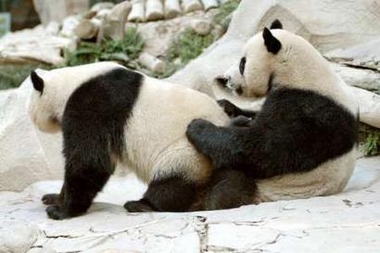 HOG: That's right! Listen to this man, you male and female sluts out there! Sex is not something to do just because it's been a while. Sex is not like exercise. Oh well, I need to work up a sweat and get my heart rate up and I haven't done it in about a month so... I will sha-boink the first acceptably-attractive-acquaintance!
Just kidding. Sex is exactly like exercise. You should do it everyday but only with proper equipment. And it's even more fun to do it in front of a class! hahahha
OK, back to your problem...
I'm now separated and going through a divorce but I have huge issues with girls that have been around like having "f buddies" in the past and when I ask, it haunts me and I feel grossed out.
HOG: Yes, I am haaaaaaaunted by the ghosts of past penises! I opened her legs and a scary vampire bat flew out of her haunted hoooooo-ha! Wooooooo! hahaha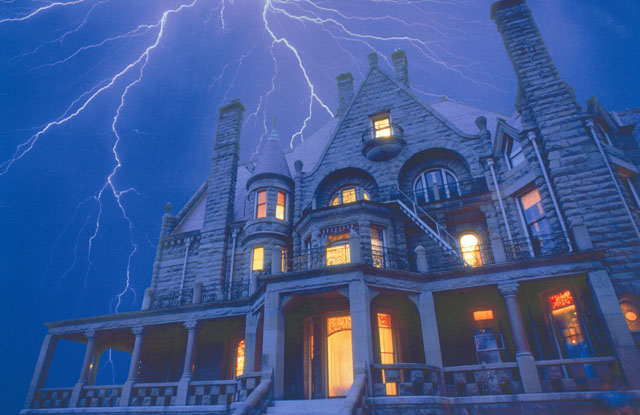 OK, sorry.
I know this sounds stupid but it's hard. It's been 7 months since I separated and now I'm talking with someone.
It's affecting the growth of this relationship because this girl has had f-buddies and friends she used to just bang for fun. What can I do?
It's a really uneasy feeling and I'm trying hard to shake it off but I can't. I feel like I'm a number. Like, just another person she's gonna bang and I don't like to feel that way; it turns my stomach.
Also I have this feeling that I'm not that good in bed like the guys from the past because I've only been in one relationship and haven't been around.
Please help me. This is eating me up inside!
- H in Kansas City
THINGS THAT CAN EAT YOU UP INSIDE
- applying your hemorrhoid cream right after squeezing lemons
- a baby piranha that was hatched inside your stomach and is slowly growing larger and clawing its vicious teeth into your gut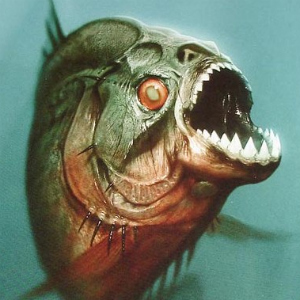 - an ulcer. Caused by the stress of knowing you somehow swallowed piranha eggs that have hatched into vicious flesh eating fish that will feast upon your intestines until they swim out of your hemorrhoids
Your feelings are understandable. You want to feel special (doesn't everyone! :) and you want to feel comfortable with a girl before going to bed. If you really like a girl but her past is bothering you... you might consider that you have a past as well. She might have had sex but you have had the ultimate emotional partnership — marriage. And some women won't be able to look beyond that even though it's probably not fair for them to judge you for YOUR past.
See, it's all in your perspective. It's a challenge to look at it differently, but it can definitely be done.
If you demand a girl whose had very few sex partners, you can find that. In the US, they are generally younger and religious. Or perhaps, like you, they too were married young and are recently divorced. Or they're extraordinarily fat and hideously ugly to the point that they look like a marshmallow mountain topped with a giant eyeball.
There's two things at play here:
1 - Your confidence and thinking you have to be the best lover a girl has ever had.
2 - You're holding onto the fairy tale that your girl will be a pure princess.
Again, you CAN get that kind of girl, but of course this will eliminate most of the population and LOTS of great women.
OK, #1, you CAN get better at sex. It's a skill. Watch my videos for tips! Most of the aspects are MENTAL so don't be too concerned with your boink-stick as long as it's functioning. Watch video #434 Does Size Matter? if you're really concerned about your pleasure pole.
Think about it this way. You have had sex with other women. Now you meet this new girl and she's really awesome. You have sex with her a few times and it's pretty good. Now if you HAD to compare, you'd say one of your ex-girlfriends was the hottest in bed.
But if you really care about this new girl and she's really awesome and beautiful and still pretty good in bed, does that make you like her less?
If so, you're in the small minority of people who put sex above everything else. Sex is important, but in a LOVING relationship it's not the #1 decider of your happiness. Not even close.
That's why women don't just marry the guy with the best sex skills. They marry the guy with...
This is taken from my Premium Members section where I post my new videos.
Here are some more tips, but only Premium Members get the entire video + access to over 500 full dating and relationship videos in the Video Vault!
- Nobody is perfect. You must accept a person's past. If you can't, you have no business being with them.
- If you want THIS girl, you need to look at her past in a NEW way. Yes, her past is hers but her future can be YOURS.
- You have a past, too. This girl will have to accept that you...
Only Premium Members have access to this Video!
1 - Learn more about the Premium Membership
or
2 - You realize Life is Short, get the relationship you deserve and Join Now!
Need one-on-one coaching? Contact
Dating Coach
HogWild for help!
Latest HogWild Dating Advice


Click here to Get Greater Dating Confidence + Increase your Relationship Skills

Become a paid member and you get INSTANT access to over 500 dating advice videos that will help you answer such questions as...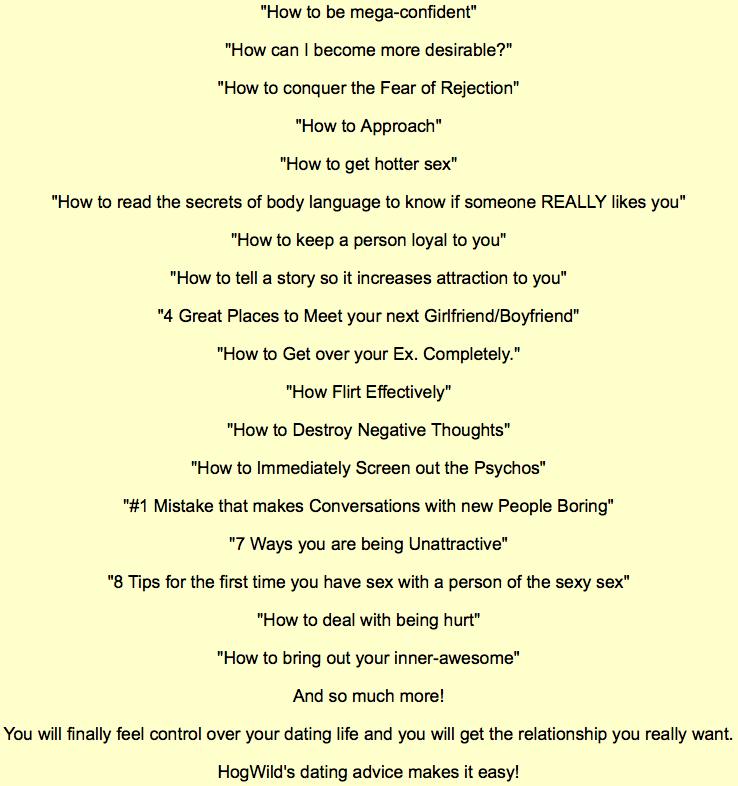 Become a member and get INSTANT access to the videos that will change your love life forever!
***






This article is for people who need help with:
insecure about sex
girlfriend had many partners
girlfriend used to sleep around
insecure in bed