Stubborn People: How to deal with a stubborn husband, wife, boyfriend, or girlfriend
by me, HogWild
C in Atlanta writes...
Hi Hog,
My boyfriend is stubborn, help! If I make any suggestions, he does the opposite. What is your advice for dating the headstrong guy who ALWAYS thinks he is right?
- C in Atlanta
Hey, maybe he IS always right! haha
Answer him by bowing your head and saying, "Yes master. Your wish is my command. Your knowledge of the Universe is supreme. Once again you are correct: Channel 5 DOES HAVE the best local newscast for traffic and weather."
haha
Look, he is feeling insecure. His self-esteem is hurting. One way to boost self-esteem is to feel control over your environment.
See, he wants to feel control and if he takes your suggestions, he mistakenly thinks that he is losing control and power.
YOU: I see you are slicing a green pepper for a salad. Let me show you a better way to cut it.
HIM: No! I enjoy slicing my green peppers by throwing them into the air and swinging a hammer at them!
In that scenario you come off as a know-it-all and he feels like an idiot. Instead, try this:
YOU: Ooh, you're making a salad. Hey, I heard of a way to slice green peppers that you might like. Do you want me to show it to you?
That way he can say no thank you and you leave him alone about it. You aren't acting like you know best, you are gently asking him if he would LIKE a suggestion.
But overall... how do you get a stubborn person to be less stubborn?
Make them feel loved.
And it's ain't always easy! So I hope this dude is worth it!
But if you really like this guy, try to accept his (hopefully temporary) insecurity and help him build up his self-esteem.
He is feeling threatened. And he sees YOU as a threat.
YOU: But why? I have a lot of great suggestions on how to run his life better! I can single handedly save him!
Well, THAT could be a problem.
And also, maybe he was hurt really bad in a relationship before. Or maybe he saw a friend or family member get hurt by love.
So you want to make him feel relaxed and secure in your relationship. Once he realizes that you and he are on the same team --- he will stop resisting you. He needs to know that you have his best interests in your heart.
THINGS THAT SHOULD BE IN YOUR HEART
- your partner's feelings
- love and consideration
- oxygenated blood. duh!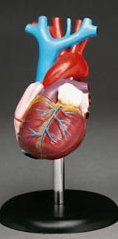 When you offer unsolicited advice, a lot of times it's not just for the other person's benefit -- it's because YOU think you know better. Well that's what YOU think! It doesn't make it right! Stroke your ego towards someone else's face! EW!
Yes, you care about him and want him to live a happy life -- at the same time it's natural that he wants to make his own decisions and not feel pressured by you.
This is all about ego. His ego and your ego. So when speaking to him, think about how you can allow his ego to feel good while still getting your ideas respected.
But what are your suggestions? Are you constantly trying to change him?
YOUR GUY: I'm a powerful Rottweiler but she's trying to turn me into prissy Pomeranian that wears a doggie scarf and poops little pellets. I'm a man! I poop big doody!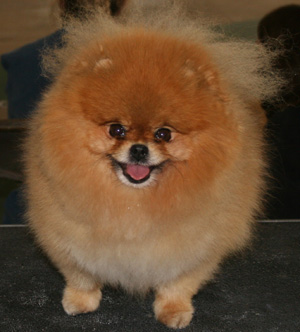 NOTE TO WOMEN: Don't get between a man and his doody. hahah
It could be that he is not stubborn but that YOU are stubborn in trying to get everything YOUR way.
Eh? Eh? Eh?!
In a good relationship there is no "his way" or "your way." It's OUR way. Yes you'll have separate activities at times but try to create situations where you BOTH give love to each other. You are both making each other happy. If you consider his happiness to be your happiness and vice versa, this changes everything.
YOU: It would make me happy if my boyfriend accompanied me to that store in the mall that sells purses, shoes, perfume, and 8,000 varieties of candles. Hmm... but he hates shopping. OK, I can accept that. I'll choose an activity that we BOTH enjoy. Like massaging my feet!
Don't let him be rude to you or disrespectful. If he is, then don't come at him from a place of anger. Come from the TRUE emotion underneath -- hurt. Tell him that his refusal to consider your ideas really hurts you.
Why? Because it does! Tell him it makes you feel like he doesn't respect your feelings and that he thinks less of you.
Now, do you respect HIS ideas and suggestions? It's easier for someone to take your opinions into account when they see you taking THEIRS into consideration.
Make him feel important to you and some of his stubbornness towards you will melt away. Many people act stubborn out of fear.
He is scared you will...
This is taken from my Premium Members section where I post my new videos.
Here are some more tips, but only Premium Members get the entire video + access to over 500 full dating and relationship videos in the Video Vault!
- To truly love someone, is to accept them. So even if he's in a rough spot in his life right now, let him know he is loved by you. This will help him relax his defense of his ego and accept YOU into his life as a friend instead of blocking you with fear.
- For those times when you REALLY want to get your way with your stubborn guy, here's what you do...
Only Premium Members have access to this Video!
1 - Learn more about the Premium Membership
or
2 - You realize Life is Short, get the relationship you deserve and Join Now!
Need one-on-one coaching? Contact
Dating Coach
HogWild for help!
Latest HogWild Dating Advice


Click here to Get Greater Dating Confidence + Increase your Relationship Skills

Become a paid member and you get INSTANT access to over 500 dating advice videos that will help you answer such questions as...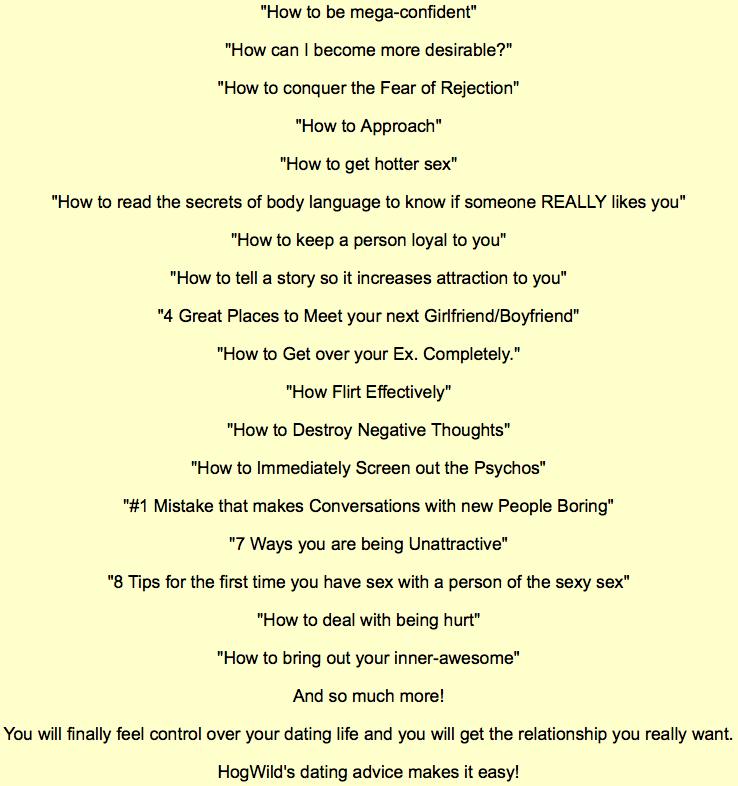 Become a member and get INSTANT access to the videos that will change your love life forever!
***






This article is for people who need help with:
how to deal with a stubborn husband
stubborn people
stubborn wife
stubborn husband