Dating Advice: I'm always the one to call or make plans
by me, HogWild
B in Minneapolis writes...
Hey Hog,
Things are going well with me and the new girl but... I've been initiating all the dates and hang out days. I'm usually the first to call or text when we are talking, too. Is this normal?
Should she be showing some motivation to get together, too? We have talked pretty much everyday for a month and we have hung out about 7 times. It's hard for us to get together and a lot of it has to do with her schedule.
Should I pull back a bit and let her show me what I'm worth to her? Do you feel this would be wise?
Thanks!
- B in Minneapolis
You are worth to her, what you make her feel.
If you make her feel meh ok, then you're worth a meh OK amount! If you make her feel awesome, adventurous, excited, and important, then you are worth all those things to her!
For those of you just joining this soap opera, our hero B in Minneapolis is a young single dad and he summoned up the courage to ask out the pretty girl who works at his coffee shop.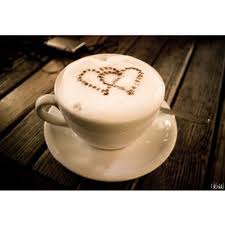 She said yes! And it turns out that she is also a single parent.
So first of all, I'm happy to hear about your budding romance!
Yes, let it bud! Um, yeah!
You can certainly pull back to see her reaction. Are you testing her to see if she really likes you? If she's willing to put in the effort? What is the real point of this?
Probably that you don't want to feel taken for granted or unappreciated. You want to know that she's really into you and going out with you because she likes you and not just because she doesn't have anything better to do.
Like making toast.
HINT: If someone consistently chooses to make toast rather than see you, then your RELATIONSHIP is toast!
Some people just aren't initiators. And some girls are taught to let the guy start the contact and ask for the date all the time. Although most girls these days will initiate after it's established that you two are a couple.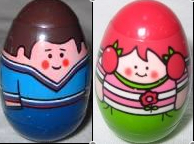 Next time you are together in person, you can say to her, "Hey, I noticed that I'm almost always the one who calls you first and stuff. Just so you know, it's totally cool if you call me sometimes or let me know if you want to get together. I'd like that. Now come here so I can give you some sugar, my cute coffee girl!" haha
After that, she'll know your feelings. Then if she STILL doesn't call first at all...
This is taken from my Premium Members section where I post my new videos.
Here are some more tips, but only Premium Members get the entire video + access to over 500 full dating and relationship videos in the Video Vault!
- Think about what you need someone to do for you in order for you to feel special to them. Now make an ACTIVE decision... are those things REALLY that important to me? Why?
Then shout 'em out! People can't read your mind! Announce it!
- Here is exactly what you should tell her...
Only Premium Members have access to this Video!
1 - Learn more about the Premium Membership
or
2 - You realize Life is Short, get the relationship you deserve and Join Now!
Need one-on-one coaching? Contact
Dating Coach
HogWild for help!
Latest HogWild Dating Advice


Click here to Get Greater Dating Confidence + Increase your Relationship Skills

Become a paid member and you get INSTANT access to over 500 dating advice videos that will help you answer such questions as...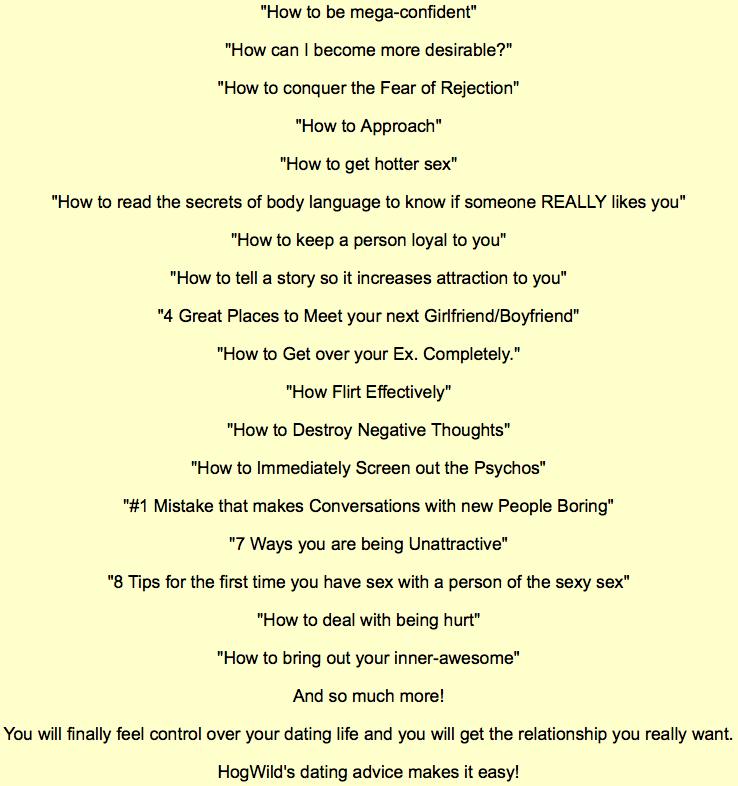 Become a member and get INSTANT access to the videos that will change your love life forever!
***






This article is for people who need help with:
dating advice