Relationship Issues: Women Want to Change Men. Men Want to Freeze Women.
by me, HogWild
A famous dude by the name of Albert Einstein once said,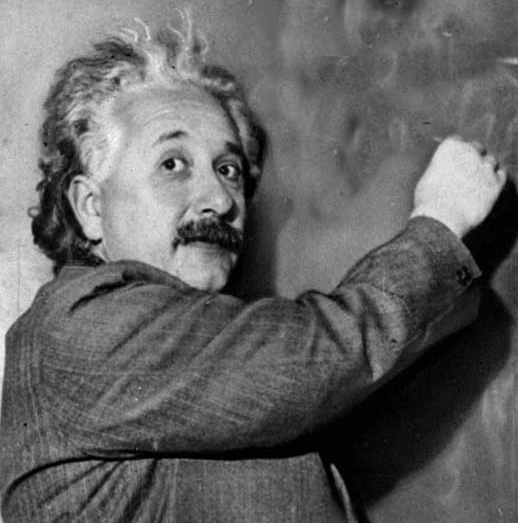 "Women marry men hoping they will change. Men marry women hoping they will not. So each is inevitably disappointed."
Of course, this is a GENERAL theory of relativity as some men want to change their women, but overall from what I've seen, most guys, if they are really into a girl -- have a very short list of things they'd want her to change. Much more important to them is what they want her to freeze in time -- her figure, her looks, her style, her sense of humor, her attitude.
The problem with this is that most humans change a bit over time. They develop new tastes and ideas. That's why I emphasize that as a couple you either grow TOGETHER or you grow apart.
You must make a concerted effort to be united in what you want out of life. If you don't, you will lose the love and become like roommates. Angry, bitter roommates.
WIFE: Did eat my pickles?!
HUSBAND: Yeah, I did! It made me happy while I was VACUUMING. Something YOU never do!
WIFE: I WOULD vacuum if I had time away from working. Ya know, the thing *I* do to pay the bills!
HUSBAND: How about I belch in your face so you can smell the pickles you're missing?!
WIFE: I would like that. Reminds me of old times. I love you.
HUSBAND: Ya know, I dabbed a little pickle juice on my passion area.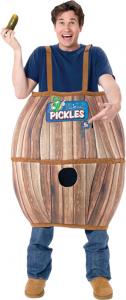 WIFE: Oooh. I knew we still had some magic left!
One benefit of marrying later in life is that while in your early 20's, most people don't exactly know who they are yet. Sure, there are plenty of lost 40 year olds, but it's true that your typical 21 year is still finding themselves. So the 21 year old you marry could be very different at age 31.
You have to allow your partner to grow and experiment.
You have to love their process. At the same time, they must respect YOU and your feelings.
REDNECK GUY: Yee-ha! That's right. I said to my wife, "You don't respect that I have feelings for another woman. Hey, it's not like you're my ONLY cousin!" Yee we got a divorce but we're still friends with benefits of a common gene pool!
If your partner lets themselves get fat and lazy, that's not a growth process.
Well, it's a growth process but it's HORIZONTAL growth! haha
Your typical 20 year old usually doesn't need to do much to stay in shape so you don't know if they are fit out of the luck of metabolism or because it's their identity. You'll find out in a few years. Mwu-hahahah. haha
A lot of women love a project. "This guy is good but I can mold him into greatness!" Yes, this is a HUGE ego-boner for many women.
Be careful of this because it's basically saying that you don't accept your guy for who he is. If you can't accept your partner, then you aren't loving them.
But still, you can encourage change by...
This is taken from my Premium Members section where I post my new videos.
Here are some more tips, but only Premium Members get the entire video + access to over 500 full dating and relationship videos in the Video Vault!
- Love the person, not the idea in your head. Theories are easy to love. People are not perfect. So choose to snuggle your theory at night or snuggle your flawed but warm human partner.
- Women, try your best to be that pretty girl with the alluring personality that he first fell in love with. Men, try your best to change some things to make yourself easier to live with.
Men and women, try your best to ACCEPT -- fully accept your partner for who they are TODAY and who they will become in the future you have together.
The way to do that is by...
Only Premium Members have access to this Video!
1 - Learn more about the Premium Membership
or
2 - You realize Life is Short, get the relationship you deserve and Join Now!
Need one-on-one coaching? Contact
Dating Coach
HogWild for help!
Latest HogWild Dating Advice


Click here to Get Greater Dating Confidence + Increase your Relationship Skills

Become a paid member and you get INSTANT access to over 500 dating advice videos that will help you answer such questions as...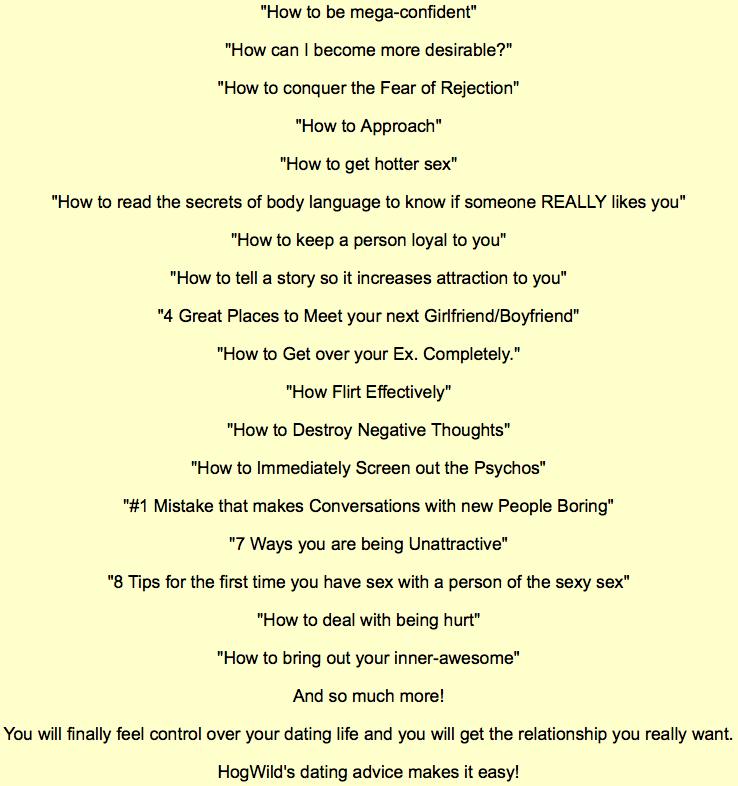 Become a member and get INSTANT access to the videos that will change your love life forever!
***






This article is for people who need help with:
relationship issues
relationship help
relationship problems
relationship advice
relationships problems
relationship counseling
relationships advice
relationship tips
advice on relationships
relationship therapy
how to fix a relationship
love help