How to Get What I Want
by me, HogWild
When you have a lack of motivation...
Ask yourself:
How many French Fries can I stuff up my nose?
But after that, ask yourself:
1 - Why was I put on this Earth? (What is my Purpose?)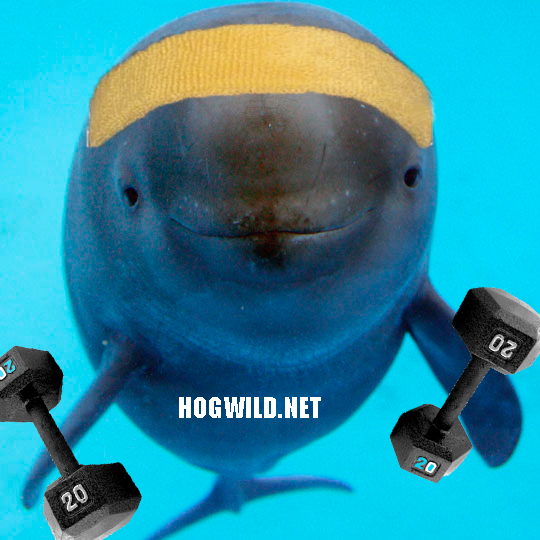 Dang it, I said PURPOSE, not porpoise!!!
2 - Why is it extremely important that I fulfill my purpose?
When you do things for yourself, you can only let YOURSELF down. When you do things to serve others, you are motivated knowing that others are counting on you.
Are you that special person who has actually THOUGHT about what is the point of your life?
Why are you HERE? Really?
Your answer makes living your life SO much easier. Are you here to be a good person and raise a family with love? Are you here to be a doctor who heals people? Are you here to be a singer who moves people with your music?
You might be here for multiple reasons. But you are here for at least one BIG reason. Being a person who gives love to others is the BIGGEST reason.
Find out what you are SUPPOSED to do. Then dedicate yourself to it. THAT will motivate you. When you KNOW what you must do, you won't allow yourself to give up or get lazy. If you're not sure if it will work or you kinda sorta want it, then it's easy to get lost and unmotivated.
Your PURPOSE defines you and your every action. Are you supposed to be LESS than? NO! You're supposed to be AWESOME!
Nobody is born to be average. Sadly, most people settle for that. But not you! Be awesome in your love. Be awesome in your skill. Be awesome in your friendships. Be awesome in your loyalty. Be awesome in being YOU.
GUY WHO SELLS MEAT FROM THE BACK OF HIS TRUCK: Hey, I sell meat from the back of my truck, and I realized that MY destiny is to run my own business selling this here preeeeee-mium beef that I hunt off the side of the road! I love scrapin' it, grillin' it, and servin' it to those who appreciate fresh, organic, vehicular killed beef!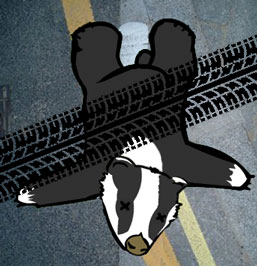 Now, step two is what KEEPS you motivated. Step 1 is vital and it's the spark that lights the candle. But the candle will burn out if you don't have step 2...
This is taken from my Premium Members section where I post my new videos.
Here are some more tips, but only Premium Members get the entire video + access to over 500 full dating and relationship videos in the Video Vault!
- Realize what you will LOSE if you don't get what you want. Also think, why should someone else have all that happiness and not me? That's B.S.! I deserve it, too!
- When you know you are important, you work harder. Being in an awesome relationship is not just something to make YOU happy. It will make...
Only Premium Members have access to this Video!
1 - Learn more about the Premium Membership
or
2 - You realize Life is Short, get the relationship you deserve and Join Now!
Need one-on-one coaching? Contact
Dating Coach
HogWild for help!
Latest HogWild Dating Advice


Click here to Get Greater Dating Confidence + Increase your Relationship Skills

Become a paid member and you get INSTANT access to over 500 dating advice videos that will help you answer such questions as...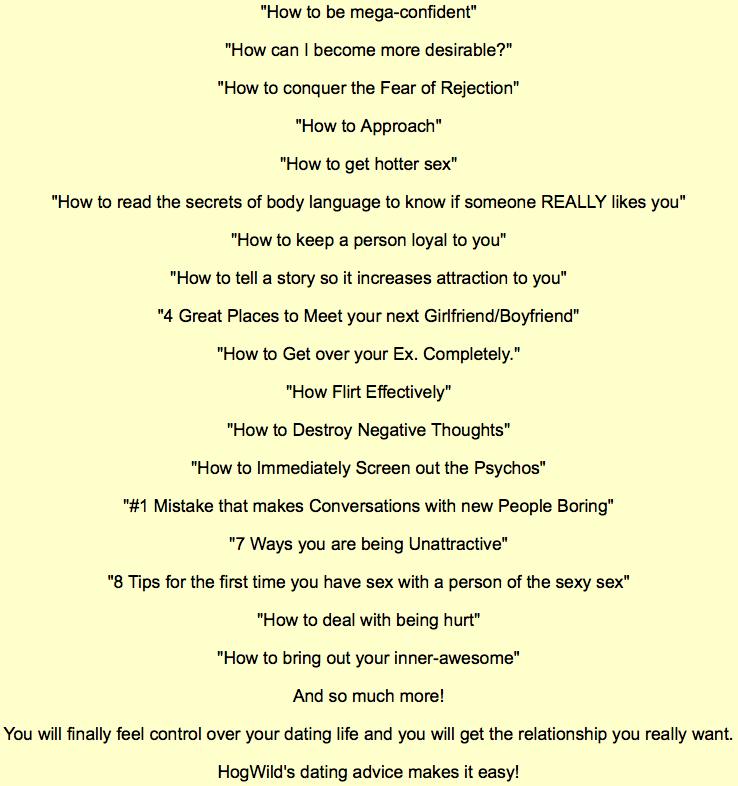 Become a member and get INSTANT access to the videos that will change your love life forever!
***






This article is for people who need help with:
how to get what I want
how to get what you want
how to get motivated
how to motivate yourself
getting motivated
get motivated
how do I get motivated
motivational techniques