Abandonment Issue: Relationship Problems Caused by Childhood
by me, HogWild
Almost every human, on some level, feels like they have been abandoned. Some people really WERE abandoned while some people have slight feelings of being left because of a loved one's actions.
So what's the point?
Nothing. Unless it affects your decisions today -- especially your relationship decisions and behavior. Which it probably DOES!
You need to understand you are loved and you are loveable.
If you don't come to this understanding, then you might be doomed to keep pushing away the person you love.
Back as a teenager in the Bronx, I pushed away the girl I loved. I'll always remember her: Dana Carmazetii-Steinberg. Those full lips, bright eyes... and acid washed jean jacket. Gosh dang it, she held my heart in her hand like a Super Bouncy Ball.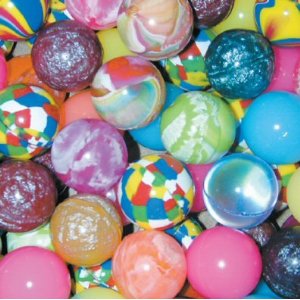 And I was afraid she'd throw it to the ground and my heart would fly into the street to get run over by a truck, that was hauling venomous snakes that would get loose and escape into the Bronx sewers, causing everyone to fear using the toilet.
So instead of waiting for her to abandon ME and bounce MY heart, I found myself starting arguments with her, so I would have an excuse to leave her first! And to this day, I regret my behavior. Who knows? We could have stayed together, got married, and made a little baby with bright eyes and a little acid washed jean jacket!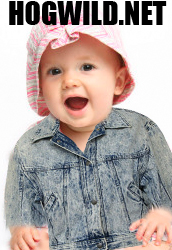 You need to take care of yourself before getting into a relationship. A relationship will bring out your problems, not fix them. YOU must fix your problems.
You're not ready for a relationship until you can accept yourself and realize that any person you love is NOT the same person as someone from your childhood.
And you also need to come to peace with your childhood so you don't CHOOSE a person who reminds you of someone who hurt you.
This is very important for you.
Girls, if your dad wasn't there for you physically or emotionally, don't pick a guy who reminds you of him in that sense.
Guys, if your mom was overbearing, don't choose a girl who acts the same way.
A relationship is not the place to fix childhood issues!
A relationship is the place to create issues for your children! hahah
But really.
The dangerous thing about feeling abandoned is that it damages your...
This is taken from my Premium Members section where I post my new videos.
Here are some more tips, but only Premium Members get the entire video + access to over 500 full dating and relationship videos in the Video Vault!
- Look at what happened in your childhood not as a scared child, but as an ADULT. You can't change the past, but you can see it for what it really was. Sometimes the hurt from childhood STAYS. And THAT can be changed.
And once you do that, your FUTURE can be easier. You won't NEED to repeat the past to fix it. You will already be at peace. Your future will truly be YOURS.
- There is a psychological exercise that will make you feel better and more importantly, it will help you heal. Here's what to do...
Only Premium Members have access to this Video!
1 - Learn more about the Premium Membership
or
2 - You realize you've been making the same mistakes or not knowing what to say or do all these years! You can get a one-month subscription for the price of a night at a bar. To you, the cost is worth it since it will actually help you get what you want. Join Now!
Need one-on-one coaching? Contact
Dating Coach
HogWild for help!
Latest HogWild Dating Advice


Click here to Get Greater Dating Confidence + Increase your Relationship Skills

Become a paid member and you get INSTANT access to over 500 dating advice videos that will help you answer such questions as...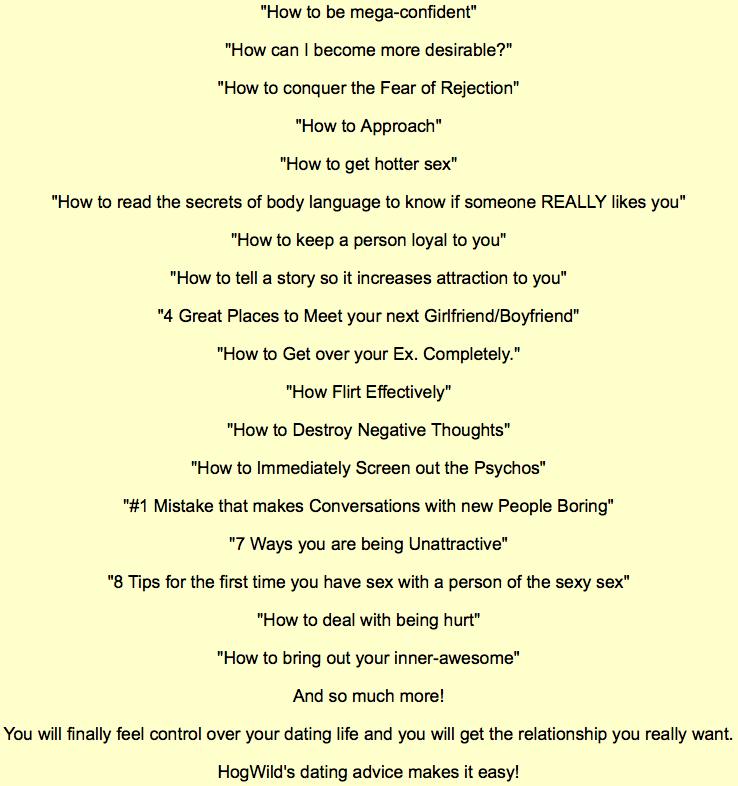 Become a member and get INSTANT access to the videos that will change your love life forever!
***






This article is for people who need help with:
abandonment issue
relationship problems
relationship advice