How to be Charming: Remember the Important Details
by me, HogWild
Being charming is all about making the other person feel good about themselves.
You know what makes a person feel good? When you tell them to lay down as you feed them chicken wings.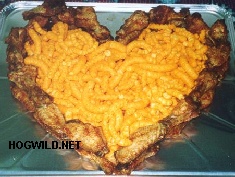 Or maybe that's just me. haha
A person feels good when they feel IMPORTANT.
An easy way to make someone feel important is to REMEMBER things about them.
When someone you've met a few times doesn't even remember your name, you feel very UNimportant to them. But what if they not only remembered your name, but your cat's name and your birthplace, and your favorite dessert, favorite musician, favorite pizza toppings and all your exciting stories!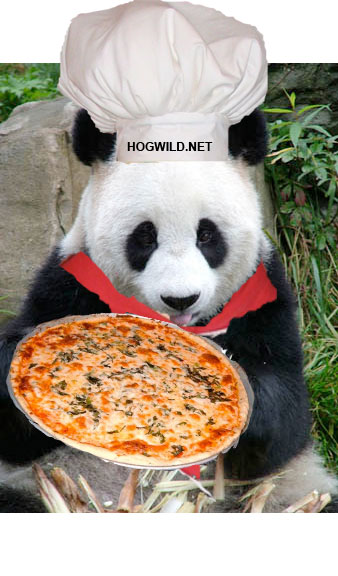 YOU: And that's the detailed explanation of why I eat leafy green vegetables.
THEM: OK, I have to hand out oxygen tanks to everyone in this room. Because I'm about to suck out all the air with the world's biggest YAWN! Damn that was a boring story!
If you remember the details, the person thinks, "Wow, they MUST be interested in me as a person. They were actually LISTENING! Wow!"
So if you want to be charming and make yourself more attractive to someone -- make them feel special by remembering the important details.
Often you will hear them respond, "Wow! You have a good memory."
Then you say, "Not really. I only remember things about people I like."
And unless you have an amazing recollection, that will be true! Do you BOTHER to remember things about people you don't care for? Probably not.
See, you are putting in the EFFORT to remember and THAT shows you care.
What effort? The effort to take notes. And to commit it to your brain.
When you get home, or in your phone/mini-computer/hologram mind recorder device/ when they're not looking, write down the important details.
Is it creepy? Only if you're a creep! Otherwise it's flattering. I mean, it's slick if you don't let them know that you do that.
It's odd if you're carrying around a briefcase with their file and then you pull it out, "Ah, here we go! Rebecca Stankler. Your favorite sport is volleyball and you absolutely love peanut butter. You dislike pink cotton candy and sporks. OK, what other data do you have for me today?
No! Just remember the important things.
Here's an example of how to do this in real life...
This is taken from my Premium Members section where I post my new videos.
Here are some more tips, but only Premium Members get the entire video + access to over 500 full dating and relationship videos in the Video Vault!
- When looking for relationship material, who do you want? The insensitive person who can't bother to remember anything about you? Or the person who is genuinely interested in you?
- Charm someone by putting forth the EFFORT to make them feel...
Only Premium Members have access to this Video!
1 - Learn more about the Premium Membership
or
2 - You realize you've been making the same mistakes or not knowing what to say or do all these years! You can get a one-month subscription for the price of a night at a bar. To you, the cost is worth it since it will actually help you get what you want. Join Now!
Need one-on-one coaching? Contact
Dating Coach
HogWild for help!
Latest HogWild Dating Advice


Click here to Get Greater Dating Confidence + Increase your Relationship Skills

Become a paid member and you get INSTANT access to over 500 dating advice videos that will help you answer such questions as...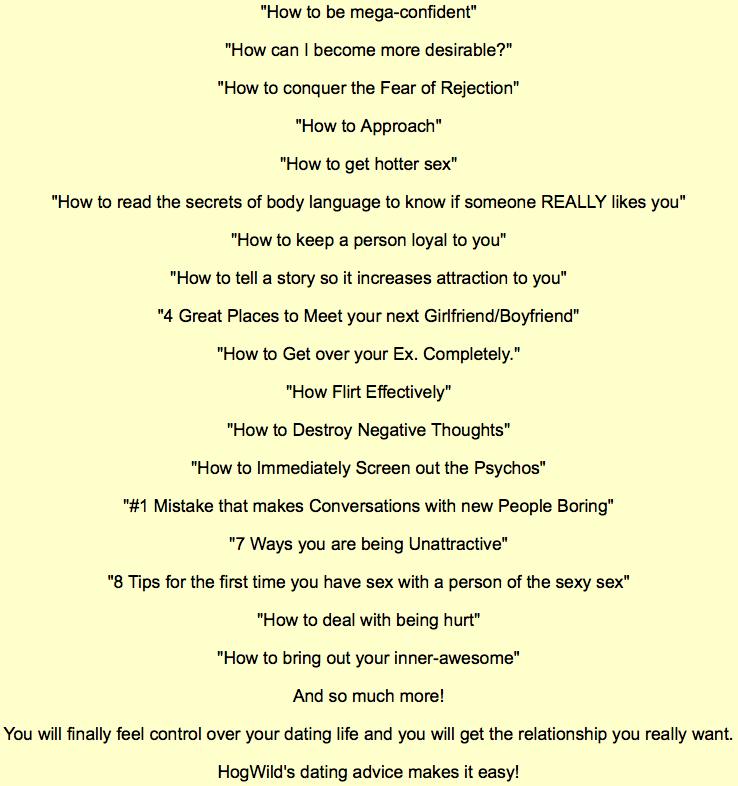 Become a member and get INSTANT access to the videos that will change your love life forever!
***






This article is for people who need help with:
How to be Charming
how to charm a girl
how to charm a guy
how to charm a person
how to be popular