The Reason You Can't Meet Women or Meet Men
by me, HogWild
I want you to get louder!
<FART!>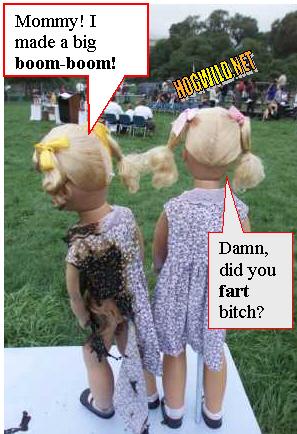 No, from your mouth! With words! Get loud!
This is really important. I mean, I don't have a chance to know every member personally but I've been lucky enough to talk to a lot of you guys either through coaching, or through testimonials, or by emailing and overwhelmingly these videos bring in an audience of a certain type.
REDNECK GUY: Yeee-ha! Yeah, the type that ain't like me because they got that them there fancy internet! Heck, I just got PANTS! Yeee-DSL-stands-for-Denim-Sexy-Legs!
You guys are good people. By that I mean, it's really rare that I talk to someone who is just trying to be a user or a money-chaser or an abuser. This group is FULL of people who are basically trying to find love and give love.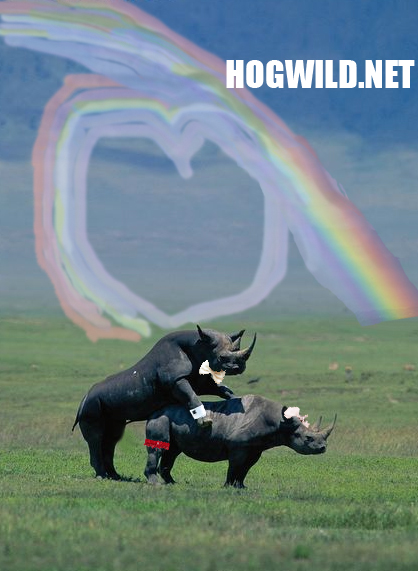 Of course we all go through phases, and sometimes we're not ready for love and we just want to have some fun -- but the key is -- you don't do it at someone else's expense. It's honest intentions.
CHEESY GUY: That's what I tell the ladies. I'm looking for that ONE special lady but until I find her, I'll allow YOU to suck my balls and cook me dinner. <OUCH!> I said SUCK, not KICK! Hey, hey. Come back, baby. You forgot to make me dinner? <OUCH!> You've got long legs!
So why do I bring this up? Because I'm mad!!!
I get angry whenever I'm out and see some douche-baggy dude get the girl instead of the thoughtful guy. Whenever I'm out and see the skankily dressed girl get the attention and the sweet, pretty girl is ignored. Whenever I hear from people with big hearts who are having trouble meeting people and getting dates. AHHH! Hog Angry! This is Bullpoopy!
THINGS THAT MAKE ME ANGRY
- when the all you can eat buffet enforces a time limit
- when I dream about stuff I have to do the next day. That's a waste of a perfectly good dream!
- when I'm trying to get service in person and the worker starts helping me but then their phone rings and they help the customer on the phone before me! WTF?! I was here first! So you know what *I* do? I get on my cell phone, and call them, too! Ha! Now MY call is first! But then they say, "Sorry, can you please hold?" What? No! I'm standing in front of you! AHHH!
All these dating advice videos come down to two simple things.
1 - Become the most awesome version of you. This will make YOU happy and it will get you the partner your want. And 2 - Learn how to SHOW your awesomeness to others quickly.
When I say get louder, I mean, stop being quiet about your awesomeness! Don't be a lame braggathor but get out there and meet the people!
Do whatever works for YOU. Try the Lion Method. Try the say hello approach. Put yourself in a position to win!
You need to be in contact with...
This is taken from my Premium Members section where I post my new videos.
Here are some more tips, but only Premium Members get the entire video + access to over 500 full dating and relationship videos in the Video Vault!
- Put yourself in situations where you have a chance to be the best option available.
Don't knock yourself out of the competition before giving yourself a chance. Give people a chance to like you. Talk to more people!
Get louder! Get prouder!
- Make that approach! Say hello to that cutie! Push the conversation further. Flirt. Talk. Open yourself up. Be that awesome person you know you are SUPPOSED to be. When you feel good about yourself, here is what will happen...
Only Premium Members have access to this Video!
1 - Learn more about the Premium Membership
or
2 - You realize you've been making the same mistakes or not knowing what to say or do all these years! You can get a one-month subscription for the price of a night at a bar. To you, the cost is worth it since it will actually help you get what you want. Join Now!
Need one-on-one coaching? Contact
Dating Coach
HogWild for help!
Latest HogWild Dating Advice


Click here to Get Greater Dating Confidence + Increase your Relationship Skills

Become a paid member and you get INSTANT access to over 500 dating advice videos that will help you answer such questions as...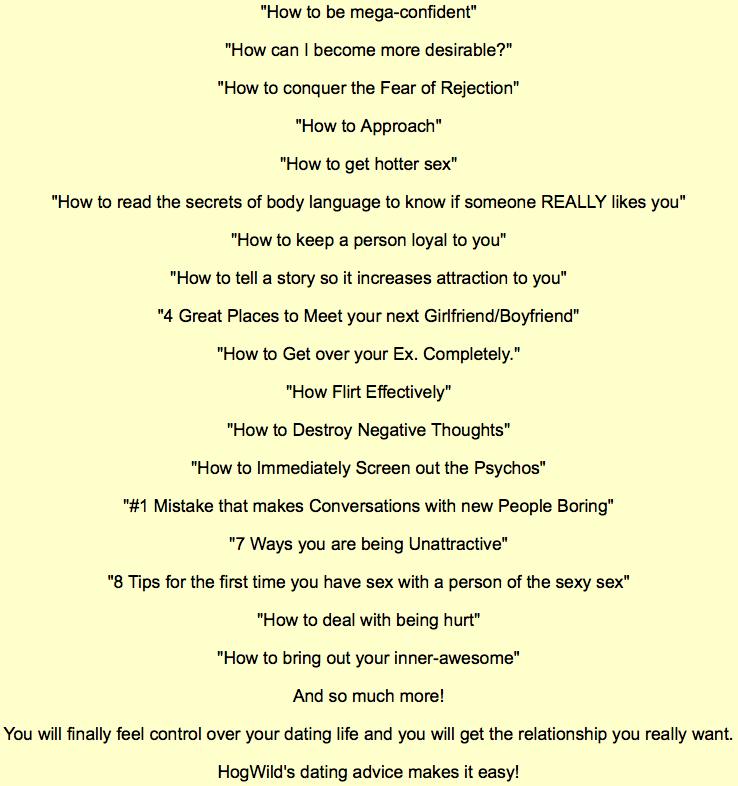 Become a member and get INSTANT access to the videos that will change your love life forever!
***






This article is for people who need help with:
how to meet girls
how to meet men
how meet women
how to meet guys
where to meet men
where to meet women
where can I meet girls
best places to meet men
places to meet women