How to Get What I Want: Forget Goal Setting
by me, HogWild
If you make finding love (or sex) a "goal" then you increase your odds of failure.
YOU: Huh? I thought goals were good!
They are!
But...
Don't leave your values to reach that goal. Because you will often be miserable. A lot of times it's not about achieving the goal, it's about the new person you've become in the process.
NERD BOY: It's true. I once had a goal of winning the Math Team Championships and the greatest feeling didn't come from hoisting that golden colored plastic trophy of Archimedes, or from wearing my new satin jacket with the words Math Team Champion emblazoned in yellow silk-screened iron-on letters across the back, nor was it my MVP award of a wristwatch where the time is always expressed as prime numbers -- no, the greatest feeling was becoming... kewl.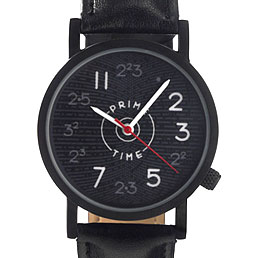 It's tempting to say, "My goal is to get in a relationship within 6 months. Or to sha-boink a beautiful woman this week." Or whatever it is you want. But then there's is the great temptation to compromise everything to reach the goal so you can say, I did it!
Sure, you reached your "relationship goal" but is it the RIGHT relationship? Or did you succumb to the pressure you put on yourself? Do you really find that girl beautiful or are you fooling yourself because you want to reach the finish line?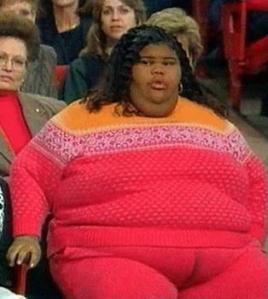 There is another way to achieve what you want...
Concentrate on the process.
Do your best with EVERY interaction. Every day be the most awesome version of you. Every single day. And then put yourself in a position to succeed by meeting enough qualified people.
If you don't make progress towards your general idea (or goal, if you prefer that word) then here are the 2 things you need to do...
This is taken from my Premium Members section where I post my new videos.
Here are some more tips, but only Premium Members get the entire video + access to over 600 full dating and relationship videos in the Video Vault!
- Try making your "goal" to constantly improve and to do your best with every interaction. This includes having the courage to have more interactions with women or men who meet your standards.
- To be clear, I think goals are great. If that works for you, then do it! But remember, goals are realized by the quality of your actions and decisions. You want to be a happy person and get the relationship you want? Then do this...
Only Premium Members have access to this Video!
1 - Learn more about the Premium Membership
or
2 - You realize you've been making the same mistakes or not knowing what to say or do all these years! You can get a one-month subscription for the price of a night at a bar. To you, the cost is worth it since it will actually help you get what you want. Join Now!
Need one-on-one coaching? Contact
Dating Coach
HogWild for help!
Latest HogWild Dating Advice


Click here to Get Greater Dating Confidence + Increase your Relationship Skills

Become a paid member and you get INSTANT access to over 500 dating advice videos that will help you answer such questions as...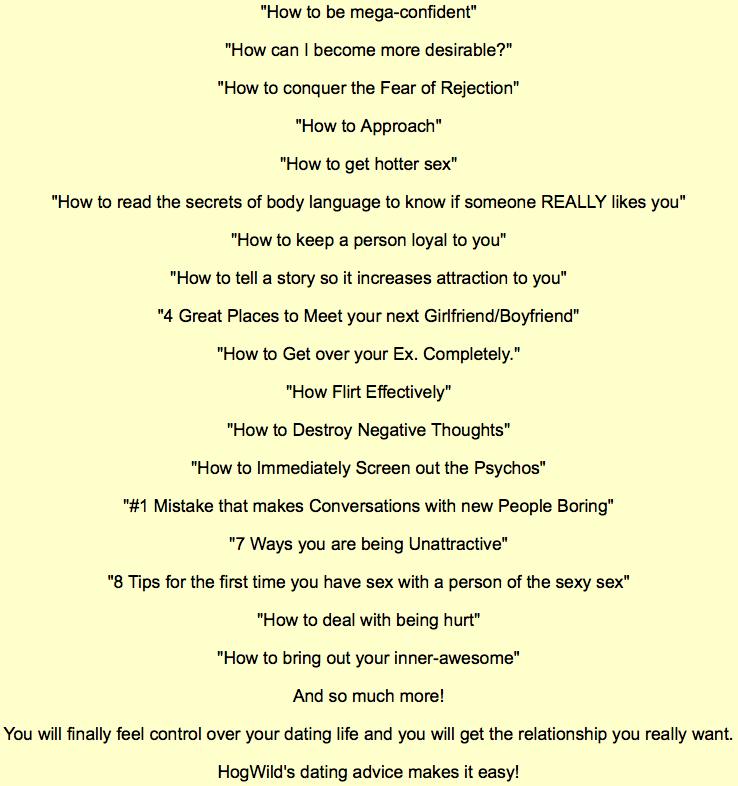 Become a member and get INSTANT access to the videos that will change your love life forever!
***






This article is for people who need help with:
how to get what you want
how to get what I want
how to make you dreams come true
how to get a relationship
how to get a boyfriend
how to get a girlfriend
how to get a wife
how to get a husband

how to reach a goal
how to accomplish goals