Commitment-Phobe Relationship Problems
by me, HogWild
If they can't commit, it's time quit!
Remember, if a saying is in a rhyme, it has stood the test of time! Like,
Don't commit the crime if you can't swallow the lime!
and...
Do unto others as you would have them do until you
So don't criticize an old woman until you have lived in her shoe!
Commitment can mean marriage but it can also be a monogamous relationship without marriage.
That decision is up to you. But if your partner is hesitant to commit after they really KNOW you -- after they've had enough time and conversations and closeness to KNOW you -- you need to move on.
Listen to me! In life, you'd best get what you want or want what you're getting!!!
You know something is true if the person is shouting!!! haha
Women, this is not a license to pressure men into marriage! In fact, no one should pressure anyone into anything! Because your partner will feel like you've tricked them or stolen something from them. They have to WANT it. They have to be ready.
Some people are hesitant to marry but ready to be monogamous. If you're good with that, accept that and be happy. If you require marriage, ask yourself why this is so important to you. If your answer is "because that's how it's done" then you haven't thought enough about it.
If you have good REASONS, then great! Then you can require marriage. You should feel like it's going in that direction.
I know a couple that was together for 10 years before marriage. But you know what, it was obvious they had a strong love and they were faithful to each other. And it worked for them. Now they've been married for 4 years and they have a child together.
There are other couples that are together for 5 years and its obvious to outsiders that it's not going to happen because their lives seem to be growing apart.
For others, commitment means a promise to make a family together. Everyone has their own definition of commitment. The idea is that you and your partner should agree on it. If you don't, then keep it moving.
Don't waste years of your life with someone who can't, won't or is unable to love you in the way you like.
Now, if you're impossible to please -- that's on you. Look within yourself to know if you're being difficult or reasonable.
Whoa. It would be cool if we really COULD look within ourselves! See-through skin would be neat-o! Then you'd REALLY know when someone is FULL OF SHIT!
Ewww!
If you're a woman who REALLY wants a family and the guy you're with is not all about that -- what the hell are you doing?
THE GIRL: I think one of these years he'll see it my way. ..... And I've been poking little holes in his condoms.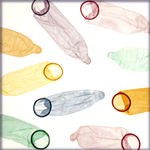 You don't have the same values! It doesn't make the guy a bad dude, it makes you INSANE for being with someone who is incompatible with you!
I would say the same to that dude. Hey man, if you really value being carefree and without the responsibility of raising a family, why are you with a woman who will always be unhappy that you won't give her what she wants?
HIM: Steady nookie, dude. ...And I keep a stash of decoy condoms for her to poke holes in. I had a vasectomy 10 years ago.
Know what you want. Get what you want. Or...
This is taken from my Premium Members section where I post my new videos.
Here are some more tips, but only Premium Members get the entire video + access to over 600 full dating and relationship videos in the Video Vault!
- Think about when you aren't really sure about a product and you buy it. Your attitude is, I'll try this out. Now after a certain amount of time, you should know if you like it or not. If it's easy to return, you might return it. Or if you don't return it, you'll kinda put it away and never use it.
- A person who doesn't really want this relationship will often not have the guts to return you to the store but instead they'll...
Only Premium Members have access to this Video!
1 - Learn more about the Premium Membership
or
2 - You realize you've been making the same mistakes or not knowing what to say or do all these years! You can get a one-month subscription for the price of a night at a bar. To you, the cost is worth it since it will actually help you get what you want. Join Now!
Need one-on-one coaching? Contact
Dating Coach
HogWild for help!
Latest HogWild Dating Advice


Click here to Get Greater Dating Confidence + Increase your Relationship Skills

Become a paid member and you get INSTANT access to over 500 dating advice videos that will help you answer such questions as...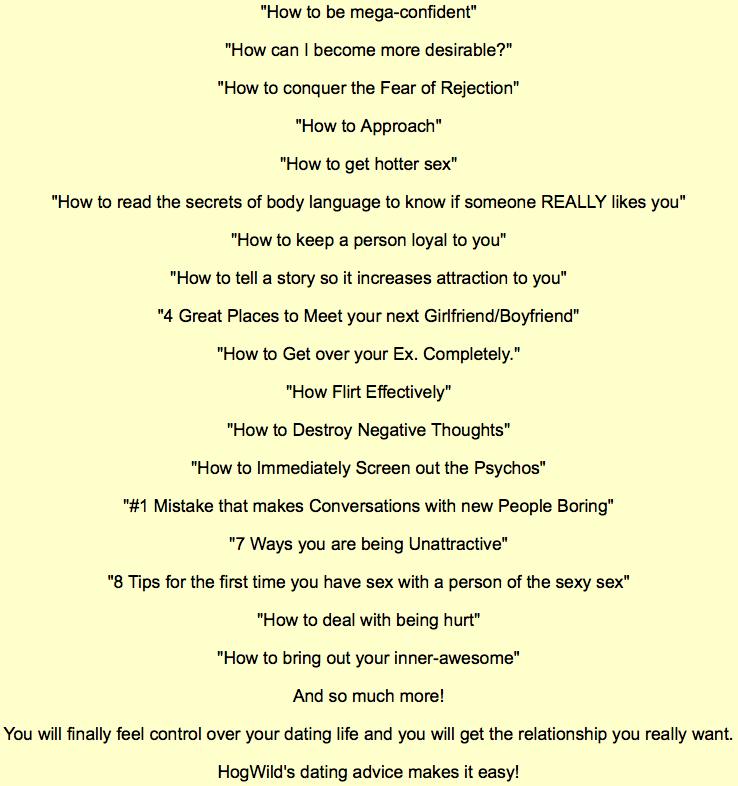 Become a member and get INSTANT access to the videos that will change your love life forever!
***






This article is for people who need help with:
commitment issues
commitment phobe
how to make a man marry you
ways to make a man love you
how to get a guy to fall in love
how to get him to marry you