How Men Think, How Women Think (Best Way to Understand Them!)
by me, HogWild
Guys, don't be afraid to be just friends with women who aren't your type.
Women, be friends with guys you're not going to date and ask them all about their thinking!
When you are clearly "just friends" with someone and not hitting on them or flirting, use this opportunity to really get into the female mind and male mind.
You will learn that the female brain is filled with more than just thoughts of kittens and shoes and the cutest baby kitten wearing little shoes! And you'll learn that male brain is filled with more than boobies and beer. And the cutest little beer soaked boobies!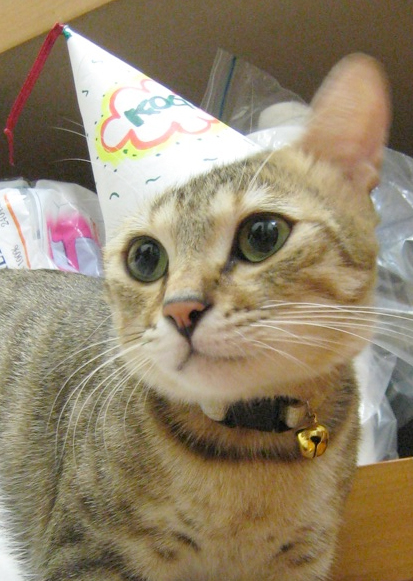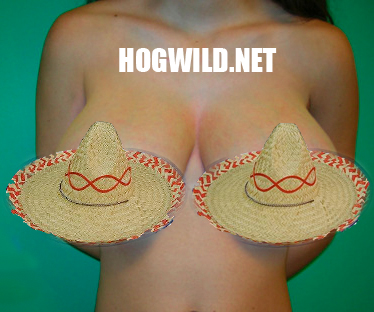 You'll learn about their insecurities, fears, motivations, and most importantly, how to relate to them.
REDNECK Guy: Yeeha! I already know how to relate to 'em. Brother to sister! Yeee-I-date-my-relations!
When hanging out, talk about dating and relationships. Be a REAL friend, not a creeper trying to sha-boink them. Get invited to their parties and outings. They will introduce you to their other friends whom you might find more to your liking.
HER: Hey there buddy! Thanks for inviting me to your house party!
HIM: No problem! Thanks for bringing your much-hotter girl friends!
HER: And thanks for inviting your way-cooler guy friends who aren't being douche-bags because they feel they need to compensate for their premature ejaculation problem.
HIM: I told you that in confidence! I thought we were friends!
HER: We are! Now please introduce me to your guy friends without spoojing on yourself.
A huge benefit is the more you listen and talk about dating and relationships, the more you will understand how the opposite sex thinks.
IMPORTANT: Every human is different! You can't base all your information on one girl's thoughts or one guy's experiences!
Seriously, each person is just one data point.
NERD BOY: Ooh! I like to think of people as data! Finally, a way to look at women on the computer that won't make me feel ashamed!
As you talk to more and more people, you will see patterns. You will discover categories.
Here are 6 of the many dating categories of people...
This is taken from my Premium Members section where I post my new videos.
Here are some more tips, but only Premium Members get the entire video + access to over 750 full dating and relationship videos in the Video Vault!
- You can't expect total honesty when talking to someone who might be trying to date you or who is trying to be nice to you.
- When you better understand how a woman's mind operates and how a man's mind works, you will improve at interpreting their actions and words. And this will really help your love life IF you ask the...
Only Premium Members have access to this Video!
1 - Learn more about the Premium Membership
or
2 - You realize you've been making the same mistakes or not knowing what to say or do all these years! You can get a one-month subscription for the price of a night at a bar. To you, the cost is worth it since it will actually help you get what you want. Join Now!
Need one-on-one coaching? Contact
Dating Coach
HogWild for help!
Latest HogWild Dating Advice


Click here to Get Greater Dating Confidence + Increase your Relationship Skills

Become a paid member and you get INSTANT access to over 500 dating advice videos that will help you answer such questions as...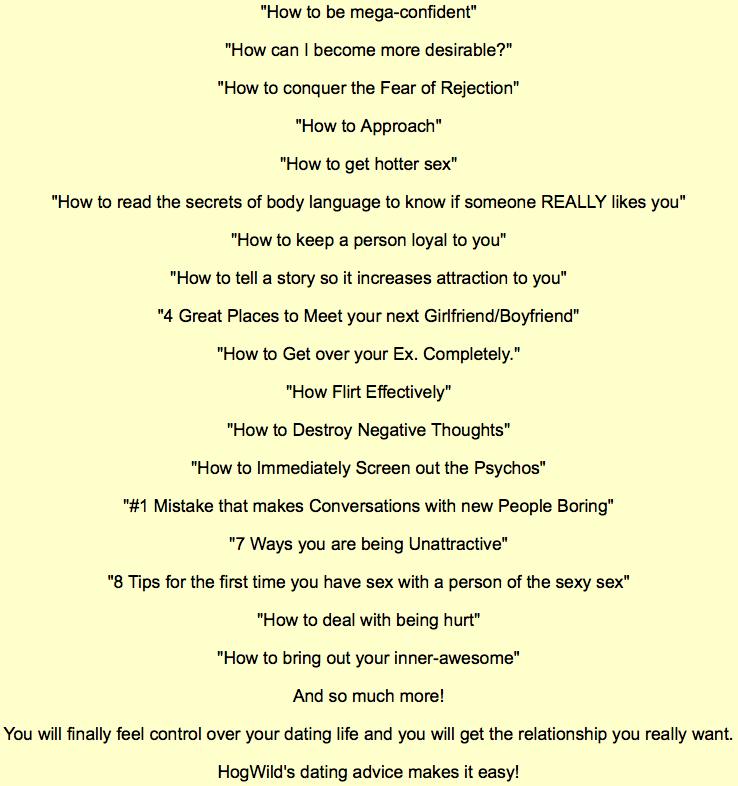 Become a member and get INSTANT access to the videos that will change your love life forever!
***






This article is for people who need help with:
how men think
how guys think
how girls think
how women think