Get a Date: When in Doubt, Be Bold
by me, HogWild
I'm in the bar out with some friends -- guys and girls. One of my guy friends is talking to a woman I hadn't met before. So I say hi to my guy friend and introduce myself to the woman.
"Hello strange woman! I am a strange man! Let's be strange strangers no longer! Or something."
She's pretty but not my type. She's there with another girl. Also not my type. I'm enjoying talking with the girls and my buddy. That's when I see a beautiful third girl. She IS my type. I'm fairly certain I had seen her talking to these two girls earlier.
Her back is to me though and she is engrossed in conversation with another small circle of people.
TURN AROUND! TURN AROUND DAMMIT! What can you possibly be talking about that is so damn interesting?! Are you talking about Pablo Picasso's rivalry with Henri Matisse?! Because if you are, that's pretty damn interesting!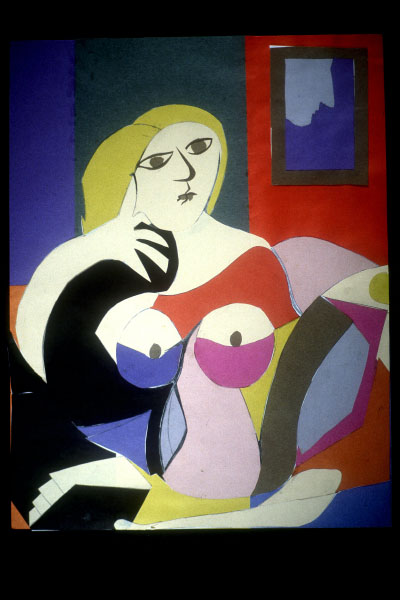 I talk with my group and wait for her to look over at her friends. When she does, I bring her into the conversation.
I make eye contact, speak louder and motion to her, "Hey, so what do YOU think about this?"
I ask her opinion of our group's topic. Then I ask if she knows our group, and I was right, she was friends with the other two girls.
I use my conversational skills to keep things moving, get all the girls talking. I bring the girl I like into the conversation more and more and now I notice her body language becoming more friendly towards me. She laughs. She touches my arm. She's standing next to me now. Myself and the three girls talk until all our other friends have gone home and it's now closing time at the bar.
The girls are going to leave.
What do you do?
PANIC!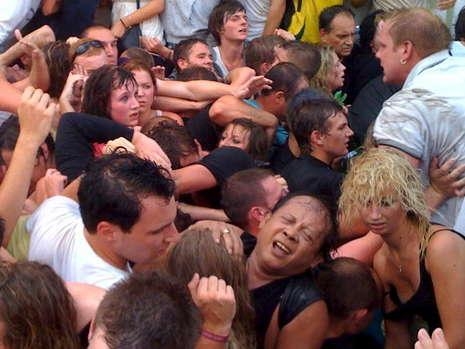 In that situation, a lot of guys would give a hug and say bye and hope to see her around. Some guys would ask for her full name and try to find her on a social networking site.
There wasn't a clear way to get the girl away from her friends to privately get her contact information.
It would take some creativity.
ME: O.M.G.! Let's play hide and go seek in the bar!
I'll tell the girl I like that she goes first. I'll hide in a really bad spot so she finds me right away while the other girls are still hiding and that's when I'll ask for her number! Yeah!
Or,
ME: O.M.G.! Everyone look outside! That lady is walking her pet armadillo like a dog! Cuuuuute!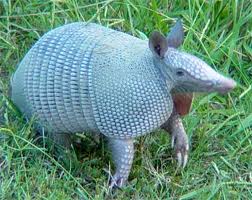 Then as all the girls look outside, I write my number on a piece of paper and put it in her hand.
No! To get a girl's number, you don't need an armadillo!
NOTE: I believe that is the first time in history anyone has said that sentence.
I didn't want to leave anything to chance. Here's what I said that got me her phone number and a date...
This is taken from my Premium Members section where I post my new videos.
Here are some more tips, but only Premium Members get the entire video + access to over 750 full dating and relationship videos in the Video Vault!
- When in doubt, be bold!
The girl was giving me signals and we were getting along. So why not go for it?!
- Once a girl shows that she likes you AND she seems pretty comfortable with you... ask her out. Get the date. Make it clear. Be manly and direct. Let's "hang out some time" is not a date.
- If you've gone so far as to learn to read the body language and you've got her interested in you...
Only Premium Members have access to this Video!
1 - Learn more about the Premium Membership
or
2 - You realize you've been making the same mistakes or not knowing what to say or do all these years! You can get a one-month subscription for the price of a night at a bar. To you, the cost is worth it since it will actually help you get what you want. Join Now!
or
3 - Buy a personal coaching session by Skype or phone with Dating Coach HogWild! Email coach@hogwild.net to request more information.
Need one-on-one coaching? Contact
Dating Coach
HogWild for help!
Latest HogWild Dating Advice


Click here to Get Greater Dating Confidence + Increase your Relationship Skills

Become a paid member and you get INSTANT access to over 500 dating advice videos that will help you answer such questions as...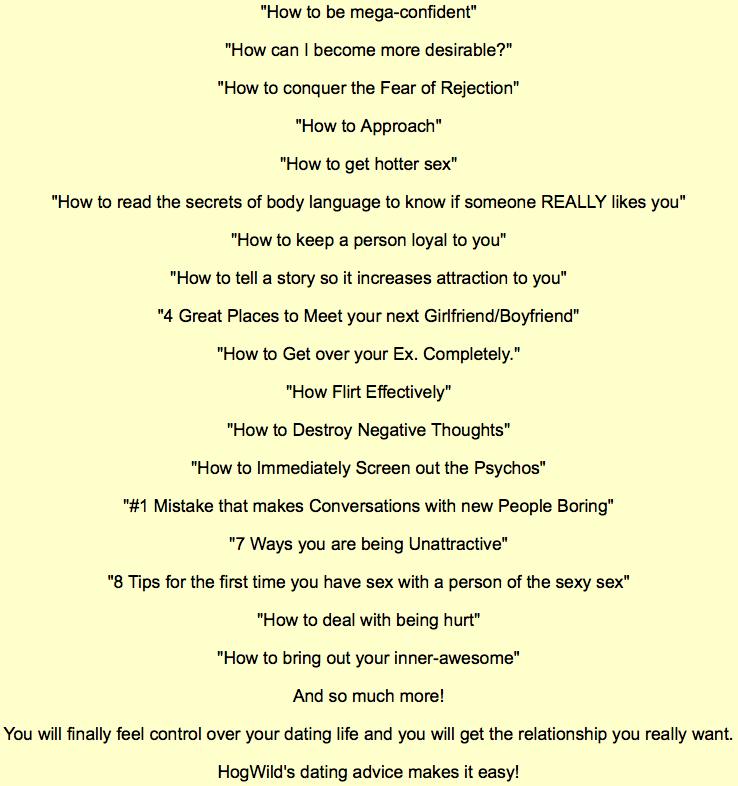 Become a member and get INSTANT access to the videos that will change your love life forever!
***






This article is for people who need help with:
get a date
how to attract women
how to get a woman to like you
how to get a girl to like you
how to get a girl
how do you get a girl to like you
how to get the girl you want
how to get girls
how to make a girl like you
how to make a woman want you
how to make her want you
make women want you
how to make a woman like you
how to make a girl want you
make girl want you
how to make women like you