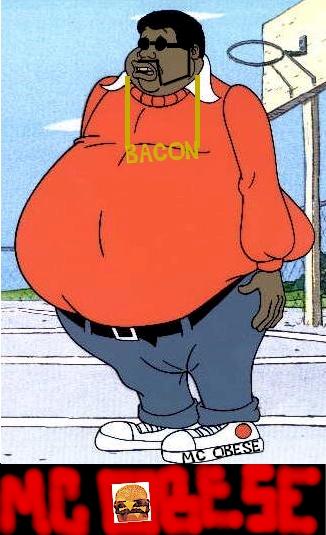 Don't be thinkin' this picture of MC OBESE is bootleg, he really IS Fat Albert's cousin.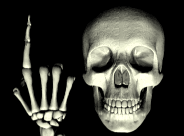 MC Obese will never become a skeleton. In fact, even his BONES are obese.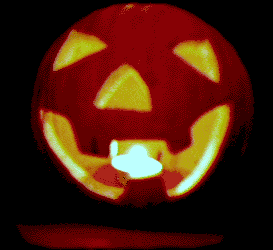 The Evil Gourd of Darkness.

MC Obese can't hold a candle because his heavy breathing always blows it out.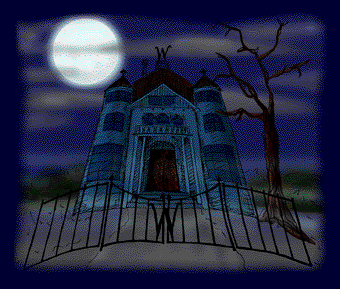 Please, MC Obese ain't scared of no Haunted House! That's nothin' compared to his apartment building in the Bronx!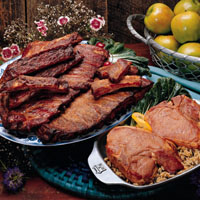 Representin' for ma Beefy Boyz! Tha Compton Cookie Monsterz, Brooklyn Baked Beanz, and The Dirty South Devil Food Cake!
Let me rip this beat up. Cuz only one thing scarier than All Hallowís Eve. And thatís All Summerís Eve. Damn I hate those douche commercials on TV! Almost makes me lose my appetite. Almost. Aíight! Let me be like Halle Berry and bust this hit then run.

MC Obese is the name
Pork Chops are the game
Halloween freestyle from this fat ass MC
Beat yo butt with no questions like LAPD
M.D.ís are amazed
At the fields Iíve grazed
Eatiní wheat and maize
In a chocoholic haze
October got 31 days
But itís that last one when I get crazed
Trick or treatiní in the ghetto
Suckiní down marshmallows
Weariní a big green garbage bag
With guns and an American flag
Yeah thatís my costume, I am a tank
Trick or treat bitch, now give up the bank
Run all those treats, gimme all your candy
I even want the toothbrushes and pennies from granny
MC Obese keep it hammy
Did a bid in the slammy
Sucka homo try to do me in the fanny
And when he whipped out his jammy
I hit him with the wammy
Busted him so bad he said God-dammy!
That should teach a sucka for tryiní to run up in my clammy
This tish is too hot, MC Obese never get the Grammy
Horror tales is what I tell
Gravy poured out my leg last time I fell
†
THE BIGGEST, THE BADDEST
THE SCARIEST, THE FATTEST
MC OBESE!!
†
I been in this game since Ď96
3 years after Al Gore invented the hip-hop mix
I stay in it cuz I need my fix
Gettingí treats from trix
Check this:
It was a dark night I was chilliní up in my apartment
Lightning and thunder thatís when it all started
My whole tish was shaking, even my TV
But it did not bother me
Ďtil it busted open my f-r-i-d-g-e!
Damn homeboy, what was goiní down?
Even the roaches was scared, headiní out of town
Well this big bad brown
Heavyweight crown
Hardcore and round
Rotund rapper
Donít get scared by a little pit-patter
But when the window glass went shatter
I almost lost my bladder
But it donít matter
Long as I got my food so I can get fatter
But thatís when I heard this witch cackle,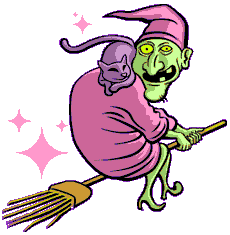 ďNo more food for you!Ē then a candle went crackle
Jack-o-lantern scheminí
Maybe I was dreaminí
I turned around, I saw a mummyís head steaminí
†
THE BIGGEST, THE BADDEST
THE GHASTLIEST, THE FATTEST
MC OBESE!!!
†
Full moon, heard a werewolf howl
Wet my pants again, somebody get me a towel
Canít figure out the puzzle, "Pat Iíd like to buy a vowel"
Heard the scream of an owl
Like the inside of a taxi, I was smelliní somethiní foul
Damn, my whole house was haunted with somethiní freaky
Iím heariní drip drip but I ain't got no pipes leaky
Yo, thatís blood! MY blood!
And here comes a pack of pitbulls straight out the mud
It's looking sad for this street singer so stout
Iím like the Baha Men screaminí, ďWho let the dogs out?Ē
They barkiní at me, I was gonna die
But I could only think ďI wish I had a chocolate scooter pieĒ
Vampire bat flyiní overhead
But now Iím gettingí angry cuz I ainít been fed
Look to my right thereís a talkiní head
Thatís it, no one messes with my meal time
Straight up, I challenged the evil demons to a battle rhyme!
I said I know this Halloween stuff is all a myth
I ainít Mystikal but "SHOW ME WHAT YOU WORKIN WITH!"
Then poof, he appeared,
It was the ghost of a rapper I ainít seen in years
Big baggy pants, in it for the glamour
Who was the evil spirit? MC HAMMER!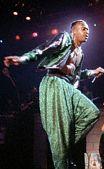 He was danciní all ugly and he tried to lyrically flex
If I wore his parachute pants they would be spandex
I was like damn you skinny
I should hit you on the chinny
Put a crush on you like Kevin had for Winnie
Ring the bell because itís time for dinny
I said Mr. Hammer you may have a platinum record but youíre not spooky
In fact, your career is dookie
Iíll crush you like a cookie
Iím a big beef burger, youíre a little French fry
Iím the Great Pumpkin, and youíre a slice of pumpkin pie
Then I took out my knife put it right by his crotchy
This fake fool was sweatiní in his silk Versace
Do you wanna be the next Headless Horseman?
Of course then
He quit and gave me the candy corn and lollipops too
I looked him straight in the eye, and I went BOO!
HA HA HA, I laughed like a menace
But the last laugh was had by the Dentist
Cuz MC Obese gobbled all those Snickers and M&Mís
Twizzlers, Milk Way, Skittles, Nerds and even the Candy Apple stems
That Dentist said show me the money like he was Cuba Gooding
So learn from me: Never fall asleep while eating strawberry pudding
†
THE BIGGEST, THE BADDEST
GINGIVITIS, THE FATTEST
MC OBESE!!
†
And Iím out like the Atlanta Braves in October. Yo, and word to L.L. Cool J. You ainít the G.O.A.T. you just a goat
Ain't NO ONE ever be fatter than me, I even got cellulite on my scrote!
Bronx Blubber Posse in full effect.
ONE! Thousand pounds baby!