Funny Pictures: Nathan's Hot Dog Eating Contest
by HogWild
A new world record!!! 53 hot dogs in 12 minutes!! That's incredible -- and disgusting!!
What a great way to spend an afternoon: watching humans shove processed meat parts down their throats while we cheered. I don't know about that poster though. Kinda looks homo-erotic to me.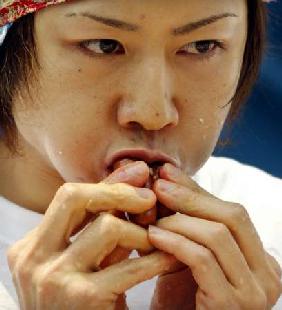 Takeru Kobayashi triumphed for the 4th straight year with his special technique of putting 2 wieners in his mouth at once. Who was his sensei? Richard Simmons?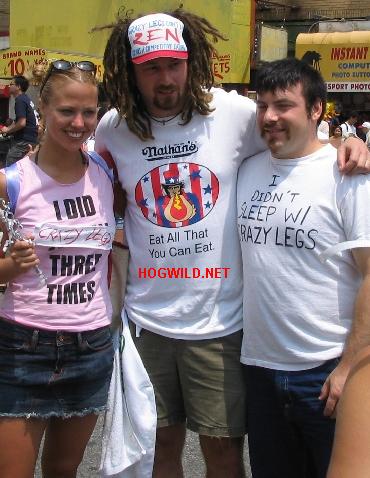 "Crazy Legs" didn't win but he had some hot groupies. YES, guys who can eat a lot have GROUPIES!!! Men, this just shows you -- it doesn't matter what your talent -- be the best at it and the bims will want to be by your side. Even if you are puking up buns and pig parts.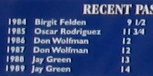 The 1st champion could only deep throat 9 1/2...

while today's Fuhrer of Frankfurters stomached 53!!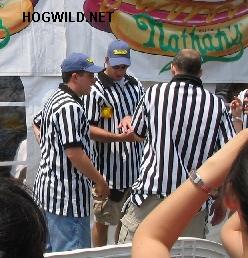 The referees discuss a controversial play... unfortunately the sport forbids use of instant replay or else they would see one of the contestants was strategically sneezing out tiny hot dog bits through his nose.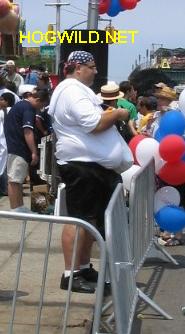 This guy didn't win. Skinny people always win eating competitions. You know why? Because they're HUNGRY!!! Big fat guys like this don't NEED to eat. He probably couldn't control himself and ate a big meal right before the competition. Guys like Kobayashi ONLY eat at contests.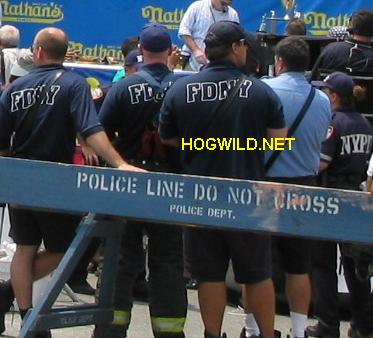 The NYC Fire Department was at the Nathan's Hot Dog Eating Competition ready with the Jaws of Life to pry open the skulls of contestants if they got too stuffed with hot dogs. Okay, that's ree-dick-u-lus! The real reason the firemen were there was because -- after 53 hot dogs -- Kobayashi was REALLY thirsty! So they sprayed the water hose directly into his mouth.
Soon after, Kobayashi set a new world's record for the longest time spent peeing.
Why was the NY Police Department there in full force though? Did they expect a post-Championship riot? Looting. Fires. Hot dog carts over-turned. Mustard fights.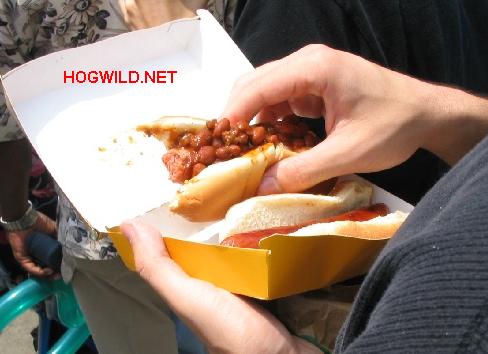 This loser in the crowd could only eat TWO hot dogs! Just TWO! Kobayashi ate two every 30 seconds!!!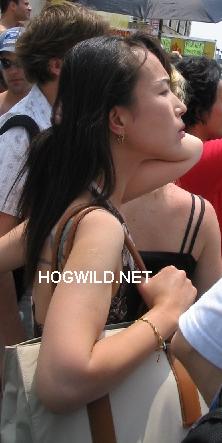 After the contest, many Japanese bims waited their turn to see Kobayashi's hot dog.

The contest took place on Coney Island, home to freak shows.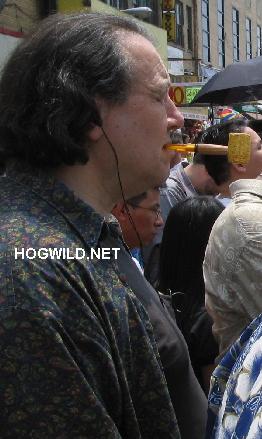 So I shot THIS guy. Who the hell smokes a pipe like that?
The MC for the Nathan's Hot Dog Competition was AWESOME!! He had like, 87 puns. "Ladies and Gentlemen, it's really close... it's a real dog fight! They're the 4 horsemen of the esophagus!"
I was really impressed with the girl! She set a new world record for bims! Over 30 wieners down her throat in 12 minutes! That girl can really swallow!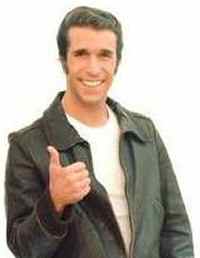 I still can't believe Kobayashi... a new world record: 53 hot dogs in 12 minutes -- gross!!!

Little did he know, after that, he still had to eat the sour kraut. So they brought in the wheel barrow.

After the contestants got off stage, they went to a chill-out room to cool off -- kinda like marathon runners. Except they didn't give these dudes oxygen, they gave them Tums, a breath mint, and a roll of toilet paper.

Next year, I hope an American brings the trophy back home. The Japanese Kobayashi IS awesome, going down on those dogs like a Kamikaze -- but c'mon! Us Americans are KNOWN for how much we eat! We gotta find the next eating star! I'm gonna personally scout every Old Country Buffet in the Midwest!



*** More HogWild Funny Stories and Rants ***





Watch my helpful and hilarious Expert Dating Advice videos!