JUSTIN: Adam "Pac Man" Jones is in trouble again as he faces two counts of felony coercion because he allegedly BIT a bouncer on the ankle and then threatened to kill all the other employees at the club.

HOG: I like a guy who keeps it real. His name is Pac Man and he's chomping. I like that. Tell me he also ran around the club like it was a maze, chased ghosts and then abruptly switched directions when he saw a strawberry and I'll be really happy.
JUSTIN: Now call me crazy, but that's the kind of defensive back we need on the Cowboys! Someone who can cover the other teams best receiver and is willing to bite, shoot and kill anyone that gets by him. He could be the first player in league history to play in a game with a police issued ankle bracelet!

HOG: First? I thought those ankle bracelets were part of the NFL standard issue uniform.
JUSTIN: Sammy Sosa hit his 600th home run putting him one step closer to joining the ranks of Mark McGwire, Rafael Palmeiro and Barry Bonds as the only players to hit over 500 home runs that have an asterisk by their name for taking steroids.

HOG: I don't think they should put an asterisk next to their names. I think they should put tiny testicles – to represent their shrinkage from taking steroids!

JUSTIN: Sure Sammy never got busted for steroids but am I the only one who noticed that two years ago when all the steroid allegations started going around, Slammin' Sammy just kind of disappeared like Keyser Soze?

HOG: Who? Was he the ruler of Germany or something?

JUSTIN: He was the villain from The Usual Suspects! Stop reading all of those worthless ass books and catch up on your pop culture!
It's like one minute Sammy Sosa was cranking out dingers with a corked bat and then just like that he was gone...so from now on I think that we should start calling him Slamming Sammy Soze.
In other news, New York Yankee Jason Giambi is just about set to squeal, I mean, meet with steroids investigator George Mitchell. Giambi, if you don't remember, got busted for steroids and then apologized to the fans for letting them down.
Granted he never admitted taking 'roids, he just apologized for letting the team down. This would be like if your girlfriend caught you banging another woman and then you apologized -- not for cheating on her -- but just for letting her down…on second thought that's not a bad idea… ha ha! Just kidding honey!

HOG: Oh man. Just like Giambi, if you want to be a player, you should keep your mouth shut! Otherwise your wife will put you on the 60 Day Disabled List with a groin injury.

JUSTIN: Chamique Holdsclaw, the six time All Star guard for the L.A. Sparks, retired from the WNBA only five games into the new season. When asked why she retired so abruptly Holdsclaw stated that "she had just lost interest in the game." Which is weird because that's the same way I felt about the WNBA when the league was introduced in 1996.

HOG: Yeah, she's on the same wavelength as everybody else.

Is it just me, or is Holdsclaw the most lesbianic name ever invented? You're not helping the dyke image of the WNBA when your last name makes it sound like you enjoy shoving your fist into your teammate's, uh, Holdsclaw.

JUSTIN: From now on we should change the term to Holdsclawing.

HOG: And the owner of the team is named Harry Clam. HA HA HA! Just kidding. But that would be cool.

Yeah, the WNBA somehow manages to make 10 sweaty women handling balls into something boring.

Sports where we want to see women compete:

Tennis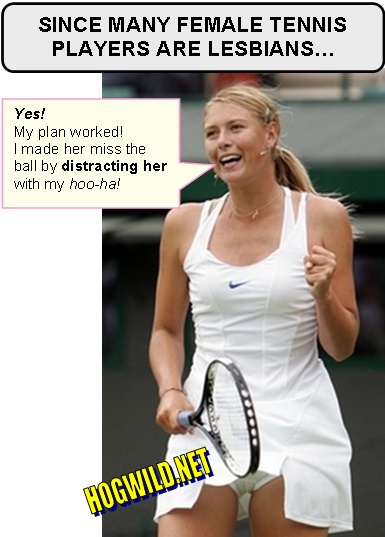 Volleyball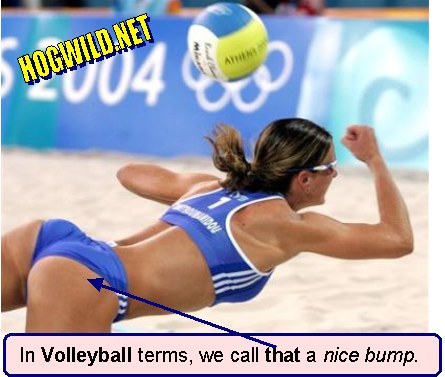 Topless Trampoline

Pillow Fighting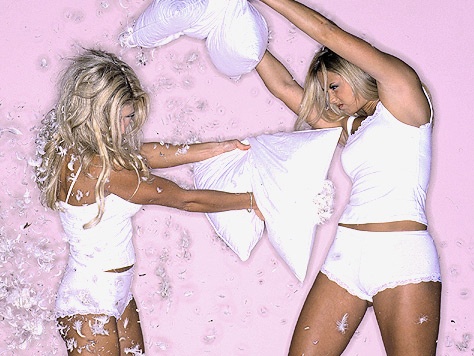 Sports where we DO NOT want to see women compete:

Basketball

Weight Lifting

International Beer Drinking & Baked Beans Competition