JUSTIN: On my shelf at home I have three bobble heads, Jesus, HogWild and Albert Pujols.
HOG: Wow! And I thought only my ex-girlfriend had a HogWild doll... of the voodoo variety.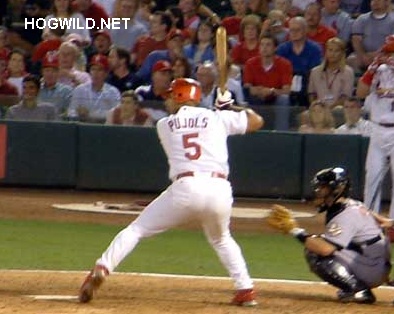 ABOVE: Now batting, Albert Pujols (pronounced Poo Holes). #5? Shouldn't Poo Holes be #2?
JUSTIN: Jesus (pronounced, Hey-soos) is my Spanish friend that makes all of my bobble heads and T-shirts so naturally I have one of him.
HogWild is the second because not only is he funny, his head is so big that Jesus didn't even have to exaggerate the head on the statue.
And the last bobble head I have is of Albert Pujols because he's the baddest first baseman in Major League Baseball and this year he has a chance to break the record for most home runs in a single season.
HOG: The last 3 guys who went after that record (Bonds, McGwire, & Sosa) were all ACTUAL bobble-heads because of their huge steroid-inflated skulls.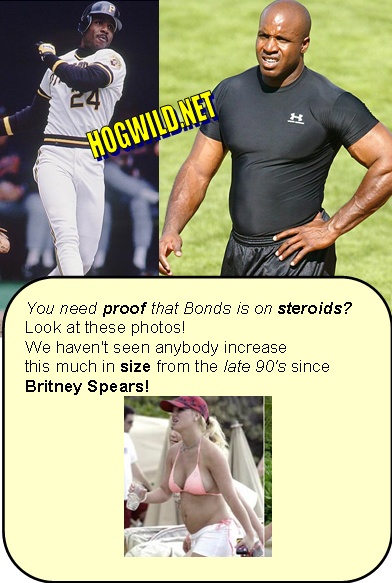 JUSTIN: In today's game Pujols is widely regarded as one of the best offensive players in the game because he hits consistently for average and power.
With a batting average of .328, he's currently leading the league in home runs with 18, which happens to be 13 more than the human juice machine Barry Bonds.
At that pace, Pujols will hit 84 home runs this season and shatter previous record (held by Barry Bonds) of 73.
HOG: Hey, did you notice his wife has a seriously large rack? Awesome. Hey, she's MRS. POO HOLES. HA HA HA! The Poo Holes Family. Lots of little Poo Holes running around.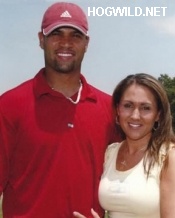 JUSTIN: The problem is that if you don't watch a lot of baseball (you're probably a communist) you've probably never heard of Albert Pujols. That is a shame because not only is he one of the best athletes in the game, he's also a stand up character off the field.
Translation: He hasn't been busted for any drugs or felonies and as of May 13, 2006, the press hasn't turned up any illegitimate kids.
HOG: Having illegitimate kids doesn't mean you're not a stand up character. It just means your character prefers to lie down.
JUSTIN: Born in the Dominican Republic, Pujols' family immigrated to the United States in the early 1990s where Pujols attended high school in New York and continued his baseball career. After high school, Pujols attended Maple Woods Community College in Kansas City where in his first game he hit a grand slam and turned an unassisted triple play.
HOG: You think he got teased because of his name? I mean, it says Poo Holes on his jersey! I like to go to a game just so I can yell out, "Poo Holes stinks!"
Dude, I love his name! Back when I did Fantasy Baseball (when I thought baseball stats were more important than sex) I named my team after my 2 favorites players at the time. Pokey Reese and your boy Albert. So yes, that's right, my team name was Pokey Pujols.
And that year we really took it in the ass. Poo Holes finished on the bottom. Bottom! Ha Ha! Stooooooooopid.
JUSTIN: My first game in high school I walked once, stole a base and almost vomited on the field after I swallowed my chewing tobacco. Freshman!
HOG: Ugh! You ate chewing tobacco? You Texans are niZasty! Us New York City baseball players would never chew tobacco. We chew on crack vials.
JUSTIN: That's funny, I thought all New York City Players just chewed on wads of cash.
HOG: Why do people think all New Yorkers are rich? It's just not... excuse me... my diamond-encrusted platinum cell phone is ringing. "Hello? Bill! Good to hear from you! How are things at Microsoft?"
JUSTIN: Eventually the St. Louis Cardinals became interested in Pujols, drafting him in the 13th round of the 1999 draft. By 2000, Pujols was assigned to the Peoria Chiefs of the single-A Midwest League, where after being voted league MVP, Pujols quickly progressed through the ranks of the St. Louis farm clubs.
In 2001, Pujols was promoted to the Major Leagues where he won the Rookie of the Year Award and became the first Cardinal rookie to be voted to the All Star game since 1955.
HOG: Aaaaw. I think you are... in love… with Alberto!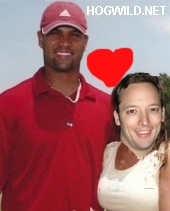 What? Are you writing his biography? Dude, you know what round and what year a baseball player was drafted but you forgot your wife's birthday! What's wrong with you, man?!
Sometimes I think if girls really want us to remember all those boring facts about their lives (like their names) they should put it on the back of a baseball card.
JUSTIN: Dude, I have NEVER forgotten my wife's birthday, I just didn't feel like celebrating it last year because my fantasy football team lost that week.

*Please note ladies that we are kidding. Hog and I would never forget our wonderful women's birthdays...
HOG: ... again.
I actually keep sex stats. In December 2004 I was picked up as a Free Agent and traded to my current team. Since then I've broken my career record for "home runs." Heh, heh.
I have to make up for 1993 when I struck out 212 times and was ejected from a game after being caught with too much pine tar on my bat. How embarrassing!
JUSTIN: Once you get married you stop keeping stats and just focus on quality starts.
I'm like the Big Unit (Randy Johnson), I put in six good innings of satisfaction and then she plugs in the closer.
HOG: Dude! That is so gross! First, I don't want to hear about your "Big Unit" OR your "Randy Johnson." And I certainly don't need to know what your woman plugs into her closer!
JUSTIN: Albert Pujols has been just unstoppable. He's finished in the top four in the voting for MVP of the National League every year of his career, finally winning once in 2005 and coming in second twice (each time to Barry Bonds.) Just think if he had played on HogWild's T-ball League, they would've been UNSTOPPABLE!
HOG: IT WASN'T T-BALL, IT WAS LITTLE LEAGUE!! STOP MOCKING MY ACHIEVEMENTS, YOU JEALOUS MEX-NECK!!!
Note: Justin is half Mexican and half Redneck.
JUSTIN: Nice! It's sounds like I'm a He-Man character.
So can Pujols break the single season home run record? Why are you asking me? Is it because I correctly predicted the Super Bowl, the De La Hoya vs. Mayorga fight and ALL of the first round basketball playoff games?
HOG: Yeah, I gotta put some money where your mouth is. On second thought, that might get me arrested.
JUSTIN: Well I would say NO he can not break the home run record for the simple fact that he's just started off this season way too hot.
At the pace he's hitting it's just safer for pitchers to walk him and face the next batter in the lineup. Granted Jim Edmonds, the Cardinals center fielder is no slouch. but he also is not a threat to crank one out of the park every time he's up to bat.
HOG: In related news, I'm a threat to crank one out every time I hold my bat. HA HA HA!! Stoooooooopid.
JUSTIN: All in all, I'd give Pujols another month of ball bashing before Major League pitchers start giving him the Bonds treatment and walking him every time the games close or there's a runner on base. Still you should keep an eye on him and his career, because much like Lindsay Lohan's soft p*rn career, they're bound for greatness! (Shamless picture plug)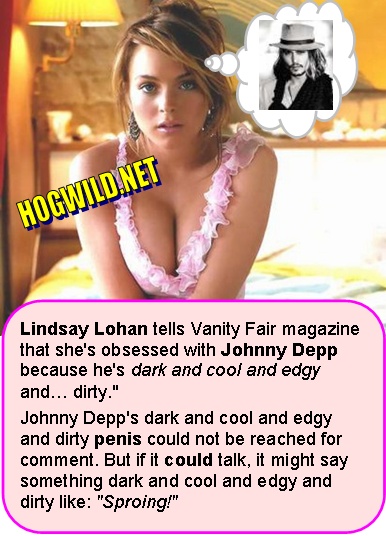 HOG: The major difference between All-Star Albert Pujols and All-Slut Lindsay Lohan is that Lohan is much more likely to "ride the pine."