#500! No one in the history of Major League Baseball has reached the 500 Home Run mark faster than Alex Rodriguez.
Yankees radio broadcaster John Sterling made his signature call familiar to all Yankees fans, "It's an A-Bomb, from A-Rod!!!"
Rodriguez swatted the milestone dinger off of Kansas City Royals pitcher Kyle Davies in the bottom of the 1st inning.
A-Rod, who just recently celebrated his 32nd birthday on July 27th, passed Jimmie Foxx (32 years, 338 days) as the youngest player ever to reach 500 homers. Rodriguez is also the first player in history to hit 35 or more home runs and drive in 100 or more runs in 10 consecutive seasons.

If baseball players were professional wrestlers, clearly Barry Bonds would be a bad guy. Fans boo him as he steps out to his theme music. Ken Griffey, Jr. is certainly a fan-favorite -- a Hulk Hogan type of figure. But A-Rod? He's like Macho Man Randy Savage. Sometimes loved, sometimes hated.
He's been both classy:
In 2001, Alex Rodriguez was voted as the All-Star Game's starting shortstop. At third base, stood the legendary Cal Ripken, playing in his last All-Star Game before his retirement.
Out on the field, just before the first pitch, A-Rod told Ripken to swap positions with him. "It was a really neat tribute," Ripken said. "I spent most of my career out at shortstop. It was great being at shortstop again. I appreciated it."
And not-so-classy:
In the 2004 American League Championship Series, Alex hit the ball out of Boston Red Sox pitcher Bronson Arroyo's hand while he was attempting to tag him. Rodriguez was called out. Curt Schilling blasted the move as "junior high school baseball."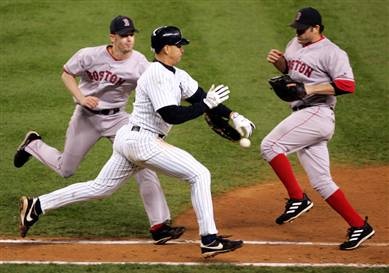 But Alex Rodriguez has also been brave. How many other athletes do you know have spoken publicly about going to therapy and taking anti-depressant medication?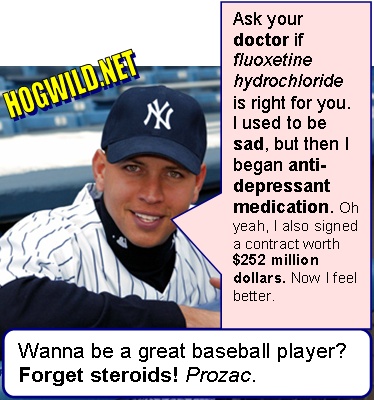 Alex Rodriguez holds many impressive records including Most Runs in a Season by a Shortstop (141 in 1996), Most Home Runs in a Season by a Shortstop (57 in 2002) and Most Nasty Nicknames for a Future Hall of Famer. The worst names being G@y-Rod (from Red Sox fans) and Stray-Rod (by The New York Post.)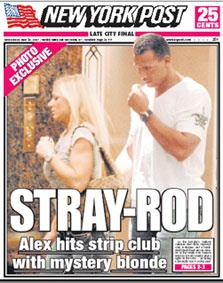 I think it's time that we celebrate the man and his accomplishments. We many not see another player of his caliber for a long time. And while he's played against competitors who were obviously juicing, Rodriguez has never even been accused. Personally, I will be cheering every home run he hits that brings him closer to surpassing Barry Bonds.
Some baseball fans are skeptical of all players, but I don't believe that Alex Rodriguez is on steroids. Why? Look at him! He's not the most muscular person on his team. And look at his wife...


He's not even the most muscular person in his marriage!