JUSTIN: Say youíre a General Manager of an NBA team who is desperately trying to get his team to the championship this year, (which means any team except for Philly and New York.)

HOG: Hey! The New York Knicks might surprise you and end the season with more wins than the New York Jets!
The Knicks will triumph into 1st place with a record of 23-59, helped by the Ghosts of New York Knicks Past. Willis Reed will limp onto the court, John Starks will dunk over Kobe Bryant, and Patrick Ewing will miss 2 crucial free throws down the stretch.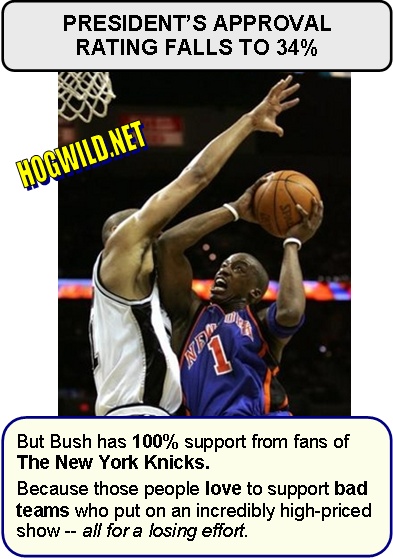 JUSTIN: When suddenly a player becomes available that can lead your team, score 30 points a night and packs people into their seats, what would you do?
If you were smart youíd jump on that deal like the last "special" brownie at Snoop Dogg's house.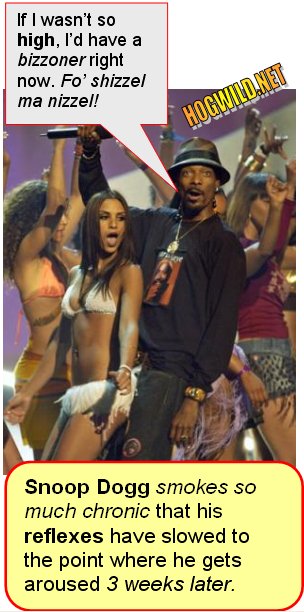 HOG: As a note to our younger readers, you should know that "special" brownies are bad. Regular brownies are much better for you with their cholesterol, sugar, calories, saturated fat... actually the "special" part might be the healthiest part!
JUSTIN: For some reason, even though the 76ers are desperate to trade Allen Iverson, no one is biting.
HOG: It could be because of Iverson's contract. There's a clause that demands the locker room attendant play his rap CD before every game.
JUSTIN: It seems that even though Iverson is a proven all-star, teams are weary of 5'11" point guards with 10 years of tread on their tires, with more tattoos than the Illustrated Man and a posse bigger than MC Hammer in his prime... but Iím telling you right now WHOEVER gets Iverson will be a contender THIS year.

HOG: Yeah, whatís the problem? All NBA players are covered in tattoos today. Once I saw a Harley Davidson Biker Gang pull up to an NBA team bus and was like, "Daaaaamn! Those guys got a lot of tattoos!"
JUSTIN: I'm thinking of getting my wife's name tattooed on my neck, that way when we have kids and I have them tattooed on my arms people will only have to look up to see who their baby mama is!

In the NBA, there are tons of good players (and most of them donít play for the Knicks.)
HOG: What do you mean, most of them don't play for the Knicks? None of them do!
JUSTIN: There are only a hand-full of great players that can score points at will and drive their team beyond everyoneís expectations. Think Michael Jordan or Shaquille O'Neal... but unfortunately these players only come around every so often and unless they are surrounded by the right people their talent is usually wasted.
Just imagine if Derek Jeter played for the Philadelphia Phillies and that instead of being surround by talent good enough to win championships, that he had spent his career on a crappy team, banging c-list celebrities instead of Jessica Alba and Mariah Carey.
Sounds like a tragedy doesnít it? Well the only difference in that scenario is that Iversonís married...that and he plays basketball.

HOG: Whoa. Allen Iverson is married? I wonder if he wore the black spandex arm sleeve or white spandex arm sleeve at the wedding.

JUSTIN: Or if his entire 50 man posse stood up with him at the wedding!

The sad part is that once Iverson is traded, the fans in Philly are going to have to watch him lead another team to the playoffs like some poor sap who watches his girlfriend leave the bar with a guy who dresses better and has more money. Itís going to crush them. And the worst part is that itís going to be a long, long time before Philly every finds another player like Iverson.

HOG: I know! I know! She was soooo hot! I had it all! And she done gone left me for one of then fancy employed types!


JUSTIN: She was hot and she will totally regret her decision when you're famous...or when you open up the new section on your website called, "B!tches that Broke the Hog's Heart."
HOG: You might be on to something...

JUSTIN: Look at the Miami Heat last year. Pat Riley went out and filled his team with veteran free agents in hopes that they could gel with a superstar named Dwayne Wade and look what happened. Dallas got screwed by the crappiest officiating on the planet and the Heat won a championship. Youíre telling me that the same thing couldnít happen with Allen Iverson?

HOG: Are you crying about the referees again?

JUSTIN: Yes!
HOG: Look, Dallas is known for 1 thing. Football. Well 2 things. You also allowed JKF to be assassinated.

JUSTIN: Had to do it. Word around town was that he was a Redskins fan.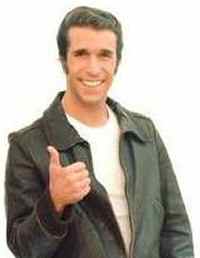 JUSTIN: If you want more evidence of how this trade could work out just look what happened with Charles Barkley. Before he gained 200 pounds and started carrying around a man-purse full of cheeseburgers he was stuck in the same position as Iverson.
He was the best player on a terrible team in Philadelphia. So what happened? Philly traded him to the Phoenix Suns where he kick started his career and took the Suns to the championship where they gave Michael Jordan and the Suns all they could handle. Can't you see a p!ssed-off Iverson doing the same thing?

HOG: Yeah! They should trade Iverson to Phoenix! He can back up Steve Nash!

JUSTIN: Wow! With insights like that YOU should be ruining, I mean, running the Knicks!

Only time will tell how the rest of Iverson's career will turn out but my money's on him getting a ring before 2010 and thousands of Philly fans crying in their beers.