The premiere of American Idol was good for 2 things: Jewel and Perla Meneses.
Perla Meneses is kinda hot. That's why she advanced to the next round. Her voice is okay. Her Shakira karaoke song was much better than her 1st choice. But she wouldn't have been given a 2nd chance if not for her hottie-hot hotness.
It's not even that she's that hot. It's just that compared to the literal cattle call of overweight contestants, she looked great by comparison.
The biggest surprise of the night was Jewel. Damn she's hot. Still!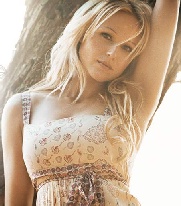 I lost track of her because, unlike other singers, she's not out partying without panties every night in Hollywood. So she kinda fell off the map. But with her appearance on American Idol, she has re-inserted herself into the perverted fantasies of men all over the world. Congratulations, Jewel. You are still j@ck-off material.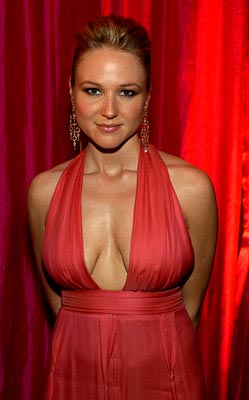 The Contestants:
The Navy guy was good. I have a feeling that he HAD to be... if he had embarrassed the Navy, we might see the headline, "American Idol Contestant Shot Dead from Friendly Fire."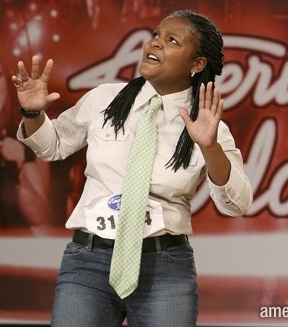 Why did they let this poor, clueless woman, Tashawn Moore, humiliate herself for so long? She wasn't funny. She was just bad. And yet they let it go on and on and on. It was like an SNL skit.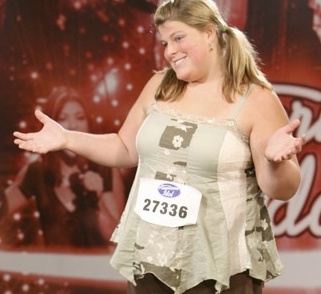 This "Lion" girl, Trista Giese, was horrible. She did a lion roar over and over. Um, if she's going to be making animal-sounds, I can think of a number of other animals that would be more appropriate for her.
She also made some kind of artwork for the judges. In the end, not only did they reject HER, they also rejected her crappy poster.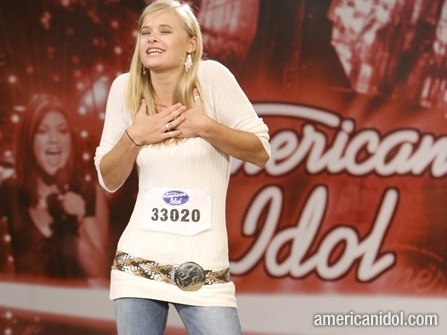 She's pretty hot. Not sure why her belt is so low. She's in Standard Chick Singer Position #1: Clutch the heart. Because those lyrics written by some guy she's never met are coming straight from her heart. Either that or she has to belch.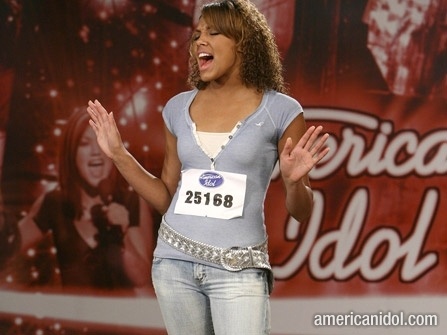 Another hottie with the belt-action. Not sure why her belt is diagonal and off-center. She's in Standard Chick Singer Position #2: Palms out. Because she don't need a man.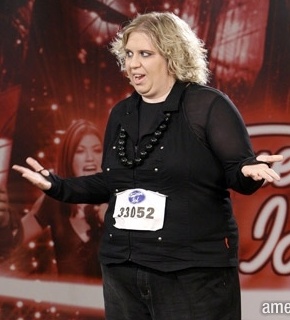 American Idol has an age limit. They should have a chin limit.
Yuck.
After that woman, I need to look at Jewel again:
This guy wept after his audition. Remember the singer Babyface? This is Crybaby Face: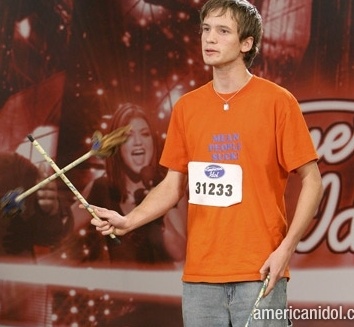 Jason Anderson the Juggler. The judges suggested he go on another show. I say send this dude on Showtime at the Apollo. Maybe then he can get the crap kicked out of him for being a dork.
The Judges:
Simon is great, as always. But the other judges have changed. Randy got a much-needed personality implant. But now he's also mean. And Paula is mean, too. So who is going to be the good-cop to Simon's bad-cop?
Now it's 3 angry judges. And Jewel was very critical, too. I thought she might contribute some new-age crap advice. But she was simple and blunt. And I'm pretty sure she made up a few words along the way.
But it's okay because she's hot. So now I'm wondering: will they trot out more forgotten hotties to guest judge?
Maybe Tiffany? Debbie Gibson?
My prediction: Posh Spice Victoria Beckham.
WRAP-UP
American Idol is not just a show to watch human train wrecks and new singers but it's also a learning experience. This episode taught us:
1 - hot girls wear belts in a variety of angles and positions,
2 - it is acceptable for attractive women to have mediocre talent
3 - women with multiple chins will not advance to the next round unless the next round is filmed in Sea World
and most importantly:
4 - Jewel is still j@ck-off material