JUSTIN: So we're about a week into the Winter Olympics and so far it's been a pretty lackluster trip for the Americans.
HOG: Holy crap! The Olympics are on?!
JUSTIN: We're second in the medal count to Norway. Norway man! I know that they probably get snow about 362 days out of the year so they can probably ski in church shoes but aren't there about 10 people living the country? And half of them are bikini models.
HOG: Dude, you just made me book a trip to Norway.
JUSTIN: I guess we should've known not to expect much this year when Olympian Bode Miller admitted in an interview to skiing when he was still drunk from partying the night before! I mean I can hardly make it to the bathroom when I'm hung over much less compete against world class athletes. As a result Bode is 0-2 so far in his medal hunt; however he did mention that he has scored some serious tail in the Athlete's Village.
HOG: They should have the "Player" Olympics. Gold Medals for Marathon Sex, Ho Boarding, and Hurdling Obstacles like Fat Chicks. When you win they put you on the pedestal, but they don't play your National Anthem, they play that P.I.M.P. song by 50 Cent.
JUSTIN: Drugs are another story that's always plagued the Olympics. Sometimes it's innocent, like with Zach Lund, the top slider on the U.S. skeleton team, who was banned from the Torino Olympics for taking a common hair-restoration pill with an ingredient that can be used to mask steroids. Does this mean we should keep an eye out for all hairy backed Olympians with larger than average muscles or that bald people are cheaters?
HOG: What's a skeleton team? Is Nicole Richie the captain?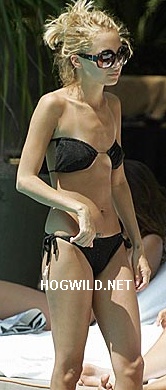 JUSTIN: And he's not the only one who's been busted either. Russian biathlete Olga Pyleva was thrown out of the Olympics and stripped of her silver medal for failing a drug test. Google this chick. She's hot as hell which makes me ask, "Should there be drug testing in all relationships?" I mean if your girlfriend was taking steroids or diet pills to keep her Victoria Secret-like body would you ban her from all bedroom activities? Of course not, why, because she's hot!
HOG: After reviewing her photo, I think Olga Pyleva should be stripped of more than just her silver medal. Rrrrrrrar!
But yes, I agree with you Justin, women should be kept on a strict regimen of drugs.
* Cocaine to keep their weight down.
* Steroids to keep their testosterone-fueled sex drive up.
* And marijuana to keep them calm.
* And alcohol to make me look handsome.
NOTE TO WOMEN: This is just a joke. Please don't hurt me.
JUSTIN: Then there's Women's Hockey…Yes it exists, yes it's scary, yes we need to move on before the six bullish women that read your site want to kick my ass.
HOG: Dude, 0 bullish women view hogwild.net. Only bims who are mad cool with a great sense of humor. Or bims who are researching into the depraved psyche of the male mind. In all seriousness though, a 16 year old vegetarian girl wrote me a nasty email last week. Don't worry though. I mailed her a hamburger.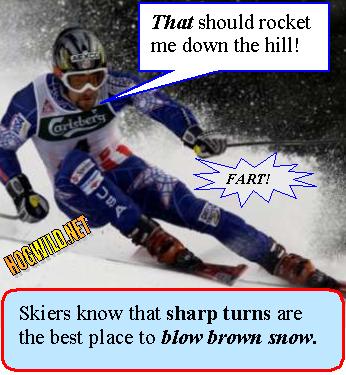 JUSTIN: Figure skating is always a hot topic in the Olympics but that started off on a bad note for Americans when Michelle Kwan pulled out of the competition with an injured groin. No word yet on whether or not she injured it getting freaky with Bode Miller but as always we should keep our eyes out for a stolen porn tape on the internet.
HOG: It really sucks for her. She's really worked so hard and now… her Olympic dream is over. Coincidentally, I once had to pull out because of an injured groin. It was really raw from all my rehearsals the night before.
But really, it's too bad about Michelle Kwan. I always wanted to be the one to strain her groin. NOTE TO GIRLFRIEND: I love you. I only want to strain your groin. Okay, I know I don't "strain" it, more like, annoy your groin.
JUSTIN: It's pretty lame when the most excitement today is that Johnny Weir the flamboyant American figure skater has a chance to win a gold medal. Weir was excited but he went on to say that , "Gold is so 80's, I only wear silver so even if I don't win it all, I'll still have something fierce to wear when I'm out having Cosmo's with the girls."
HOG: Look, if this is how he wants to express himself, then by all means he should be gay and proud. I don't know about you, but I'll be cheering for my fellow American, Johnny Qweir.
JUSTIN: Shaun White known to his friends as Side Show Bob won the gold medal for Half Pipe Snow boarding. It's all a dream come true for the American boarder. He said that he was going to go out and buy a new bong to celebrate the occasion.
HOG: Well, that is why they call the event the Half Pipe.
JUSTIN: All and all the Olympics have been a lot like regular season baseball. No one's watching it but everyone's catching SportsCenter the next day to see if their team won. I mean you know it's a down year when American Idol is getting more viewers than the Olympics!
HOG: If the Olympic Ice Skating judges were Simon Cowell, Paula Abdul, and Randy Jackson, then you'd have more viewers!
Ice Skating couple completes their performance and raises their arms in triumph.
Randy: That was hot! Good work, dawg!
Simon: That was 100 percent awful. Your triple luxes were miserable, your skating mediocre and I don't like your hair.
Paula: Oh, come on Simon! I thought they were great. Especially you, young man. I really like what I saw on the ice. A nice firm bulge in your spandex tights. Meet me in 20 minutes behind the Zamboni machine.