It's Amusement Park season! Time to bring your girlfriend (or bus load of "special" children) to a place full of fun, thrills, and overpriced everything.
Too many Amusement Parks are lame. They suck. One time I was standing on the line so long, when I got to the end, they had torn down the Roller Coaster and replaced it with a Department of Motor Vehicles.
Not at Hoggyland!
ABOVE: Superman Ultimate Flight and me, Superdork Ultimate Fright.
*** THE ROLLER COASTERS ***
Okay, you know I'm bootleg. So the roller coasters at Hoggyland aren't constructed out of expensive steel or wood... "Welcome to World's Tallest, Fastest, and Only roller coaster made entirely of Aluminum Foil!"
You want thrills? Trust me, you'll be scared for your life on this thing!
Oink! Oink! This coaster is called "Ride the Wild Hog." The front of the car has a snout, and the back of the car has a curly pink tail. The coolest part of the ride is when you slide through "The Pigpen" and you're splashed with 100% real mud! You'll squeal in delight!*
NOTE: "Delight" may be appear to be "shock and anger."
Before you board my roller coaster, you will be asked to type your name into our computer. Then, at the exact moment when you make a screwed-up face with your eyes wide open in fear, your eyebrows crunched together, a vein pulsing out of your forehead, your chin squished back into the folds of your neck and your mouth open... we will take a picture.
Upon exiting the ride, this picture will be on display on a huge monitor. Your name will appear above the photo. Under the photo will be the words "This is my orgasm-face."
You may purchase this photo for just $399. If you choose NOT to purchase this photo, we will mail this photo to your mother.
Please observe the Rules for Riding:
When couples ride together, only the guy is locked-in with a seatbelt. It is his manly duty to hold his girlfriend and keep her safe.
NOTE: Men, this is a great ride to take when you want to break-up with your annoying-ass girlfriend.
NOTE: Women, this is not a great ride to take if you are an annoying-ass girlfriend.
"Ride the Wild Hog" turns upside down (so as it falls, I can collect your loose change) but does not have any deep banks. 'Cause I ain't got deep bank, fool!
NOTE FROM MY GIRLFRIEND: If you choose to "Ride the Hog" you should expect to be carelessly knocked around and totally uncomfortable... but thankfully the entire ride will only last about 30 seconds.
Unlike other lame-o Roller Coasters that go really fast and end up in the same place where you started, "Ride the Wild Hog" begins in the Bronx and ends in Manhattan!
NOTE: You must transfer roller coasters at 161st Street.
NOTE: Okay, fine. I admit it. My roller coaster is really a New York City subway train. Just shut up, okay?
Hoggyland Management has zero tolerance for LINE CUTTING. Snipers guarantee this policy.
NOTE: Should you find a red laser dot on your clothing, do not be alarmed. Relax. You are going to die.
The "YOU MUST BE THIS TALL TO RIDE" sign is actually Jessica Alba. The line for the minimum height requirement is at her boobies. I think this is a nice consolation prize for short boys and midgets as they nestle their faces right between her tan snuggle bubbles.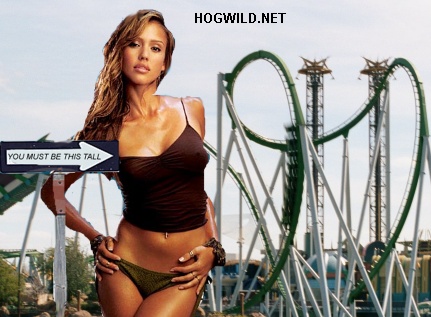 FOOD CONCESSIONS AT HOGGYLAND: none.
C'mon, man! Be bootleg like me! Sneak that sh!t in!
However, there will be pink cotton candy. In fact, all of the employees of Hoggyland are hot bims who are wearing pink shirts MADE of pink cotton candy.
No. You may not eat their shirts.
*** CARNIVAL GAMES OF SKILL ***
Race to shoot what might be water from a pistol shaped as what might be a dildo into Paris Hilton's open mouth to burst what might be a balloon but is probably a latex condom.
*** FUN FOR THE ENTIRE FAMILY! ***
Sure, other "Amusement" Parks have popular cartoon characters like Bugs Bunny and Mickey Mouse walking around. Sheeeeeet, you know I'm bootleg. I can't afford those licensing fees! But I got some out-of-work cartoon characters to bring joy to the faces of the children.
I got Skat Cat from the old Paula Abdul Video...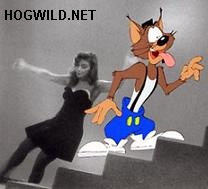 ...and Mushmouth from Fat Albert!

What? Why does Mushmouth smell like whiskey and urine? That's because he's a homeless wino.
*** CELEBRITY THEMES ***
Besides the Paris Hilton c*m-guzzling game, we've got Halle Berry/DMX Bumper Cars! Yes, both of these celebrities are famous for running people over on the road. And now you can pretend to be them by slamming into other cars and pedestrians with absolutely no repercussions!
NOTE: The use of celebrity names at Hoggyland in no way implies an endorsement of any kind. No one has been paid. And I mean no one. That would explain the bathroom "situation."
*** HOGGYLAND WILD SAFARI! ***
From the safety of your vehicle, explore the dangerous and exotic lands of HogWild's old neighborhood in the Bronx. Ooh look! There is a pack of giant rats!
Watch as they come right up to your window and try to eat your face!
And over there... super large roaches charge towards you! Exciting! Disgusting! Ooh! And what's this?
Someone is shooting at you! They want to carjack your vehicle! Cool! Only at Hoggyland's Wild Safari will you find such action and real life adventure!
*** FUN STUFF FOR COUPLES ***
Caricature artists are mad expensive. I can't afford to hire them. But I've got something just as fun! Sit down with your honey and while you wait, I'll have a Notary Public stamp some documents for you! Just $72 framed!
*** WATER RIDES ***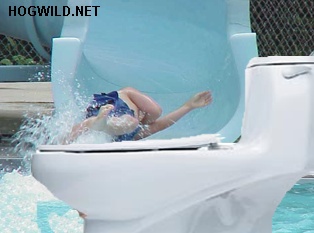 The kiddie water slide and pool is shaped like a giant toilet bowl. Because with little kids, that's exactly what it is.
*** ADMISSION PRICES FOR WATER RIDES ***
Ages 4-11............................................................................$5
Girls 18-35 wearing a white t-shirt with no bra.....................FREE
Heterosexual Guys 13+......................................................$700
Girls over 250 pounds..................................................$700,000
Guys over 250 pounds wearing a white t-shirt with no bra.....FREE