It was inevitable. Apple has created the iPhone: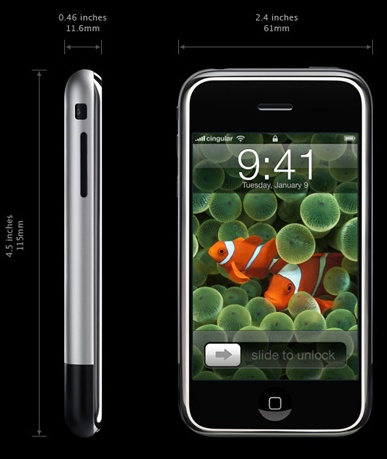 My first thought is: Awesome! Now I can combine my phone and iPod into 1 gadget so now when I misplace it I can lose all my songs AND all my phone numbers!
Early reports from reporters purport to report that the iPod needs no plastic pointer!
NOTE TO MEN: If you can say that last sentence 3 times fast, then start bragging to all the girls you know because it means you got mad tongue-skills.
Yeah, so the iPhone has a touch screen.
NOTE: Greasy-finger Guard sold separately.
The iPhone comes with your choice of 4GB or 8GB of storage for your totally legally downloaded music and adult "instructional" videos. I'm surprised that they still tell you the exact number of GB. When will they go to the Starbucks model of Grande and Venti?
And being a telephone, it naturally has a camera. But instead of the usual cheeseball bootleg cell phone camera that produces fuzzy images of Michael Richards melting down, THIS camera boasts 2 megapixels!
That's PDG (Pretty Damn Good) for a cell phone camera. But what's most important with cell phone cameras is not the megapixels... it's the anti-shake mechanism. Because 97% of all cell phone pictures are taken while the user is completely drunk.
NOTE: If you are sober and taking important photographs with a cell phone, you deserve to be slapped. Get a real camera.
Cell phones usually have crappy cameras. But they want to move in on the camera companies' territory. When will the camera companies battle back by equipping every camera with a crappy phone?
Why not? I should be able to pull out my beloved Canon PowerShot and make low-quality phone calls.
Every device is trying to be everything.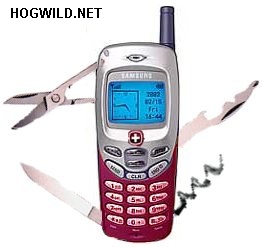 My computer is a crappy TV. If my TV "downloaded" my shows in a tiny little choppy-ass box I would be mega-p!ssed. So why not sell TVs that are crappy computers? Oh yeah, they tried that. It was called WebTV.
Predictions: New integrated devices...
* Microwave/DVD player. The window of the door is now a widescreen for viewing movies.
* Electric toothbrush/wireless webcam. Lets your viewers really get inside your head.
* Iron with built-in Sirius radio.
Back to the iVibe...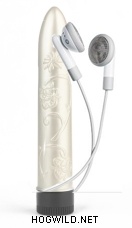 Oops! I mean, the iPhone!
It's got Bluetooth with EDR and A2DP, WiFi, quadband GSM, LOL, BRB, K?
Apple claims the battery life is 5 hours of talk or video. 16 hours of music. Yeah, right.
I've had to replace the battery on my iPod mini twice now. Unfortunately my old Duracell tricks to save battery life didn't work. I tried to rolling the battery around. I tried freezing the battery. Nope.
We all like to multi-task. So what's the battery-life when I'm:
1 - talking on the phone with one ear while
2 - listening to Chamillionaire with the other and
3 - cycling through picture collection of cute puppy dogs?
Here's what really sucks about the iPhone: You have to use Cingular service. Just like finding out the girl you like has an STD... this is a Deal-breaker.
Plus it's like $500 for the 4GB and $600 for the 8GB. For that price, I think it should come with ABS brakes and power steering. Oh, it's not a car? What the hell?! Where is my iCar?
FUTURE:
iCar comes in your choice of white, black or silver. You can load 900,000 hours of music into the trunk which is filled with a giant hard drive. The steering wheel is a sleek wheel-pad that you gently brush with your finger. And you'll need a new iCar battery every 6 months.
Whatever, if I could build the ultimate iPod type device, this would be it: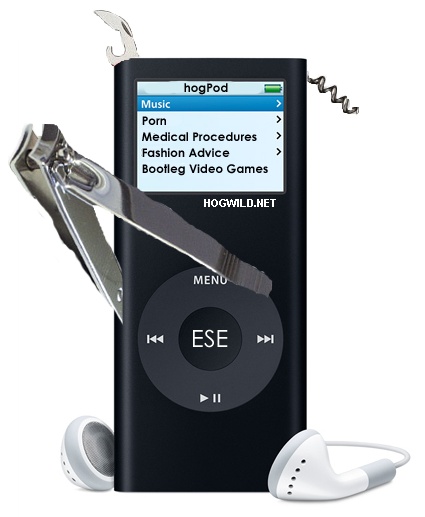 Check it out... it's The HogPod!