Crazy T-Shirts Party Poker - Safe, Secure and Fun! FREE Fantasy Sports
HogWild Eats his Way Through Europe!
Italy, Part 1: Stupid Statues and Asians Taking Pictures
Italy Jokes & Funny Pictures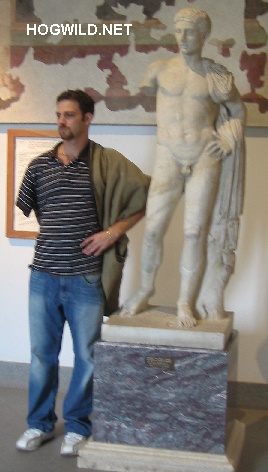 by HogWild
People drive tiny-ass cars in Italy. If I got hit by a car, the DRIVER would get more hurt than ME! I'd be like a deer through his windshield.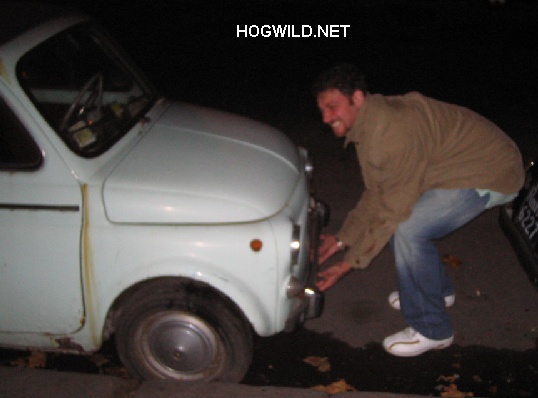 One minute you're happy and drunk, the next minute you think you're the Incredible Hulk. Except the Incredible Hulk never had to get his balls shaved for his hernia operation.
I learned 2 things in Italy:
1. Italians are so obsessed with fashion they made their country in the shape of a boot. Stoooooopid.
2. I HATE the TV show "Friends" in English, and Italian – it's okay.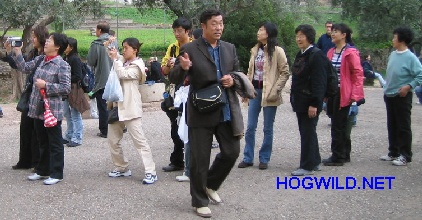 This is a picture of Asians taking pictures.
When you gotta go, you gotta go. HEY! The place was in RUINS before I got there!
There's only one thing left from the great Roman Empire. The Coliseum and Roman Numerals. The greatest – and really the only lasting – contribution made to society by the Roman Empire is that our movie sequels seem more powerful. Police Academy IV. Rocky VI.
On the real tip, I discovered the two keys to every great empire. Knowledge and slaves. ex. Egyptians, Mayans, Romans, Americans. Yes, Euro-people, America is an Empire. We are in year 60 of our 63 year reign. (It will end sometime in 2008 under the "leadership" of Dictator Bush.) Just remember all the good things we did for you. We gave you Julia Roberts movies, tasty food low in nutritional content, and Ford trucks.
Rome has a population of 3 million. 2 million of which are statues. Damn they love statues!
In Rome, everywhere you look, great marble testicles.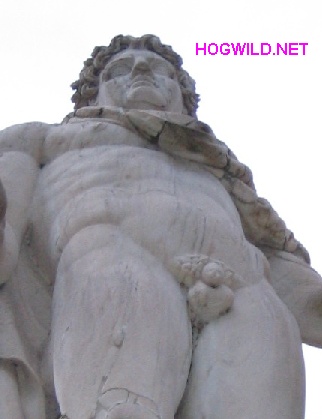 They also have lots of statues that are missing Jammies. TOLD you if you touch it too much it would fall off!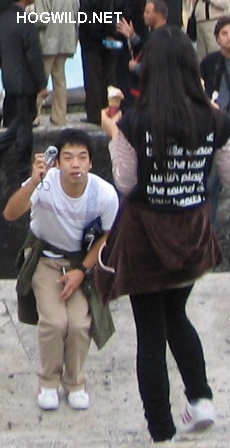 This is a picture of Asians taking pictures.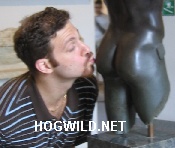 I couldn't help it. This statue had a fine heiney. I don't think this makes me gay.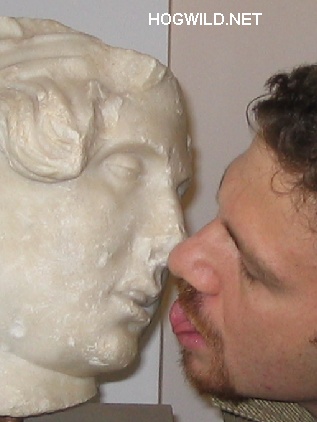 Okay. This makes me gay.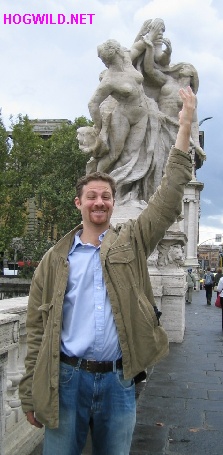 Shwew! I'm straight again!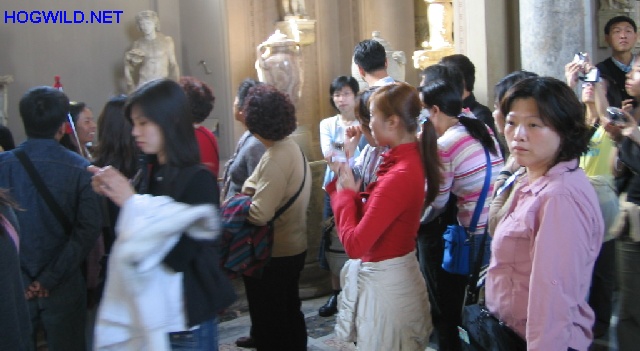 A picture of Asians taking pictures.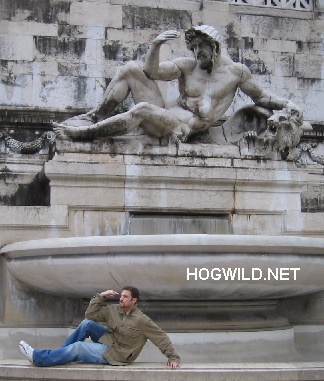 Look how jacked that statue-guy is! And look how big his head is. Those Roman dudes were totally on steroids.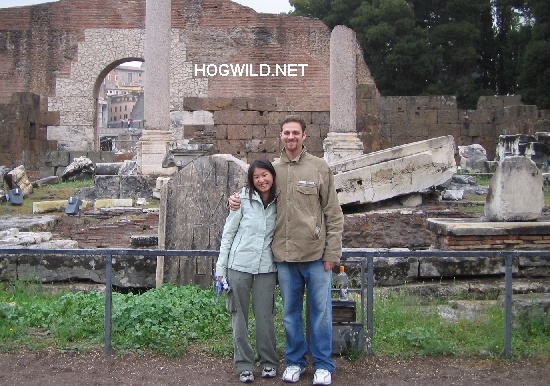 Me and this bim in front of some broken crap. I don't see the big deal. Should I go to Alabama and take a picture in front of a turned-over mobile home and be like, "C'mon maw! Look at dem ruins!"
NOTE: this fine young lady was nice enough to take this picture with me only because she's Asian and in her culture you can never refuse a photo.
After I die honorably in a battle of wits, this is the pose I want in my statue: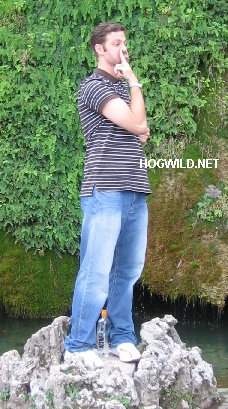 If the Coliseum was in America, we'd tear it down and build a new one next to it with luxury boxes. Then we'd blow up the old one and turn it into a parking lot.

Rome is sacked again! This time by Contiki Tours!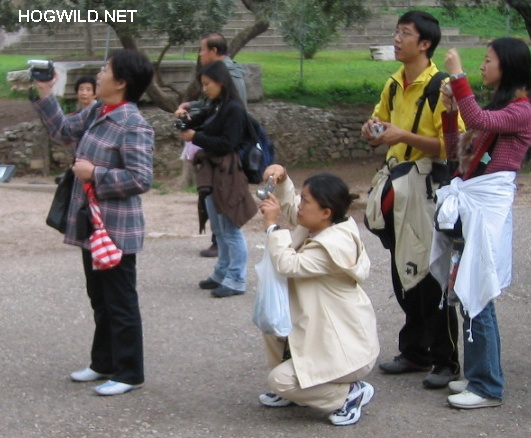 And finally, a picture of Asians taking pictures.
CONCLUSION: Asians are the best at taking pictures all over the world!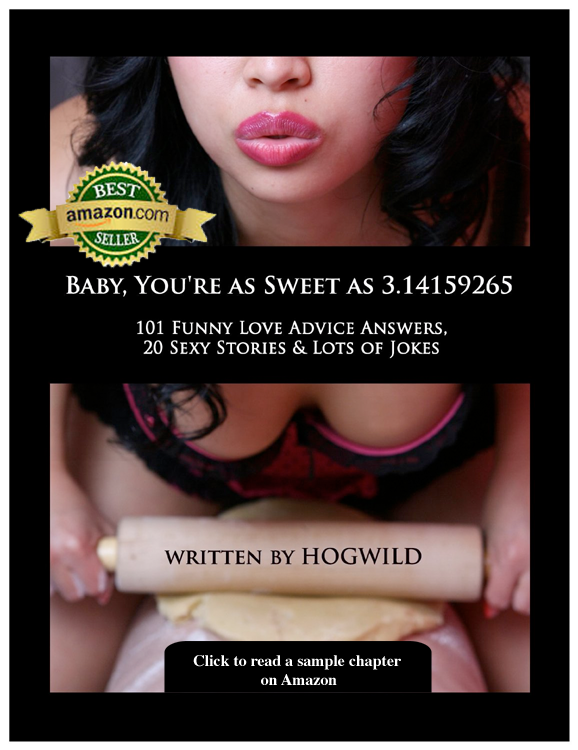 Watch my helpful and hilarious Expert Dating Advice videos!