JUSTIN: Baseball's back and from the looks of this new season it's going to be a fun one. So here are some things to keep an eye on this year.
Barry Bonds' head has gotten even bigger and so have his muscles as he is only 20 home runs away from passing Hank Aaron and putting his name (and an asterisk) in the record books.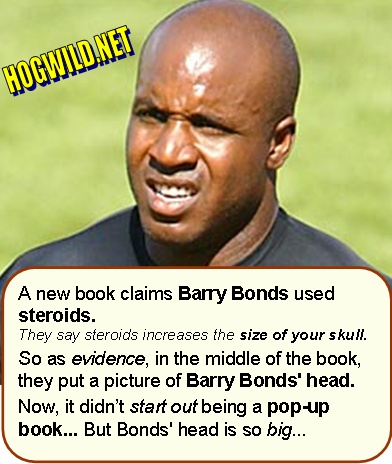 Will he make it?
HOG: Yes.
JUSTIN: Will his head explode?
HOG: If it does, I'm selling his frontal lobe on eBay.
JUSTIN: Will he get busted?
HOG: I hope so.
JUSTIN: And will anyone care if he does break the all time home run record?
HOG: Yes, Barry will care.
JUSTIN: These questions and more will be answered on the next Maury Povich.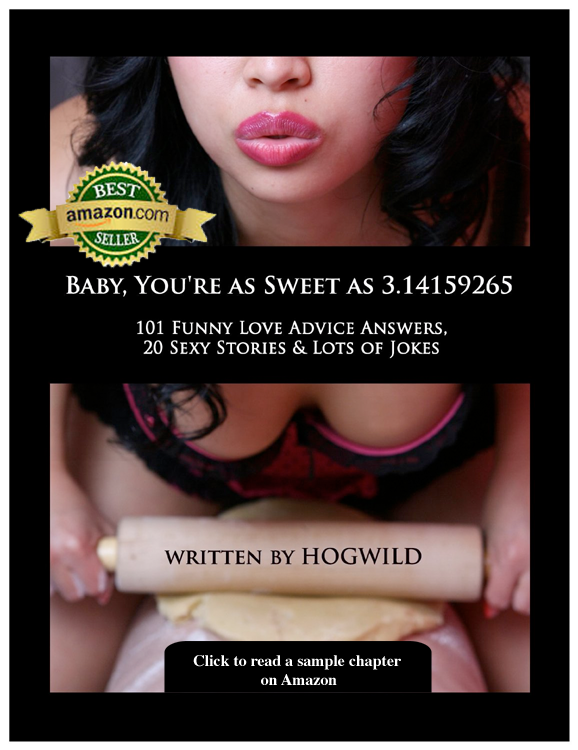 HOG: I heard that Hank Aaron is refusing to be at the game when Bonds breaks his record. Aaron claims he is too "old" to be running around. But it's customary in baseball for the record holder to be on hand to pass the torch to the new player.
I think it would be cool if the elderly Hank Aaron DOES show up to the game… then as Bonds bats to break his Home Run Record, he points his cane at Bonds. And Aaron's cane is actually a Taser gun!
The Taser combines with the HGH in Bonds' brain to make his head explode like a bottle of shaken-up Pepsi.
JUSTIN: Or when you stick a Mentos in a Diet coke!
Speaking of steroids, everyone wants to know if 43 year old Roger Clemens can make one more comeback and pitch for TWO WHOLE months this season. You know if he only wanted to play for two months out of the year he should just join a softball league and called it a day. It's like when you were little and you begged your dad to come out and play baseball with you, only if when he finally did he come out he struck you and all of your friends out and beaned the fat kid that was crowding the plate.
HOG: I like Clemens' idea. I think ALL the baseball greats should stay in shape and play 2 months a year FOREVER. Wouldn't it be awesome if Yogi Berra could be activated 1 day per year… like Game 7 of the World Series?
JUSTIN: I think they should do this in all sports. Just think how much better the Bulls would be if Michael Jordan just came back every year for the playoffs!
And while we're on the subjects of comebacks, Sammy Sosa had a red hot spring and was bashing de boll just like de old days. Only now it's without steroids and he's no longer corking his bats. It's like when Pamela Anderson got her breast reduction. Sure it's still Sammy but it's just not the same without his big fake breasts. Let's just hope that Sammy's comeback doesn't end with hepatitis like Pamela's did.
HOG: Sammy Sosa with big huge breasts is a disturbing-@ss thought.
JUSTIN: The Tigers went from worst to first last year but can they do it again? They still have the same core of players but the question is can they cure their free swinging ways and take it all the way this year? My guess is no, but then again I'm a Rangers fan so it's obvious that I know nothing about baseball.
New York, New York. I'm no longer living in New York but if there's one thing that hasn't changed it's that I still hate the Yankees and I still cheer for the Mets simply because well, I really hate the Yankees. This year the Bronx Bombers and the Amazin' Mets are trying to recreate their 2000 Subway Series and both teams seem to be off to a good start.
The Mets swept their playoff nemesis the St. Louis Cardinals in dominating fashion and G@y-Rod is actually pulling out some clutch hits this year. Who knows, hell might freeze over and we could all be treated to the WORST WORLD SERIES EVER between the Mets and Yankees but I doubt it.
HOG: I know. It wouldn't be nearly as exciting as the Texas Rangers vs. the Houston Astros.
JUSTIN: Texas vs. Houston in the World Series is like a threesome with Jessica Alba and Scarlett Johansson... in my head it sounds FANNNNNNTASTIC but we all know that there's NO WAY IN HELL that it's ever going to happen! On the other hand, an all Texas World series has a much better chance of getting okayed by my wife.
HOG: And why do you have to call him G@y-Rod? He's a happily married guy who just so happens to make love to men on the weekends.
NOTE TO ALEX RODRIGUEZ'S LAWYERS: Just kidding. Alex Rodriguez is totally straight. Please don't sue us. Thank you.
JUSTIN: Which brings me to the other bloated payroll in the American league, the Boston Red Sox. The Sox are trying to get back to the World Series to please their fans and so that Jimmy Fallon can revive his movie career. The Sox are so serious about getting back to the promised land that they went out and spent $110,000,000 dollars on Japanese pitching sensation Daisuke Matsuzaka which translates to "Bad Ass Japanese flame thrower".
In his debut, the Sox's new ace was lights out but was shown up by another pitching sensation, Felix Hernandez, who's only making $420,000 this year. With overspending like that it's only a matter of time before we have to start calling them the Boston Yankees2!
HOG: The Yankees and Red Sox are committed to spending the money needed to win. It's not their fault that the Kansas City Royals are cutting coupons to pay their players. Every Major League owner is super rich. They should spend the damn money on the team instead of on caviar and yachts and laser hair removal.
JUSTIN: Of course my favorite team, The Texas Rangers are back up to their old tricks and eternally hovering around .500. The good news for the Texas Rangers is that they finally got rid of Buck Showalter and replaced him with upstart Ron Washington. The bad news is that they still have no pitching so unless their bats are red hot they are going to lose even more games 13-12 this year. No I'm not bitter at all.
HOG: What's cool is that both your teams -- the Texas Rangers and Dallas Cowboys – generally lose by the same scores: 21-7, 14-10, 49-3…
JUSTIN: NICE! I hate you.
Finally the start of the baseball season means that it's also time to jump back into another Fantasy Baseball season! Yep, last year I surprised everyone in my league winning the championship and the trophy for the most meaningless title ever won that no one else in the world cares about except for the 9 other dorks in your Fantasy league.
HOG: That was the longest sentence like, ever. Fantasy Baseball is pretty dorky but it's fun. My buddy's girl likes to call it Make-Believe Baseball.
JUSTIN: This year I lost my first game but after dumping 64 year old Mike Mussina and making a few key moves I'm right back in the thick of things hoping to defend my title! You can only imagine how happy this makes my wife!
HOG: Yeah, she must be totally excited that you've replaced her with a hobby. Chicks love that.
JUSTIN'S WEEKLY SCHEDULE:
TIME SPENT READING BOX SCORES AND TRADING RELIEF PITCHERS: 112 hours.
TIME SPENT WITH THE WOMAN I LOVE: 4 hours.
Of those 4 hours…
TIME SPENT EXPLAINING TO THE WOMAN I LOVE WHY READING BOX SCORES AND TRADING RELIEF PITCHERS IS IMPORTANT: 3.5 hours.
JUSTIN: Hey I offered to let her draft her own team of make-believe players!