My girl took me to a baseball game as an early birthday gift. She's so sweet. But where's my cake? I mean, if we're doing this early-birthday-thing you gotta do the WHOLE thing!
Where's my early-birthday-card? My early-birthday-dinner? My early-birthday-blow job?
Oops. Did I write that out loud?
Every guy knows that's the best part of having a girlfriend on your birthday. The Birthday BJ is ALWAYS the best BJ of the year. And sometimes it's the only.
NOTE: If it's the only, I highly recommend finding a new bim.
Your girl REALLY wants to impress you with the Birthday BJ because she knows it will directly affect HER birthday gift.
My girl's birthday is just 4 days after mine. Might she make a last-minute overture intended to increase the value of HER gift?
A girl can get away with spending no money for her man's birthday. A nice massage and the Birthday BJ will make most men happy. But try that $h!t with your GIRL. Hell no.
"Baby, for your birthday -- you're gonna love this -- I'm gonna rub your shoulders for 5 minutes, and then -- ooh boy -- I'm gonna tickle your "rose petals" with my tongue!
Nice try, tough guy. Better make reservations at the Olive Garden, pronto!
NOTE: Don't make reservations at the Olive Garden. Go to a real restaurant.
Anyway, back to the game.
Girlfriend: Yuck! I'm so pasty white! (Putting her arm next to mine.) Look how nice and tan you are.
Me: That's arm-hair.
Girlfriend: Gross.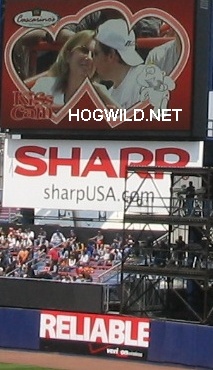 At Shea Stadium, they have a feature called "The Kissing Couple of the Game."
You get to be on the huge DiamondVision! Suddenly, my girl gets all shy. I was pissed. I wanna win! I don't care what it takes!
So I start groping my girlfriend, violently squeezing her booty and licking her face. We didn't get on the DiamondVision. But you may have seen us on SportsCenter.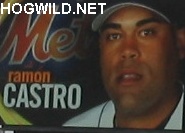 Ribbit.
There's this baseball player (above) on the Mets who does the Sign of the Cross before every at bat. I think this is disrespectful Shouldn't you save this for important things like praying for a sick loved one or when your girlfriend goes in the bathroom to administer a home pregnancy test?
He wants God's guidance before he hits. I mean, does he do this before he drives his car? How about before sex?
Would that freak out a chick? If before you jump on her, you do the Sign of the Cross?
Then every time she yells out, "Oh God!" you stop and do it again?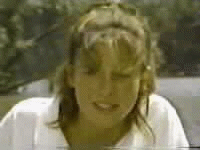 I think it would be awesome if my girl whipped off her shirt and streaked across the field.
NOTE: That girl up there is not my girlfriend. That's Punky Brewster on some TV show (The Wonder Years?) before she suffered from the most regrettable, sad, and disfiguring of all operations: a Breast Reduction.

It would be awesome because I can imagine future conversations.
My girlfriend's friend: Wanna go to the game?
My Girlfriend: I can't. I'm banned from the stadium.
My girlfriend's friend: Why?

My Girlfriend: Remember when they had to stop Game 7 of the World Series for 25 minutes?
My girlfriend's friend: That was you? Why did you do that?

My Girlfriend: Yankees suck!!!

Mets player Kris Benson has this hot-ass wife. They admitted they've had sex in kinky places around the stadium. The hottest place would be if they did it right on the Home Run Apple.
BEFORE: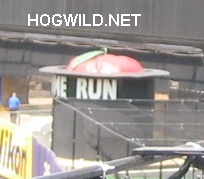 AFTER CLIMAX: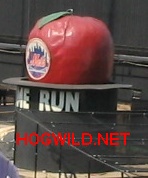 My favorite player in the world is Albert Pujols. He's great. But who cares. He's got the best name ever! Pujols. Pronounced: Poo Holes. HA HA HA! I'm stoooooooopid.
So during the game I shout, "Pujols stinks!"
"Nice catch by Pujols!"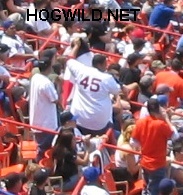 Fat Pedro. Pretty ballsy to wear a uniform if you don't look very athletic. Unless you count eating as a sport. I do.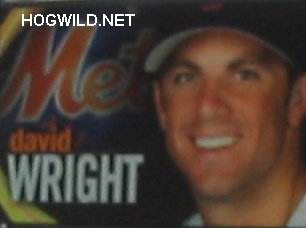 Above: Babydew's boyfriend. Yeah, I'm supposed to be her boyfriend, but I know she has a super-crush on David Wright. What does he have that I don't have? I mean besides $12 million dollars, 200 pounds of muscle and good teeth?
Babydew: He also knows how to handle his bat.
Me: But I'm so good at choking up on it.
Babydew: Yeah, we have to talk about that pine-tar I found in your underwear.
Me: That wasn't Pine-tar.
Babydew: Gross.
Expert Dating Advice Videos by me -- HogWild -- professional dating advice: helpful and hilarious.