The girl says to me, "Wow, that was the best sex ever." Holy sh!t!!!
That's the most important thing you can ever tell a guy!
I jumped right on my computer and printed myself a certificate!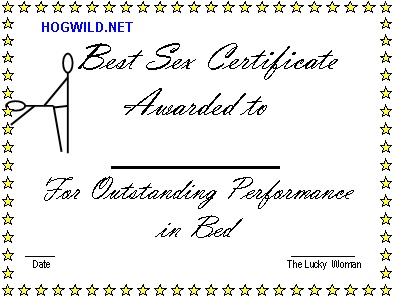 Then I made her sign it.
I don't care that she was a virgin. It still counts!
It was like I got the High Score on an Arcade Game.
And you never want your initials to be erased.
I mean, you might be bored of playing the game and never want to play it again -- but still -- you wonder, "Am I still on the High Score screen?"
That's why I called my ex to check, "Do I still have the All-Time High Score?
Turns out, I'm not even on the LIST anymore! You SLUUUUUUUT!!!!
Expert Dating Advice Videos by me -- HogWild -- professional dating advice: helpful and hilarious.

Watch my helpful and hilarious Expert Dating Advice videos!