JUSTIN: While the upcoming boxing match between Oscar De La Hoya and Floyd Mayweather is gaining momentum, the boxing world turns its focus back to a young and promising fighter whose life took a turn for the worse in 1996 when he was diagnosed with HIV. That's right, I'm talking about the star of Rocky V, Tommy Morrison.
The Raging Bull with the p*rn star goatee who defeated George Foreman in 1993 for the Heavyweight Championship is returning to the ring at the age of 38 after an 11 year lay off.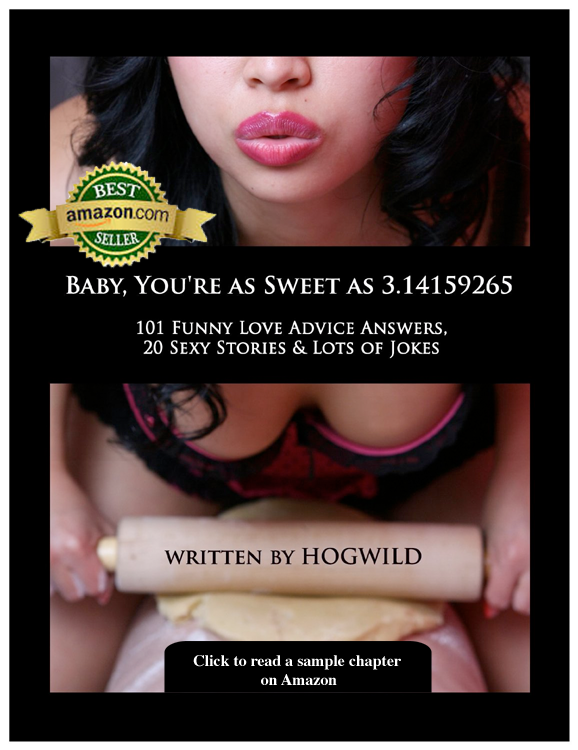 HOG: What's with these old dudes coming back to box? Why doesn't boxing have any new young superstars?
You don't see other sports doing this. I love Willie Mays, but I wouldn't want to see him try to steal a base. Either you keep playing until age 100 like Roger Clemens or you hang 'em up.
Plus, boxers bleed on each other all the time. How can he be allowed to box with HIV? The only way I'd box against him is if I was allowed to wear a giant condom over my head.
JUSTIN: Thank you Tim Hardaway.
HOG: What? Tim Hardaway hates g@y people. I don't hate g@y people, I hate AIDS. Are you saying you are in favor of AIDS? Everyone! Justin Sanders is in favor of AIDS!
JUSTIN: You're an idiot.
HOG: I know.
JUSTIN: Anyway, Boxing has new young stars, but you have to get ESPN 12 and stay up until 3 am to see them fight.
The odds are against Tommy Morrison ever regaining his championship form but he'll get a second chance when he fights little known John Castle in a four round bout. Castle is 4-2 with two knockouts and has lost his last two fights by knockout. He seems to be just what the doctor ordered for the heavy hitting Morrison who hasn't been in the ring in 11 years. I mean, seriously, boxing fans haven't seen a better match up since Ike and Tina Turner got married.
HOG: Boxing is sad right now. Where is the next Iron Mike Tyson? The next Evander Holyfield? The next Hilary Swank?
Boxing sucks.
And it's a shame because people love violence. The public is dying to see a good fight. Boxing blows. I've seen bloodier and more passionate fights in a high school cafeteria.
JUSTIN: There are still good fighters out there but it's going to take another charismatic fighter like Ali (the real one, not his daughter) to bring interest back to the sport.
It's been a long road for Tommy Morrison, originally being deemed "The Next Great White Hope." (The title given to any white heavyweight in order to sell tickets.)
He burst on the scene in 1989 winning 15 of his first 19 bouts by knockout. He was like a young, white Mike Tyson, the only problem was that he had an old Mike Tyson chin, as evidenced by his first title shot against Ray Mercer in 1991. The bout was a total slugfest that ended up with "The Duke" lying flat on his ass after a wicked hook from Ray Mercer.
Morrison wasn't to be deterred though and eventually went on to win the Heavyweight Championship of the World against the inventor of the George Foreman Grill.
HOG: HA HA HA! See, that's why you gotta be careful with your legacy. People will remember you for the wacky stuff instead of your great achievements. For instance:
Thomas Jefferson: Wrote the Declaration of Independence… and was romantic with his female slaves.
Michael Jackson: Greatest Pop Singer of All-Time… and was romantic with Macaulay Culkin
Woody Allen: Great American Film Director… and was romantic with his adopted daughter.
The moral here is: Don't be romantic.
JUSTIN: In his Woody Allen's defense, his wife was getting old.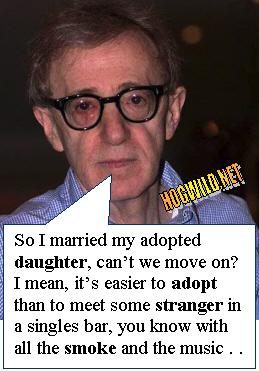 JUSTIN: Unfortunately for Tommy Boy Morrison, he went on to lose the title once again in his very next fight when while still in the first round, virtual unknown Michael Bentt knocked his ass out just like Rocky Balboa did in the streets of Philadelphia.
Morrison came back in 1995 and beat Razor Ruddock for the IBC Heavyweight Belt. But in typical fashion he was knocked out by Lennox Lewis in his very next fight.
And so went Morrison's career until in 1996 when Morrison took a mandatory HIV test before fighting and to the astonishment of everyone, failed.
Seriously, this guy's had more ups and downs than a Britney Spears rehab stint, but what's really sad is that the Heavyweight division is so pathetic right now that he's got a decent chance of getting back into contention for the title.
HOG: I think Boxing should stop putting washed-up boxers in the ring. They should put washed-up football players in the ring. Along with washed-up horse jockeys. Follow me here:
Imagine Deion "Prime Time" Sanders boxing William "the Refrigerator" Perry. Except Deion Sanders is carrying a little horse jockey on his shoulders who is also fighting against the jockey on Perry's shoulders.
The first team to knock the other guy's horse jockey off his shoulders and down onto the mat is the winner!
And then the winner has to box the horse.
NOTE TO WOMEN AND SENSITIVE MEN: This is NOT cruel to the horse. First of all, the horse has a huge advantage: it's stronger and bigger and has a big giant horse head. Secondly, most washed-up race horses have a fate much worse than boxing! Give any horse the choice: Glue Factory or Madison Square Garden and I think you know what he'll pick.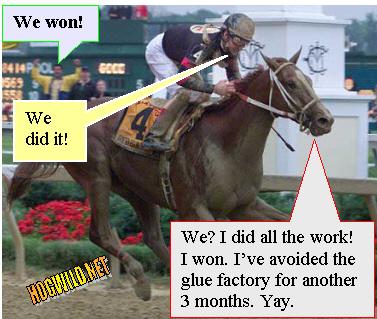 JUSTIN: Wow, I'm impressed. That sounds like just what boxing needs! One of these days the WNBA or the NHL is going to hire you to save their sports and I just hope I'm around to see it.
As for Morrison, even after 11 years away from the sport he still seems excited saying that, "It's been a long time coming," and vehemently states that he never had HIV and that the initial test was incorrectly diagnosed.
Evidently the same doctors that tested Morrison are the same inventors of the "There's 50% Chance That You're Pregnant" home pregnancy kit. Morrison also stated that during the time he was believed to have HIV that he still went for long walks on the beach and led an active normal life...wait, that's Herpes, my bad.
HOG: So he thought he had HIV but really didn't? That's weird. Maybe he had HIV, but took a whole bunch of Flintstones vitamins and it cleared right up.
He thought he had HIV but didn't. That's strange, man. I guess I can relate to that because once I thought I had a tumor in my stomach for 11 years... but then I farted and I felt better.