JUSTIN: Recently ESPN picked up one of the best reality shows of all time, the boxing reality show, "The Contender." The show was created by Sugar Ray Leonard and Sylvester Stallone about the journey of 16 boxers living in the same house and fighting for the chance to become a contender in boxing's Middleweight division.
It became an immediate hit with sports fans and why not? Any time you get to see a punch drunk former boxer try to read cue cards and Sly Stallone sparring in blue jeans and 168 pound men crying after fights you've got must see TV.
HOG: I think I'd rather see a boxing reality show that focused on the trials and tribulations of becoming a Round Card Girl. I mean, millions of hot big breasted girls are out there competing for the right to temporarily distract us from the fact that we're watching 2 shirtless muscular men. Why not televise their competition?
JUSTIN: My only complaint about this season's Contender? Where is Sly? I mean you know he was into the show, how else can you explain the fact that he made Rocky 6? Which brings up another question... next season why couldn't they just combine the two? They could have a Heavyweight Contender season where the winner has to fight Rocky Balboa live in Madison Square Garden.
HOG: Dude, I don't think real boxers can actually fight Rocky Balboa because he is a fictional character. What's next? Do you want Evander Holyfield to fight Lex Luthor?
JUSTIN: I'll take Luthor in 10.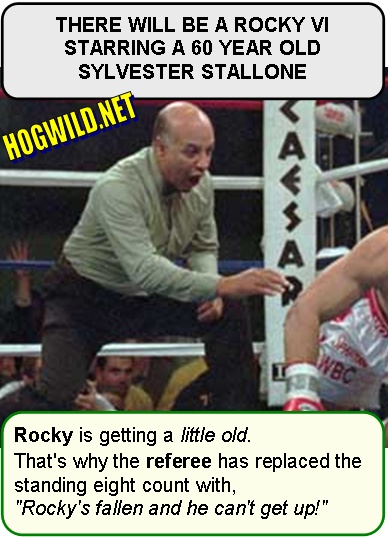 JUSTIN: How much would you pay to see a sixty year old B actor fight a twenty year old reality show champion? $10-20 million? Hell if anything I'm sure they could talk Mike Tyson into for $50 if Sly wasn't interested.
HOG: You could talk Mike Tyson into doing ANYTHING for $50. I hope they put Tyson in a new reality show where he beats the crap out of Flava Flav. After Tyson is done with Flava, his stupid huge clock will be slammed over his head and he'll be wearing it like a dog collar.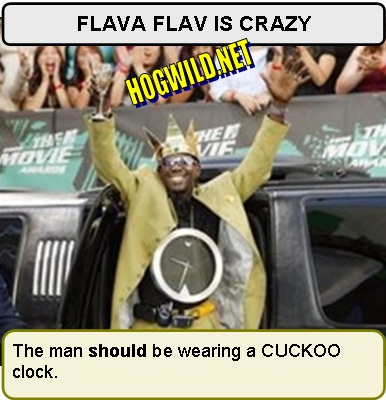 JUSTIN: What time is it Boyyyyyyyyy?
HOG: And wait a second...B actor?! Sylvester Stallone is totally A-list. The guy is a legend. He doesn't have to make any more hit movies. Dude… Rocky, Rambo, Throw Mama from the Train… all classics.
JUSTIN: You forgot The Party at Kitty and Stud's... another Stallone classic.
HOG: Holy crap! I had no idea that Sylvester Stallone was in a p0rn movie! Wow! I just looked it up. That was his first movie. Justin, when it comes to old school p0rn knowledge, you are the Master Bater!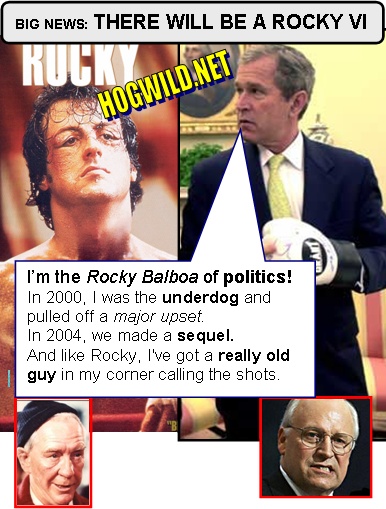 JUSTIN: Seriously though The Contender is great and was legitimized by last year's winner Sergio "The Latin Snake" Mora who after winning the tournament went on to win big fights against Archak "Don't try and Pronounce My Name" Ter-Meliksetian and Peter Manfredo in a rematch of the Contender Finale.
With all of this recent success Mora has proved that he's a fighter to be reckoned and has used that juice to earn a title shot against the reigning middleweight champion Jermaine Taylor which not only means a huge payday but also a severe beating for the Latin Snake.
HOG: I give my Latin Snake a severe beating every night.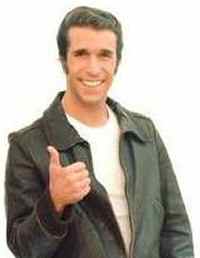 Latin Snake? Were you watching ESPN or one of those premium pay channels that your wife doesn't know about?
JUSTIN: Dude, I'm old school. I watch Skinemax. It's legit and it doesn't show up on the cable bill as an "Adult Purchase".
Now don't get me wrong, both last year's and this year's Contenders are legit but none of them are World Class fighters like Floyd Mayweather or Bernard Hopkins. So while the show does bring them fame and the chance for big paydays... the bottom line is that they're on a reality show for a reason.
It's like if Heidi Montag from The Hills on MTV tried to pursue a legitimate acting career. Sure she might land a few guest spots on sitcoms but if you threw her in a movie with Meryl Streep and forced her to act she's probably going to get her ass handed to her just like the Latin Snake.
HOG: Justin, I think you are the only person who is watching this Contender show. And you are CERTAINLY the only man on Earth who can say he watches both a reality boxing TV show AND "The Hills" on MTV. You are weird. Now I gotta go finish making my new Celine Dion-Wu Tang Clan–Beethoven iPod playlist.
JUSTIN: Dude if you ever got laid, you'd know more about these chick shows!
This season though, while the weight classes have changed, the tension is still thick. Just take the first episode. The odds on favorite Michael Clark, a former lightweight champion, quickly picked out Cornelius Bundrage, the bad ass bible thumper from Detroit Michigan to take on in the first fight.
HOG: How can you be a "bible thumper" AND a face thumper? The bible says "Turn the other cheek" not "respond with a an left-jab, right-uppercut combination to the nose."
Actually, the bible does ALSO say, "An eye for an eye." Man, the bible is like my Celine Dion-Wu Tang Clan–Beethoven iPod playlist.
JUSTIN: Now while Bundrage may have been a little raw in the ring, Clark made two big mistakes in picking him for the first fight.
1- NEVER EVER get in a fight with a dude named Cornelius because chances are with a name like that he's been picked on all of his life and knows how to whip some ass.
2- When you're a lightweight fighter moving up a class you probably don't want to fight the biggest dude in the tournament. Even with all of Clark's skill he was still overpowered by the rampaging Bundrage in a narrow decision topped of by a fifth round knockdown from the fighter nicknamed "K9".
HOG: K9? That should be Mike Tyson's nickname!
JUSTIN: The second episode was just as good and featured a blood and guts battle between El Gallito and El Cachorro, which translated means the Rooster vs. the Puppy.
Who the hell is sponsoring this show? Disney? Actually they are, but since when did boxer's nicknames get so lame?
Who's fighting next weekend? Bambi and Thumper?
Despite the lame nicknames the Rooster Naberto Bravo outlasted the future architect Rudy Cisneros earning a well deserved split decision.
HOG: Rooster vs. Puppy? Sounds like Chinese New Year. Next fight: The Dragon vs. The Rat.
JUSTIN: As much as I like the show, what kills me is after every fight the guy who loses the fight ends up crying.
For chrissakes you get paid to beat the sh!t out people, SUCK IT UP and act like a man. I mean I know that this is the last shot for a lot of these boxers but that doesn't mean you have to cry after you lose a fight.
HOG: Yeah! A real man only cries if he spills his beer. Or if his girlfriend won't "bob-and-weave."
JUSTIN: Or if the Mavericks lose.
JUSTIN: Hell last year two fighters had to bow out because of illnesses or injuries. How would you feel if you cried in front of America and then got brought back on the show?
If you were one of the remaining boxers on the show, wouldn't you tease the returning boxer unmercifully?
I would. But then if I were on the show I'd probably do all of my crying in the ring: "Stop hitting me Cornelius. Stop it. It hurts! IT HURTS!"
So check out the show I guarantee you'll love it and you'll see more tears than after Chi Ali struck out HogWild.
HOG: For the last time, I did not strike out! I am proud to say I hit a hard dribbler back to the pitcher. And I was only out at first base by 90 feet.