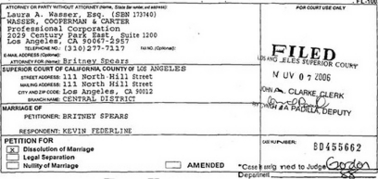 From the Law Offices of Wasser, Cooperman & Carter:

Concerning: Our Client, Britney Spears
Regarding: Notice of divorce between our client and Kevin Federline

Our client requests a Dissolution of Marriage from Kevin Federline on the following legal grounds: "irreconcilable differences"; "ipso facto separation"; and "shiftless hillbilly-ism."
Granted: While no money will change hands, our client has agreed maintain the standard of living that Mr. Federline became accustomed to, i.e. unlimited supplies of Natural Light, bologna, and extruded cheese products.

Granted: Mr. Federline is entitled to keep any residual fame he's been given by our client, provided he limits himself to "C-level" celebrity status. i.e. He may never star in a movie but he may freely appear on future episodes of Dancing with the Stars.

Child Custody will be granted to our client, but Mr. Federline may keep any future emissions for his own use.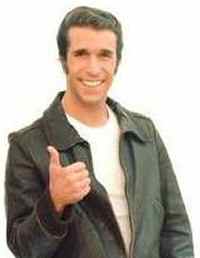 Child support payments will be calculated from the gross income of both parents. Should Mr. Federline ever acquire an income, he may be held liable.

Granted: Mr. Federline will be permitted visitation rights with Sean Preston & Jayden James but while Mr. Federline has custody, he is strictly forbidden from rapping as this has been deemed child abuse by The Department of Family Services.

Granted: Our client agrees to pay the immature Mr. Federline child support alimony until he is re-married to another pop-slut. i.e. Lindsay Lohan, Jessica Simpson, Paris Hilton, etc.
Distribution of financial assets between our client and Mr. Federline: distributed as contributed to the union

Distribution of musical talent between our client and Mr. Federline: Non-applicable

Division of Assets:

Britney retains rights to everything except for the unsold copies of Kevin Federline's CD that are piled up in the basement, kitchen, attic, living room, closets, bedrooms, den, dining room, garage, bathroom and lawn. Mr. Federline is ordered to remove these immediately as they are smelling up the house.

Anti-tramp clause: Mr. Federline may not legally violate Christina Aguilera.