Privates Investigator Reporter HogWild has once again gone under the covers to find out the TRUTH... here are some startling revelations I found out about President Bush's Budget of the United States Government for Fiscal Year 2006.


President Bush has denied Condoleeza Rice's request for braces.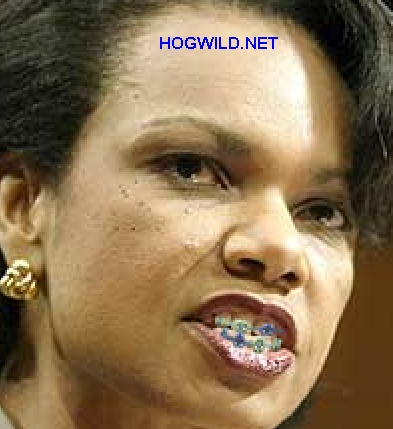 To save money, copies of the 6,212 page Budget will only be available on a first-come, first-served basis to Republicans.

FINALLY!: $.001 million cut: Homeless people to get 30% less J on their PB&J.


2CLOSE4COMFORT: The Department of Education almost slipped a budget increase past the President by calling the proposal "The War on Non-Comprehension of Non-Linear Algebraic Equations."
President Bush doesn't want YOU to know THIS:

$1 Billion cut: Since the results will be the same, CIA operatives will stop searching for Osama.

In 1970s a fiscal crisis led to the necessary reduction of plastic utensils in public school cafeterias, thus the invention of the spork --
half-spoon and half-fork.
Now, to further reduce the burdensome cost of educating and feeding our freeloading children, cost-cutting measures will combine the spork with the Calculator and Protractor, creating The Sporktractulator.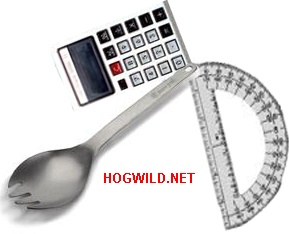 SMART!: Effective immediately, all calls to foreign heads of state must be made after 9 pm or on weekends.


To promote consumer spending, the Bush twins are to give lap dances. And no more freebies for ex-Presidents!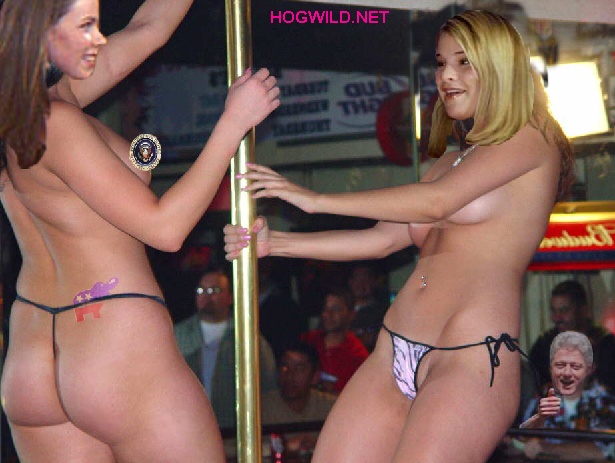 When he is over for dinner at the White House, Russian President Vladimir Putin will no longer be permitted to take home a doggy-bag.


President Bush has declared that to be fiscally responsible, the U.S. Government must be run less like a Bureaucracy and more like a Corporation that steals the pensions from old people.

With all proceeds going to help finance U.S. Government operations, Bush will sign copies of "The Budget" starting at 8 am at Virgin Megastore in Manhattan for $10.

Visitors to www.Whitehouse.gov will now be welcomed with a pop-up ad from America's friends at Pfizer.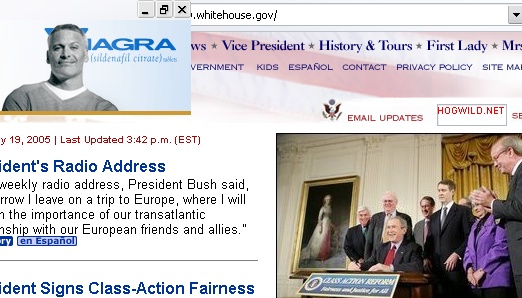 The President is such a jokester!: In a small, but symbolic gesture to the American People, the President, his cabinet and all members of Congress will reduce their salary by 10%. HA HA HA HA! Just kiddin', boys!

DESPERATE MOVE!: Urgent note to the president: "We believe there may be Weapons of Mass Destruction hidden in the desert on Mars." -- the very under-funded NASA


WORKS FOR HOLLYWOOD: In a cost-cutting measure, the White House lawn will continue to be landscaped off-the-books by illegal Mexicans.


TOTALLY NON-PARTISAN POLITICS: Congress agreed 232-201 to cut the salaries of the Democratic members of Congress.


To help narrow the National Debt, Federal Reserve Chairman Alan Greenspan will ask Bill Gates if he can borrow a few billion.

EVERYONE ELSE IS DOING IT!: Funding cut to the Library of Congress. Told to stop buying all those music CDs for the catalogue and download the mp3s like everybody else.

Bush encourages citizens to declare, "Yes, grandma, you ARE a burden -- on the National Economy."


Because the Government only budgets funds to rebuild nations that WE destroy personally, there is no money left, so... the Supreme Court is to release a song to aid Tsunami survivors.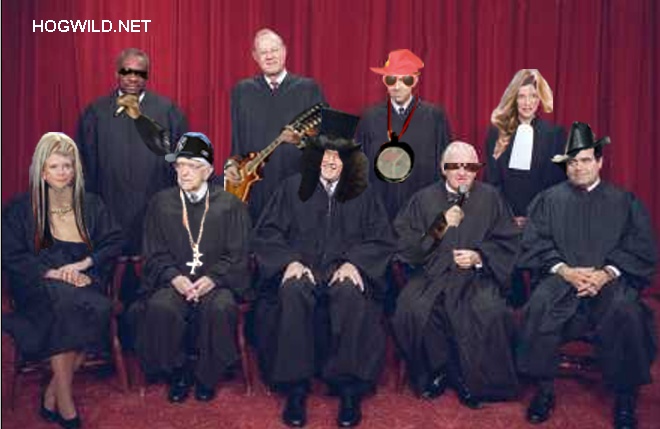 Dumb schoolchildren issued a bill for wasting everyone's time and money.

In accordance with the National Paperwork Reduction Act, Constitutional Amendments I, XIX, and XXII will be erased to save on printing costs.


You know how you hate highway construction? No more worries! No expensive highway repairs this summer! BYOG! Bring Your Own Gravel! It's a Potluck Pothole Summer!

The Government built, maintains, and owns the Internet pipelines. So like, we can hold them hostage. Every citizen must pay us $10,000 or you will never see your beloved Google again! AOL users must pay us double for
the same service.
Expert Dating Advice Videos by me -- HogWild -- professional dating advice: helpful and hilarious.
Watch my helpful and hilarious Expert Dating Advice videos!