President Bush Gives Secretary of State Condoleezza Rice a Naked Lady Pen for Secretary's Day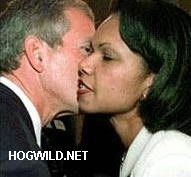 President Bush Jokes + Twisted Humor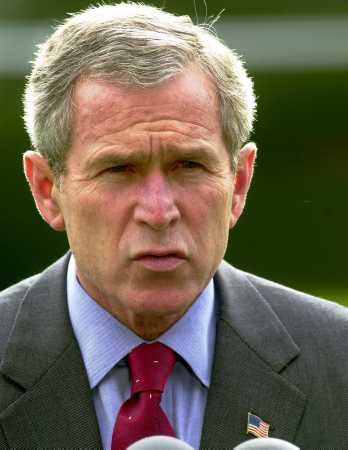 "For Secretary's Day I've decided to do some nice things for the secretaries who work so hard for me.

Secretary of State Condoleezza Rice:
"You're always busy signing treaties, international documents, and my absence notes from work when I go on 6 week vacations at the Crawford Ranch... so I present you with this, uh, present.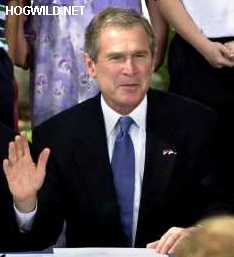 "It's a special pen, the finest writing instrument money can buy! And look, when you turn it upside down, her dress falls off and you can see boobies!

"Thank you, Mr. President. You know how much I love boobies."

"For Secretary of Defense Donald Rumsfeld:
"You get dinner with the boss and a bouquet of flowers!

"So take these pink roses with you for the dinner I set up for you and Boss Dick Cheney at 8 o'clock Saturday night at the Olive Garden!!"

"Thank you, Mr. President. You know how much I love pink roses."
Secretary of Transportation Norman Mineta:

"Norm, since you love transportation so much, I've ordered you a subscription to Hot Rod Magazine. But, heh-heh, it's the kind of "Hot Rods" that you like.

"Don't worry, your wife and family won't find out. I had them send the magazines to your office. You're welcome, big guy. You're welcome."

"Thank you, Mr. President. You know how much I love the Šock."

Secretary of Housing and Urban Development Alphonso Jackson: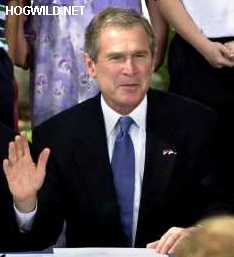 "Now that Colin Powell is gone, you are my highest ranking Africano-American secretary! I know it's not easy being the only colored guy among us honkeys.
"So to make you feel more welcome, I had the White House chef cook you up some fried chicken, fried chitlins, and some fried watermelon.
"And for your desk, I got you this beautiful glass paperweight. Also fried.


"Thank you, Mr. President. You know how much I love stereotypes."
See my newest Dating Advice Video!
Secretary of Energy Samuel W. Bodman:

"I know everyone hates you right about now, what with gas prices being like what, $6000 a gallon. I don't know. Like I pay for gas?!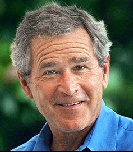 "With all the favors I've done for Exxon, they keep shipping barrels of oil to my ranch. I don't know what to do with all the stuff. So I hook the garden hose up to it and sprinkle oil on the ducks. They love it!

"Anyway, you may be awful at your job but you still deserve some recognition for all you don't do. So for you I give this can of Red Bull.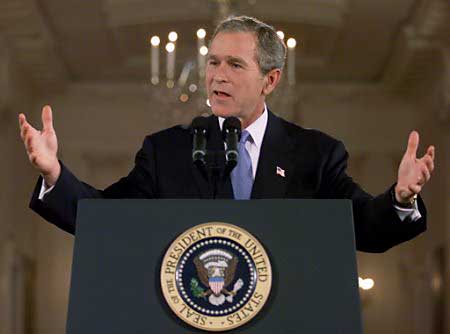 "Get it? Get it? It's an energy drink! Energy! You're the Secretary of Energy! Ha! Oh forget it. You guys are all too stupid to understand.

"Thank you, Mr. President. You know how much I love fitness and energy drinks."

Secretary of Homeland Security Michael Chertoff:

"Ya know what's funny? Your job is to protect us from terrorists but, heh-heh, you kinda look like one!

"Wouldn't that be funny if I hired a terrorist to protect us from the terrorists? That would be what they call, an irony board.

"Mike, it's a joke! Lighten up! Look, for all your service I got you this box of gourmet cookies. They're called Iraqookies!
"Don't eat too many because they'll make you blow up! Ha ha! Get it?!
"Well, I DO happen to think it's funny!
"It's a joke, @$$holes!"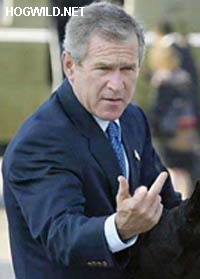 "Thank you, Mr. President. You know how much I love jokes and cookies."

Secretary of Education Margaret Spellings:

Margaret, you look like you are from the future. I mean, heh heh, what's with the collar?

"Education is somethin' that's really of high importation.
"I mean, sure I got C grades and all, but if you're a regular person who didn't come from a rich and powerful family who got their son into Yale even though his admission essay was a dirty limerick written in crayon -- then you really need a strong edutainment system.

"So Mrs. Secretary of the Educative, I got you this gift basket of gourmet candy apples. Get it?! An apple for the teacher! C'mon, that one is cute!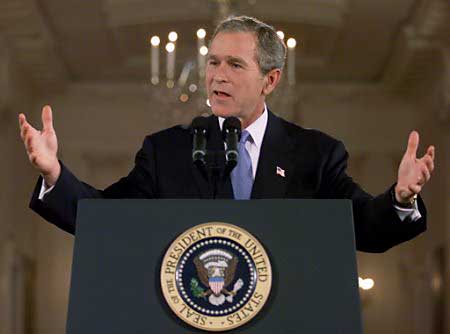 "Okay, that's not all. Since it's all the rage for you older teaching gals, I got you this 13 year old boy! You can have your way with him!
"You don't want him?!! Why not?! C'mon now! You wouldn't believe what I had to pay to get him from Michael Jackson!

"Thank you, Mr. President. You know how much I statutory r@pe.

More Funny HogWild Rants and Jokes

Now go watch my Expert Dating Advice videos! Woo-hoo!






Expert Dating Advice Videos by me!