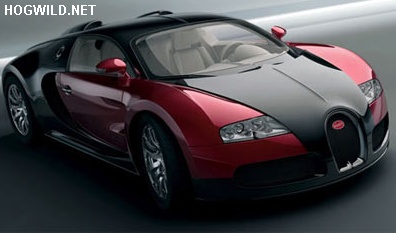 The most expensive car in the world: the Bugatti Veyron.
Cost: More than you got, fool!
$1.2 million dollars + you gotta go to Europe to get it. It's not yet available in the United States, though I heard Bill Gates has 15 of these on pre-order. Just kidding! Bill Gates wouldn't be caught dead in this cheap piece-of-crap car!
Bill Gates has his cars custom-made. The seats are made from a mold of his butt. The car drives itself. And when he's stuck in traffic, the windows tint black and there's a special compartment where he can insert his "key in the ignition" while listening to a hot girl talk in a breathy voice about Microsoft's rising stock price.
The Bugatti Veyron runs on 16 cylinders and 1001 horsepower motor. That's right, one-thousand and ONE horsepower. Because sometimes the power of 1000 horses is not enough. 16 cylinders!!! Compare this to YOUR car which has a pathetic 4 cylinders -- one of which is fat and lazy and always comes back late from its lunch break.
The Bugatti Veyron is from France, so if a German Mercedes-Benz is invading your lane, the French Bugatti can quickly surrender its position and flee.
The Bugatti Veyron is a beautiful automobile but I'm still not down with the multi-color thing. Maybe if the colors faded into each other, or if it was adorned with orange flames. Or Taz on the hood. That's classy.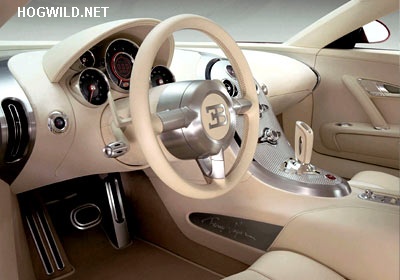 The interior is a luxurious cream color. Every detail is stylish. But where are the cup holders?! When I'm driving my $1,000,000 car to the 7-11, where am I gonna stash my Big Gulp, dammit!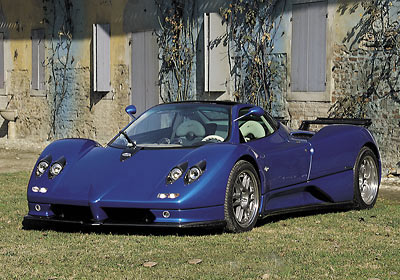 So you're thinking, I've got $667,000 just burning a hole in my pocket. Should I buy an apartment in New York City? Nah, I need a bigger space, so I'll live in my car!
The Pagani Zonda Roadster F C12S is a hot looking car. The Pagani Zonda is the hottest thing out of Italy since Sophia Loren. And Sophia Loren was the hottest thing out of Italy since pizza. Damn, I love pizza!
Pagani Zonda vs. Vida Guerra? Who's go the nicer rear spoiler?
While Vida Guerra doesn't have 650 horsepower, I'd say she has 650 manpower, because her ass can inspire 650 men to immediately do whatever she wants.
The SSC Ultimate Aero is the most expensive American-made automobile at $655,000. The SSC Ultimate Aero maxes out at 273 mph, which is important when you are picking up groceries.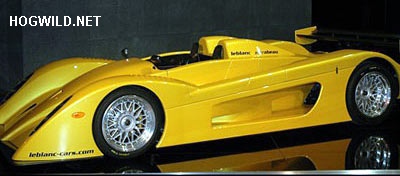 Why is the Leblanc Mirabeau idling in Neutral? Because it's from Switzerland, stupid! You'd think for $645,000 they could throw in a roof and a windshield!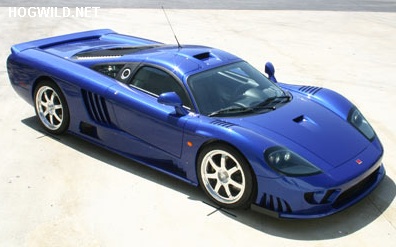 The Saleen S7 Twin Turbo. The Saleen S7 has a sticker-price of $638,000 but let me talk to my manager to see what I can do for you... okay, don't tell anyone, but for YOU I can have you driving out of here TODAY for just $637,000! That's a steal.
The Saleen S7 accelerates from 0 to 60 mph in under 3 seconds which is great for your job as a delivery boy for Domino's.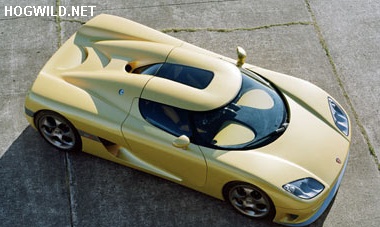 Now the Koenigsegg CCR is cool. It looks like a taxi cab from the future.
The taxi cab of the future races in and out of New York City traffic by going up on 2 wheels to squeeze in between lanes, is fully equipped with soft leather seats, is still driven by a foreign man who is yapping incessantly on a cell phone -- except now he's a wearing driving gloves, a jumpsuit, and a racing helmet-turban.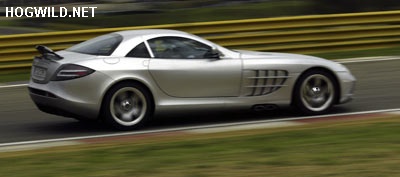 The Mercedes-Benz SLR McLaren: $453,000. The SLR is a collaboration between the German Mercedes and the British McLaren. I like to combine German and British things all the time. Sometimes I eat English Muffins topped with kraut. Or I dunk my morning sausage in my tea. Or I think about Heidi Klum making out with Kate Moss.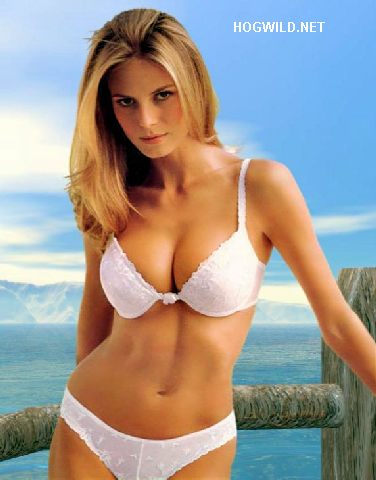 "Hi, I'm Heidi Klum and I'm an example of fine German engineering. I'd like to handle YOUR stick-shift, HogWild. Eww! Are you leaking transmission fluid already?!!!"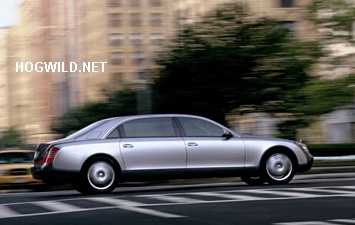 The Maybach. $385,000 of luxury. If I was rich enough to afford this car, I'd be acting like a pimp!
Like, "Look at me! I'm so rich I've got the air conditioning turned on AND the windows rolled down! It's like I'm letting money just fly out the window!"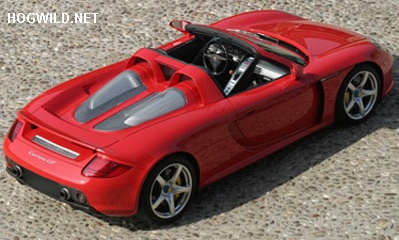 The Porsche Carrera GT from Germany.
Man, Germany dominates the list of the World's Most Expensive Cars. You'd think the U.S. would have its fair share. But no.
The U.S. sucks at building cars now. That's because American auto-makers stopped focusing on efficiency and engines and spend all their time thinking up new ways to put in bigger seats for bigger and bigger American asses.
Americans don't WANT to buy gas-guzzling SUV's. We have to because those are the only vehicles with enough room for our thighs!
I think Ford should just come out with a new SUV called the Ford Soft Serve. It's actually an ice cream truck. Convenient! Because now Americans don't have to stop when they want to fill up on double chocolate fudge milk shakes. And this will be the first vehicle to come fully equipped with its own deep fryer.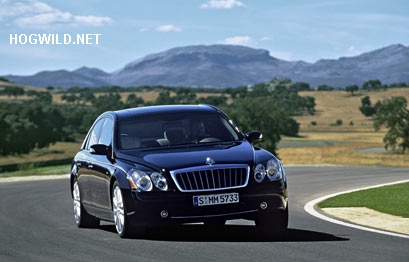 Maybach 57 S also from Germany, priced to move at $367,000. Being in New York City, I don't own a car. I ride the subway. And I think it's high-time that they built the Maybach luxury subway car!
Leather seats, leather hand-straps, and gold plated poles to hang onto while standing during the morning commute. And no subway performers with their guitars!
Give 'em cellos! Classical music, baby.
There would be no homeless man begging me for money. Nope. He'd have a job... wearing white gloves and carrying a tray of hors d'oeuvres.
LUXURY MAYBACH SUBWAY CAR
HOMELESS MAN: Excuse me! Ladies and gentlemen, sorry to bother you. But I have your wine! Today it's a Lewis Cabernet Reserve 2003.
The homeless man then pops the cork.
REGULAR SUBWAY CAR
HOMELESS MAN: Excuse me! Ladies and gentlemen, sorry to bother you. But I'm hungry. If you could spare some money -- any amount -- I would greatly appreciate it.
The homeless man then pops his cork.
Faaaaaaaaaaaaart.