It's CES time! Woohoo!
NOTE TO NON-NERDS: CES is the Consumer Electronics Show. Each year, it brings in tons of money for the h00kers working the streets of Las Vegas. Oh, and it's also a showcase of the coolest new electronics!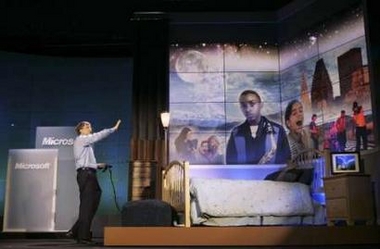 That's Bill Gates, the King of Microsoft, showing off the "bedroom of the future." As you can see, Bill Gates is staying true to his geek-roots as there is no trace of a woman having ever stepped inside his bedroom.
Actually, his idea is pretty cool. That design on the wall is a huge computer image that you can personalize. Kinda like a screensaver or computer background for your room. This will bring p*rn to a whole new level.
My buddy in college forecasted this. His version was more low-tech. He simply pasted the Playboy centerfold to the ceiling above his bed, thus guaranteeing sweet dreams. (And wet dreams.)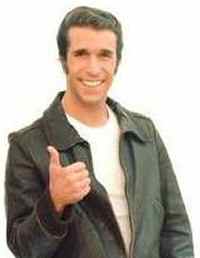 And girls will love this new invention, too. Especially those 12 year old girls who will cover their walls with images of <insert current teen heart throb>.
This invention will also be great for getting chicks in "the mood." Hell, I'd use it.
First a beautiful life-size sunset. Then the twinkling stars come out. If that doesn't work, I go to the "Hunks of the New York Fire Department Calendar." Hey, whatever it takes.
Then I'll program the computer voice recognition software to listen to the girl's screams of pleasure. And at the climax of her climax, it will project onto the wall a huge picture of my goofy ass smile to forever fuse my face with her greatest feeling of ecstasy.
Whatever it takes.
Of course, while waiting for her to reach 0rg@sm, both the computer AND the girl may go into sleep-mode.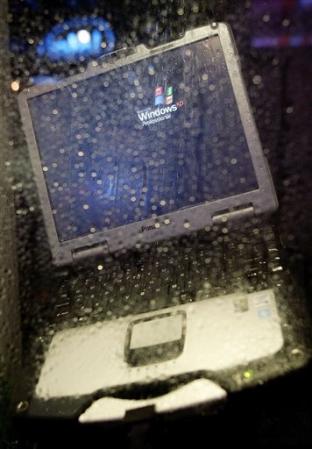 That's the Panasonic Toughbook CF-30. For some reason, they took a photo of it going through a car wash. I guess the idea is that it's "tough."
I don't what this laptop is trying to prove. Hey CF-30, you don't have to act all-macho for people to like you. It's okay to show us your sensitive touchpad. The most important thing in a relationship is not "toughness", it's communication. Are you capable of a wireless internet connection? Tell us about your WiFi. And bragging about the size of your hard drive and RAM... that's really juvenile.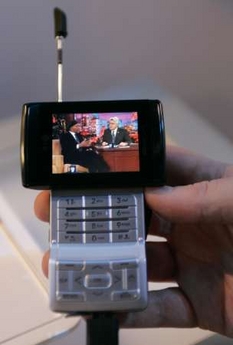 That ugly thing is an LG Mobile VX9400 TV phone. As you can see, someone is watching The Tonight Show with Jay Leno. Great idea to show-off a cutting-edge technology with a cutting-edge show. Yeah, this is amazing. A portable television. Never heard of that before.
<!-- END SARCASM -->
All these companies are trying to get us to watch video everywhere we go. DVDs in the car, TV on the phone, video on the iPod... pretty soon we'll see girls wearing press-on fingernails that are also tiny TV screens. They can watch 10 channels at once!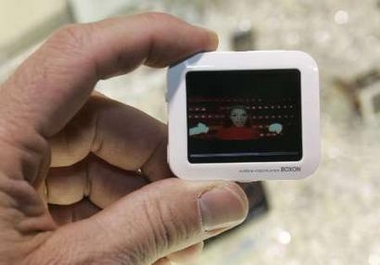 Above: The mobliBLU Boxon audio/video player is a big screen TV for your pet flea.
There's just 1 problem with all this... the TV screens in people's homes are getting bigger and higher quality. But they expect us to forget about all that when we go to the beach. Let's see, I was watching the football game in high definition HDTV on a 299 inch flat screen plasma IMAX television with surround sound Dolby super bass with built-in aquarium... and now I'm supposed to squint my eyes to watch the same game on a phone ___ can't even transmit all ___ words ___ sentence. Hello? Can you hear me?
How about a phone that has the capabilities of a... PHONE!!!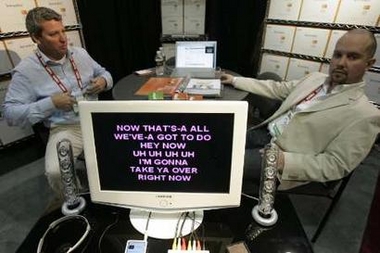 And that is a Karaoke machine for the home. Now THIS is a great-a$$ invention. Because maybe it will encourage all those horrible karaoke singers to stay the hell home.
Karaoke is like an inside-joke. Whether it's karaoke or an inside-joke, you and your friends are laughing hard. But everyone else in the room is like, "What the f*ck?!"
Just look at the screen. Karaoke exposes how dumb song lyrics can be. The worst thing at karaoke is when the screen says, "37 bar instrumental." Then what are you supposed to do? That's when you start seeing air-guitar, or the 2 drunk guys on stage humping each other, or the obnoxious fat chick feeling herself . She thinks she's a diva when she's really a doughnut.
The CES is great for single women. Because the CES attracts socially-awkward men with good jobs from all over the country. This means there are now an extra 150,000 lonely, horny guys in one place. And the only girls who will talk to them are employees of the casino or those who are in the, uh, "service" industry. So girls, pack your bags, hop on the next flight to Las Vegas and "get your flirt on!"
You never know, you may go home with a new boyfriend whose bedroom walls flash images of hunky half-n@ked firefighters!