Why the hell am I writing about cats? I have no idea. I saw that the CFA IAMS Cat Championship was taking place here in New York City, so for some reason I feel the need to talk about cats.
Cats are for girls. I think girls identify with cats more than guys because cats are like women in many ways. Cats don't want you to suffocate them, but on the other hand they want attention.
And they want you to rub their bellies. Girls love to have their bellies rubbed, too.
Actually, girls think it's really weird when I do that. But what I think it's funny so I do it anyway.
Cats will rub up against you to get free drinks at the bar. Cats are just like women. They purr, they are cute and squishy, but there is one big difference. Most cats hate going outside. Most women demand to leave the house. Women can be a big pain in the butt. Just like cats.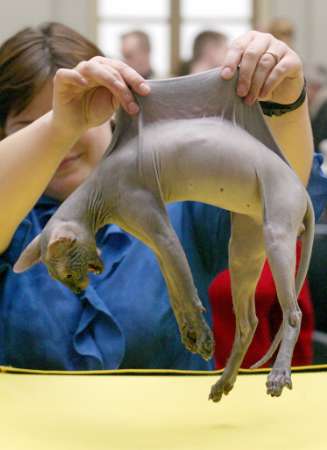 I wonder if that's painful.
Dogs are more like boys. Dogs are messy poopers. Cats pee and poop very neatly. Just like girls.
Why the hell am I writing about how girls poop?
Did you know that for the CFA IAMS Cat Championship, they judge the cats not only on looks but on talent? There is a cat obstacle course. I think they have to jump through a hoop made of yarn then they chase a mouse, then there is the lick-your-privates marathon.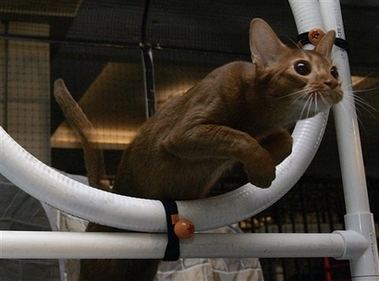 This is Happy Feet Captain Chili. If you look into his eyes you can see that he is on Prozac.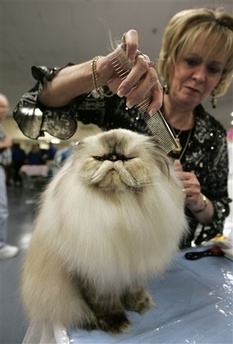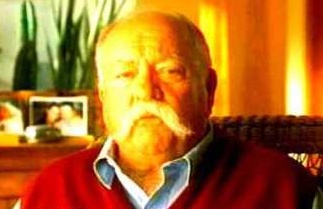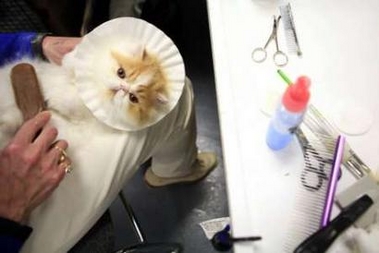 If you are using a coffee filter and salon products to groom your cat's face, it's time for you to leave your house and make friends.
I like animals because they bring you into the present moment. You just look at a dog or a cat and you calm down.
NOTE: This only applies to certain animals. Because when I look at a rat or a menstruating grizzly bear I get nervous.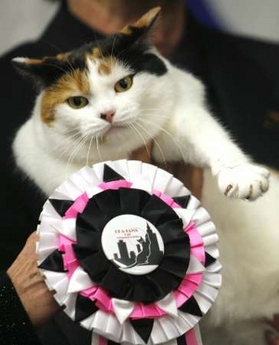 This is Cali. She won Best in Show. She wants to end World Hunger and she looks stunning in both a swimsuit and an evening gown.
There have been some great cat characters in contemporary literature:
1 - Garfield

I used to love the Garfield cartoon on television. It was awesome. That fat, lazy, sarcastic cat!
Unfortunately, the strip's creator is just as lazy as his character because the actual Garfield comic strip hasn't even attempted to be funny in 13 years.
2 - Catbert

I love Dilbert. Catbert is the evil Director of Human Resources. A cat wearing glasses? C'mon! That's funny!
3 - Heathcliff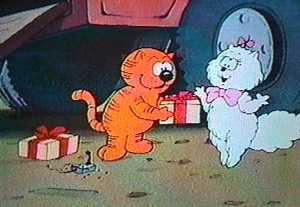 I used to think Heathcliffe was the bootleg Garfield. But he's not. He's a lot more gangsta.
4 - Cat in the Hat
Cool dude.
5 - The cat from the Paula Abdul video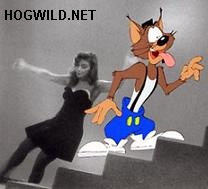 I think American Idol would be better if they replaced Paula Abdul with that cartoon cat. And they replaced Randy Jackson with a walrus. And gave Simon a double-barrel shotgun.
6 - Hello Kitty

Lots of girls in my high school liked Hello Kitty. Hello Kitty is so cute! I'd like to take that pencil and stab it in her eye!
Then pull it out and plunge it in her forehead. I associate a lot of frustration and anger with Hello Kitty because none of the girls in high school gave me the time of day. Even though I gave them my homework to copy.
Girls don't respect you if you if you give them what they want.
NOTE: This does not apply to org@sms.
7 - Tom from Tom and Jerry!
Hell yeah!
8 - Scratchy from Itchy and Scratchy

Can they please make this into its own series?
9 - Catwoman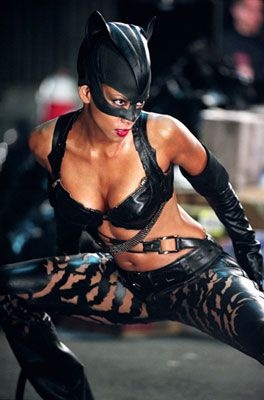 Now we're talking. Meeeeeeee-yow!!!

10 - Pepe Le Pew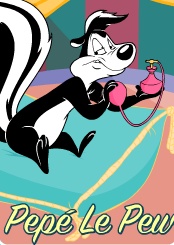 Pepe Le Pew is a proud member of cartoon stereotype club. A stinky, over-sexed French guy. Awesome! Did you ever see the Pepe Le Pew episode where a German Shepherd invades his home and Pepe Le Pew gives up without a fight?
But we're talking about cats, not World War II.
ASK YOURSELF: When was the last time you heard THAT sentence?
So Pepe Le Pew always pushed up on these female cats who he mistook for skunkettes.
11- CATS, the Broadway musical.
I never had any interest in seeing it until I saw that kitten's n!pples.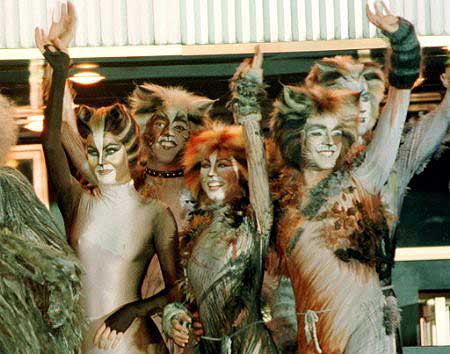 Wait, she's a cat. Shouldn't she have like 6 headlights turned on?