Yeah, so I'm humping Rudolph... AND?!! That'll teach him not to play those Reindeer games! I don't care about the reindeer or elves or Santa... because those fools never delivered in MY Bronx neighborhood growing up. Maybe because Santa got sleigh-jacked by some thugs, he was scared to come back.
A fun thing to do in New York City during the Christmas season is to check out the Bronx Zoo. And hump the displays. But sometimes I make nice-nice. Like I did with this flamingo:
The Bronx Zoo's interpretation of Santa Claus: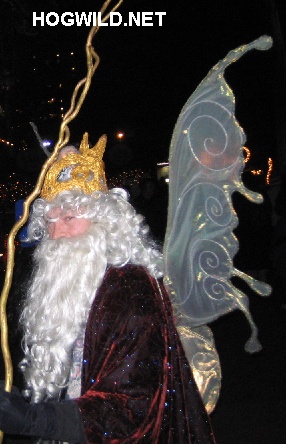 Santa is looking at me like he wants to sit on my North Pole. Looks like Sissy Santa.
Poor, Mrs. Claus. Santa's got a "beard" in more ways than one. I should've known he was fruity... JOLLY ol' Saint Nick. Jolly and gay are synonyms! I guess Santa feels more comfortable in New York City than when he's delivering presents in the Midwest. In New York he can really let loose and be himself! And you should see him on the dance floor! Overweight lover in da house!
In New York, you never know if you'll bump into a celebrity. That's why I ALWAYS carry breath mints, a camera and my 13 unsold movie scripts. Ran into Ice-T! Ice-T, The Original Gangsta, meets ME, the Original Hogsta!
Ice-T is The Man. No one else could be banned from the radio for making a rap song called Cop Killer, then a couple years later, play a cop on TV! That would be like if Jesus came back to star in a Prohibition-era mobster movie where he bootlegged wine from water and left a camel's head in the mob boss's bed.
Yes, I just compared Ice-T to Jesus. But really, does JESUS have a gold-selling album?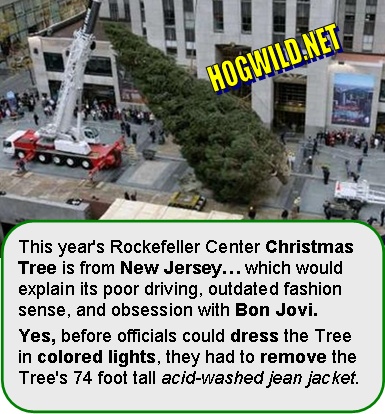 The Rockettes at Radio City Music Hall, the huge Christmas Tree in Rockefeller Center... whatever! The best part about the holidays in New York is the food! I gulp gallons of egg nog and here I am eating the best cheesecake in the world at Junior's:
Yes, the same Junior's in Brooklyn that P. Diddy sent those fools on MTV's Making the Band. They didn't want to walk a few miles to get his cheesecake -- even though they were getting a record deal! Waaa!
I would walk 12 miles in the snow up a hill guarded by wild dyke lesbians with electro-shock nut-sack tasers to get that cheesecake.
My dream is to sculpt a woman out of cheesecake and moan as her soft white cheesecake boobs with red cherry nipples melt in my mouth.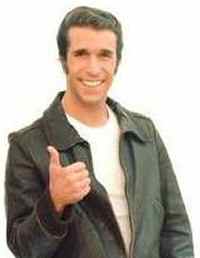 New York City's finer stores have a wonderful tradition of fantastic holiday windows.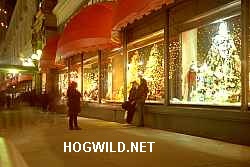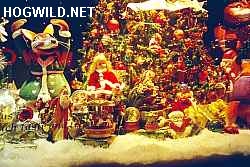 Some of the less-finer stores have holiday windows like this:

HA HA HA! I don't know, man, if an Asian lady says to me, "We do facial"... I'm not thinking skin care. Well, maybe skin-flute care.