Damn it! This is some bullsh!t! New York City made this law that if you block a seat on the subway, they can give you a ticket.

I understand this rule. It's the Politeness Police. Fine. Whatever.

But use some damn common sense!

I'm coming back from doing a stand-up comedy show. It's 12:45 AM on a weeknight. The train is empty. No one could possibly want a seat because there is NO ONE STANDING!!!

My legs were outstretched in the aisle. Blocking access to a seat? Sure. IF someone wanted a seat, I would have pulled in my legs.
The train pulls into the station and Officer Bitchass (his real name) barks at me to get off.

Me? What did I do?

So now people are looking at me like I committed some crime.

I was like, "Officer Bitchass, can't you use your discretion? You can see that the train is mostly empty. No one wanted a seat."

OFFICER BITCHASS: I COULD use my, uh, what was that word?

This is some bullsh!t! How many times do you see a homeless guy taking up extra seats? His Santa Claus sack of aluminum cans takes up 2 seats. And his cloud o' funk clears out another 10 seats. Where is HIS ticket?

And where is the ticket to Big Balls Man? You know, the guy whose balls are SO big that he has to open his legs so wide that they take up 3 seats.

If I'm going get a $50 ticket for blocking a seat -- F*ck it -- I'm gonna REALLY block a seat. I'm gonna get my money's worth! I'm bringing an orange traffic cone and plopping it on the seat next to me so no one else can sit.

I'm gonna DANCE on a seat.

This is an injustice!!!!

So the ticket was $50. But this is not about the money! Sort of.

This about picking on the working man! Only the non-broke are taking cabs at 12:45 AM. Working class people are taking the train. We put up with late trains, smelly trains, platforms that are so hot in the summer that you can feel your skin melt off your face bones and form a puddle of warm flesh around the base of your neck. We put up with all this crap only to be picked on as a source of revenue for the city.

So I took it to court!

Many people advised me to just pay the ticket.

Hell no! I'm gonna fight the man!

Many people advised me that I would waste my time.

They were right! But I'm still gonna fight the man!

I planned out my elaborate defense:

I imagined the court room... I stand up and say, "Your honor. This isn't about a ticket for breaking Rule 673b of the Mass Transit Authority of New York City. This is about Freedom."

That's when a 75 foot American Flag unfolds triumphantly behind me. The audience in the court hums in unison, "America the Beautiful."

"Your honor, America is being taken hostage by laws that restrict the very freedoms that our great nation was founded upon. WWTJD? What would Thomas Jefferson do? He would tell me stand up for my rights. (And to hook up with that hot black girl in the pink dress.)

"In this country, the President is tracking our phone records, allowed to snoop in our email, and we are being video taped almost everywhere we go.
"Your honor, I ask you to please remember the SPIRIT of the law. The law is here to protect us, not to restrict us. The law is here to ensure a safe and fair society. I ask you, does stretching out my tired legs at 12:45 AM after a long night make me a threat to society?"

This is when the high school marching band dances into the court room beating on their drums and twirling their batons, hoisting American flags.

"Your honor... the fate of the Democracy is in YOUR hands. How much do you cherish... our Freedoms?!"

That's when I release the bald eagle. It soars majestically to the ceiling and poops on the head of Officer Bitchass.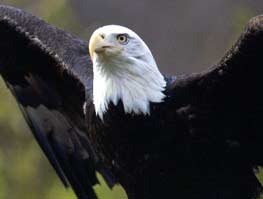 ABOVE: The bald eagle poops for freedom, justice, and the American Way.
Then I opened my eyes and re-entered Reality. I am in a drab windowless room telling my side of the story to a bootleg tape recorder. There wasn't even a judge. The decider-guy was some sort of low level bureaucrat whose clothes looked like came out of the Salvation Army Clearance Rack.
The cop told his side of the story and lied. He said I had my feet on the seat. I did not. My legs were stretched out. I never put my feet on the seat because I think that's rude to dirty up the seat. But that doesn't count for crap.

It was the cop's worthless word against mine. And his word won.
Where was the proof?!

There was none!

Yet the "judge" decided that I was lying.

I can't wait to see that schmuck on the subway. When he's sitting I'm going to sit next to him and really crowd him. Like sit on half his lap. "Am I taking up 2 seats NOW?"

So I wasted all this time AND I still have to pay the ticket.

I'm filing an appeal.

I'll take this all the way to the Supreme Traffic Court if I have to!!!!

At least I got to cross-examine the cop. I milked it.

ME: Do you have a quota to fill?
OFFICER BITCHASS: No.
ME: Are you lying?
OFFICER BITCHASS: No.
ME: Are you sure?
"JUDGE": Okay, do you have any other questions?
ME: Yes. Officer, why are you harassing the working class?
OFFICER BITCHASS: What?
ME: Shouldn't you be out fighting crime?
ME: Do you consider your life to be a failure?
ME: Does anybody love you?
ME: Are you ashamed of your penis?
ME: Why are you handcuffing me?
ME: HEY! WHAT'S GOING ON?!!!